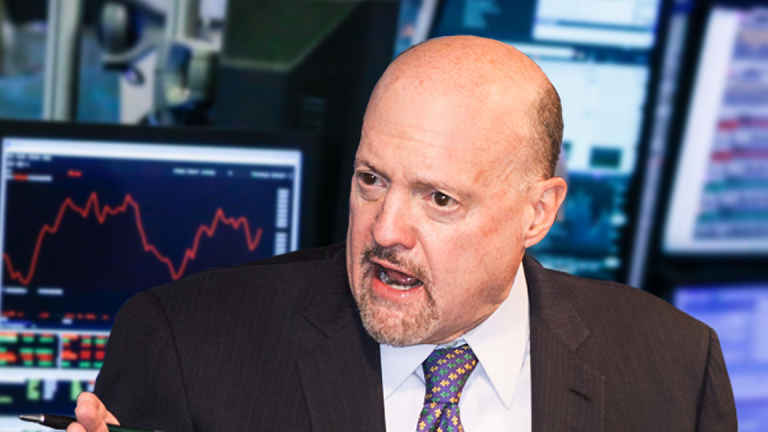 Jim Cramer Unveils His '5 Rules for Trimming Your Winning Stock Positions'
Jim explains why you should sell some of your shares even when still you like a company.
Jim Cramer unveiled his "5 Rules for Trimming Your Winning Stock Positions" during an exclusive video-conference call Thursday with members of his Action Alerts PLUS club for investors.
"We are huge believers [in the old adage] that 'bulls make money, bears make money and hogs get slaughtered,'" Cramer said. "We are also true believers in the idea that no one ever got hurt taking a profit."
The expert has long argued that smart investors should sell some but not all shares of a winning position even if they still like the stock. That way, you'll lock in some of your profits in case the company's share price goes back down.
In fact, Cramer's charitable trust had been trimming several of its winning positions in recent days, which turned out to be a smart move given the Dow Jones Industrial Average tumbled 473 points on Tuesday.
Cramer used Thursday's video-conference call with Action Alerts PLUS members to reveal the five rules that he personally follows for trimming stocks, which let him know it was time to partially sell some of his trust's winning positions. The call was only open to members of Action Alerts PLUS, but you can still sign up for a free 14-day trial membership and watch a complete replay.
Club membership includes exclusive access to a private video conference each month with Jim, during which he also gives his latest views on the market and answers e-mailed questions from members. Membership also includes lot of other exclusive benefits, including:
A complete rundown of all of stocks that Jim himself holds in a trust that he runs for charity;
E-mail alerts that give you a chance to buy or sell any stock before Jim makes the trade for the trust;
Custom research throughout every trading day from Jim and his team of stock-market analysts. You get to see in real time what they're watching each market day as they make investment decisions.
Click here to sign up for Action Alerts PLUS and watch a full replay of the video-conference call today!
Employees of TheStreet are restricted from trading individual securities.