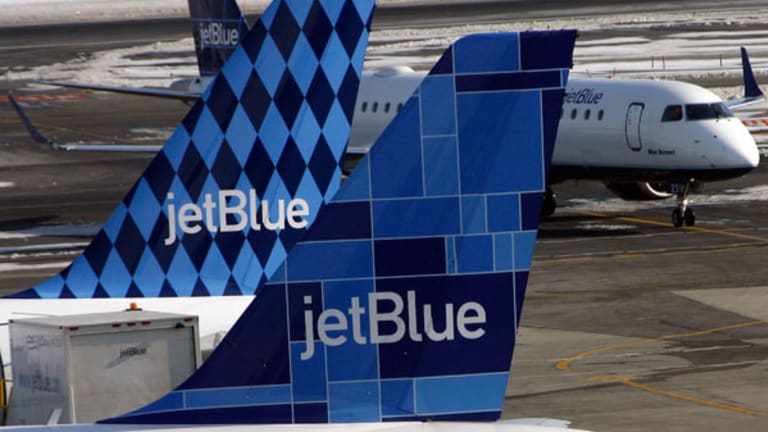 JetBlue Beats but Bad Weather Cuts $30 Million From January Income
JetBlue's net income rises to $47 million from $1 million and to 14 cents from breakeven, but two analysts remain neutral on the shares.
NEW YORK (TheStreet) -- JetBlue (JBLU) - Get JetBlue Airways Corporation Report narrowly beat quarterly earnings estimates and said winter weather reduced current quarter income by about $30 million.
The carrier said fourth-quarter net income was $47 million, or 14 cents a share. Analysts had estimated 13 cents. Revenue rose 14% to $1.4 billion. Analysts had estimated $13.5 billion.
In the same quarter a year earlier, Jet Blue earned $1 million, or breakeven on a per-share basis.
"Our record fourth-quarter results top off an excellent 2013 for JetBlue," said CEO Dave Barger, in a prepared statement. "Margins improved as we continued to pursue profitable growth opportunities while maintaining competitive costs."
During the quarter, passenger revenue per available seat mile rose 5.3% to 11.62 cents. Capacity rose 8.3% and revenue passenger miles rose 7.1%. "We continue to be pleased with strong revenue performance throughout our network as we continue to generate a revenue premium versus the industry in many of our key markets," said President Robin Hayes, in a prepared statement.
On the cost side, cost per available seat mile excluding fuel increased 0.6% to 7.3 cents.
Looking ahead, JetBlue said current quarter results will be "adversely impacted by severe weather in the Northeast during the beginning of January, which resulted in the cancellation of approximately 1,800 flights." The bad weather reduced revenue by an estimated $45 million and reduced operating income by about $30 million.
First-quarter CASM excluding fuel and profit sharing is expected to increase between 3% and 5%. First-quarter capacity is expected to increase between 2.5% and 4.5%.
For the full year 2013, JetBlue's return on invested capital was 5.3%. "We remain committed to improving ROIC by one percentage point per year on average," said CFO Mark Powers. "We recognize that while we have more work to do to improve returns, we believe we have a plan in place to achieve these goals in 2014."
In the current year, CASM is expected to increase between 1% and 3%. Capacity is expected to increase between 5% and 7%.
JetBlue ended the year with $627 million in cash and short-term investments.
In a note issued Wednesday morning, Cowen & Co. analyst Helane Becker called the results and outlook "neutral for the shares." She said the outlook for the current quarter could be enhanced if management guides to first-quarter PRASM growth of 5% or above. Becker has a market perform rating and an $8 price target.
Shortly after the opening bell Wednesday, JetBlue shares were 1.1% to $8.64.
Deutsche Bank analyst Mike Linenberg said the results exceeded his earnings expectation of 10 cents a share. "Underlying the results was a 5.3% increase in passenger unit revenue (PRASM"), driven by higher yields ( plus 6.5%) which more than offset a one point decline in load factor to 80.9%," Linenberg wrote in a note. He has a hold on the shares and a $9 price target.
Written by Ted Reed in Charlotte, N.C.

To contact this writer, click here.