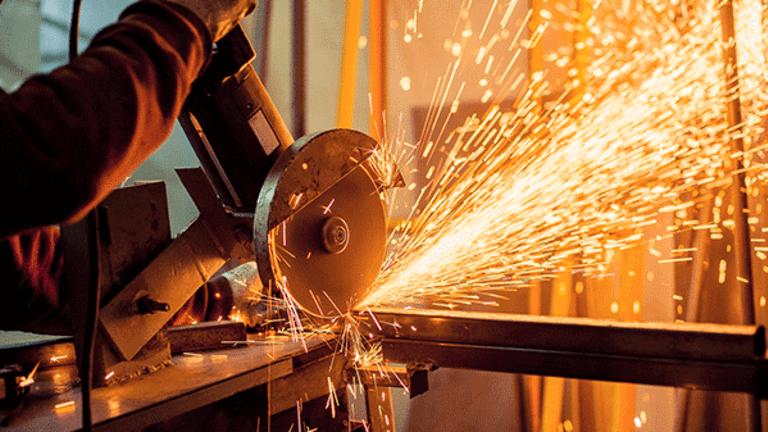 Jefferies Sees Fertile Ground for Steelmakers Like U.S. Steel (X) and Nucor (NUE)
A dropoff in foreign competition and a Trump bump may make the difference for steelmakers, the investment bank argues.
Rising demand and shrinking import competitiveness have the American steel market poised to enter a pricing sweet spot, Jefferies said in a research note published Monday. The investment bank made a number of big calls on U.S. steelmakers like U.S. Steel (X) - Get United States Steel Corporation Report , Nucor (NUE) - Get Nucor Corporation Report and TimkenSteel (TMST) - Get TimkenSteel Corp Report through price target increases.
So far, the market has had a mixed reaction. Olympic Steel (ZEUS) - Get Olympic Steel, Inc. Report led the gainers, up 5.64% to $26.99 in Monday afternoon trading, while U.S. Steel was the biggest laggard, down 4.27% to $34.53.
Rising steel prices in Asia have disincentivized the continent's steelmakers from exporting their products to the U.S., Jefferies analyst Seth Rosenfeld wrote.
"Domestic steel consumers can find reasonable bargains from domestic suppliers," he added.
Donald Trump's election to the U.S. presidency has thoughts of a promised trillion-dollar infrastructure investment plan dancing through many analysts' heads and Rosenfeld is no different. Trump's policy push could give the U.S. an extra boost in demand from steelmakers' infrastructure customers that would capitalize on his proposed public-private partnerships as well as from oil and gas companies that would benefit from Trump's fossil-fuel friendly energy program.
"In light of new expected governmental policy, an inventory restocking cycle appears increasingly likely," Rosenfeld wrote.
TimkenSteel and U.S. Steel are heavily exposed to the oil and gas industry, which has been particularly depressed amidst a global drop in commodity prices. Jefferies raised its target price on TimkenSteel to $17 from $9.30 and on U.S. Steel to $45 from $26.
Nucor may be best-positioned to benefit from the Trump economy on account of its heavy exposure to non-residential construction. Jefferies hiked its price target to $77 from $55. The stock was trading 1.76% lower at $64.22 on Monday afternoon.
"We believe the U.S. construction recovery will provide the greatest incremental steel end-market growth in the coming years," Rosenfeld wrote.
If the prices of commodities like iron ore and coal can continue their recovery, steel prices may come along for the ride as steelmakers look to pass the added costs on to the consumer, added Rosenfeld, who warned that the price rallies are of questionable sustainability.
data by