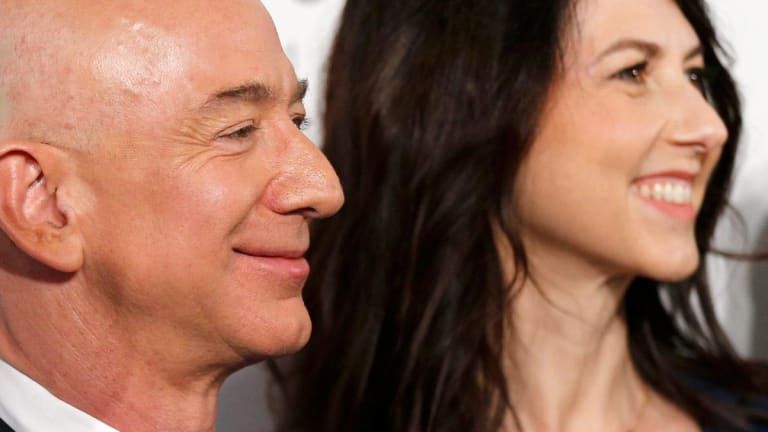 Jeff Bezos Is So Rich That He Just Lost $36 Billion and Is Still World's Richest
The Amazon CEO agreed to a divorce settlement with his ex-wife MacKenzie that allows him to keep 75% of the couple's shares in Amazon.
How rich is Amazon (AMZN) - Get Free Report CEO Jeff Bezos?
He's so rich that he can lose $36 billion in a divorce settlement with his ex-wife and still maintain his spot as the world's richest person. 
Jeff Bezos currently has a fortune of $114 billion, which is down from $150 billion as a result of the settlement that was publicly announced on Thursday, but is still ahead of Bill Gates' $102 billion fortune, according to Bloomberg's Billionaire's Index. Most of Jeff Bezos' fortune is from his ownership stake in Amazon.
Bloomberg compiles its list by taking into account public company fortunes, ownership of private companies when applicable and liquid assets. 
Jeff Bezos fortune is unique for a person of his wealth because of how concentrated it is, according to Bloomberg wealth reporter Tom Metcalf.
"If you look at his fortune, about 90% of it is in public shares," Metcalf told TheStreet. "His biggest assets outside of Amazon are Blue Origin, which is an interesting company to value because there is not a lot of public data, and the Washington Post."
Since 2002, Jeff Bezos has sold about $7 billion worth of Amazon shares. Metcalf estimates that Amazon's stock would have to reach about $2,500 per share, or roughly 37% higher than current levels, for Bezos to recover the money he's giving up in the divorce settlement. 
MacKenzie Bezos created a Twitter account Thursday afternoon, and her first tweet announced some of the settlement terms from her divorce from Amazon's CEO on the social media platform. 
Her former husband also released a statement on the social network.
Jeff Bezos will keep all of his interest in the Washington Post and his space company Blue Origin, while MacKenzie will be taking 25% of the former couple's Amazon stock, although the voting rights of those shares will remain with her ex-husband. 
The couple had owned a 16.1% stake in Amazon, according to FactSet, so Ms. Bezos now has a little more than a 4% stake in Amazon. Based on the company's current stock price of about $1,827 per share, her net worth is now more than $36 billion. 
That haul makes her one of the richest women in the world. 
L'Oreal heiress Françoise Bettencourt Meyers is currently the world's richest woman with a net worth of $53.7 billion, according to Bloomberg's Billionaire Index. Next on the list of richest women is Walmart (WMT) - Get Free Report  heiress Alice Walton, whose net worth of $44.2 billion also makes her the 18th-richest person in the world overall. 
MacKenzie Bezos' fortune places her fourth on the list, just behind Jacqueline Mars, heiress to the Mars candy fortune, whose $37.1 billion fortune puts her 21st on the world's wealthiest list. 
Amazon shares closed up 1.01% to $1,837.28 on Friday.
Amazon is a key holding in Jim Cramer's Action Alerts PLUS charitable trust. 
Investing Education Quick Clips | A Playlist for Your Portfolio