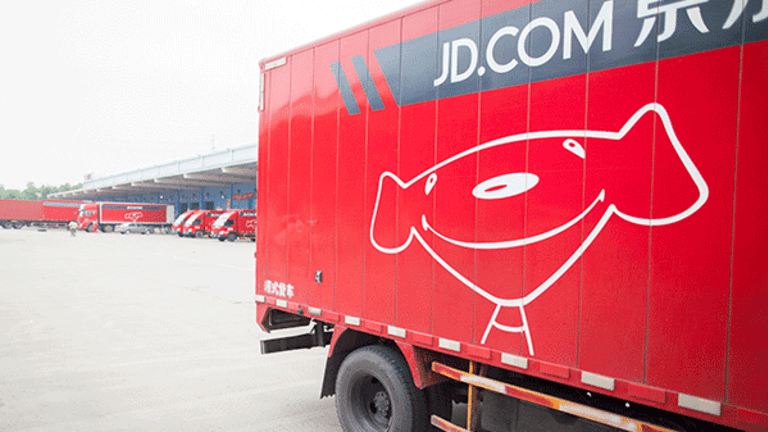 JD.com's Earnings Suggest That Once Again, It Grew Faster Than Alibaba
China's #2 e-commerce firm, whose business model is more like Amazon than Alibaba's, continues gaining ground with the help of its end-to-end business model.
Though many have tried, it's hard to compare China's e-commerce giants, Alibaba (BABA) - Get Report and JD.com (JD) - Get Report, with the two biggest U.S. e-commerce firms, Amazon.com (AMZN) - Get Report and eBay (EBAY) - Get Report. Though Alibaba still towers over China's e-commerce market, its business model is much closer to eBay's than Amazon's, leaving the selling of goods on its marketplaces to third parties and relying on revenue streams such as ads and commissions. JD, on the other hand, uses an Amazon-like approach of both selling its own goods and those of third parties, and often relying on its own warehouses to do so.
Further complicating matters: Whereas Amazon has been rapidly taking share from eBay, both Alibaba and JD continue to see healthy growth. But between the two, JD has been growing faster, and its Amazon-like business model is a big reason why.
JD is up over 7% to new highs today after reporting first-quarter revenue of RMB76.2 billion (up 41% annually, equal to $11.05 billion) and adjusted EPS of $0.15 (better than last year's negative $0.02), beating consensus analyst estimates of $10.65 billion and $0.01. Second-quarter revenue guidance of RMB88 billion to RMB90.5 billion (equal to $12.75 billion to $13.12 billion, up 35% to 39%) is just in-line with a $12.87 billion consensus. But JD has a history of guiding conservatively, and like other Chinese firms, the yuan's decline is weighing on its dollar-based performance.
Gross merchandise volume (GMV) for JD's platform rose 42% annually to $26.7 billion. GMV topped a $26.1 billion consensus, with growth not far removed from the 47% seen for the whole of 2016. Alibaba, by comparison, saw GMV rise 24% to $126 billion at its core Taobao and Tmall marketplaces in the June quarter, the last one for which it disclosed GMV.
When it reports earnings for the fiscal fourth quarter (March quarter) on May 18, Alibaba is expected to provide an annual GMV figure. With a soft yuan weighing, analysts on average estimate the company's Taobao/Tmall GMV grew 15% in fiscal 2017 to $545.4 billion.
Contributing to JD's Q1 growth: Its active customer accounts for the trailing 12 months were up 40% annually in Q1 to 236.5 million. The company, once seen primarily as an electronics and home appliance retailer, has been aggressively expanding in recent years into fields such as apparel, cosmetics and home furnishings. It has also been rapidly growing its selection of Western imports, and -- through a JV called New Dada -- has teamed with Wal-Mart (WMT) - Get Report and Chinese supermarket chain Yonghui to provide a one-hour grocery delivery service.
An expanding seller base has also helped: JD had about 120,000 merchants on its marketplace as of April, up from about 100,000 as of March 2016. Nonetheless, JD suggests GMV growth has been held back lately by efforts to "focus on quality rather than quantity" with regards to marketplace sellers. Quality control has long been an issue for Alibaba's small merchant-focused Tmall marketplace, and JD sees an opportunity to differentiate.
In addition to the appeal of having an alternate sales channel to the very competitive Taobao and Tmall, many merchants are drawn to JD's ability to handle warehousing and/or fulfillment through its logistics infrastructure. The company says it runs 256 warehouses, along with 6,906 delivery and pickup stations, and has been expanding its footprcsint to cover "lower-tier" inland Chinese cities, rather than just big "Tier-1" cities near the coast.
Two weeks ago, JD announced it was creating a standalone logistics arm, known as JD Logistics, that aims to provide "smart supply chain and logistics services to businesses across a wide range of industries." Alibaba, it should be noted, has a logistics unit known as Cainiao -- in which it maintains a 47% stake -- that reportedly raised funding last year at an RMB50 billion (now $7.2 billion) valuation.
As of March 2016, Cainiao reported having 128 Chinese warehouses, and supporting same-day or next-day delivery in 170 Chinese cities. The company also claimed it could process up to four million cross-border parcels, with the help of overseas logistics partners. And as of September, Cainiao said it handled data-processing for 70% of all Chinese parcels, something that aids its ability to intelligently route those parcels it's responsible for.
But unlike JD, Alibaba still isn't a direct seller of goods on its marketplaces, whether Cainiao handles their fulfillment or not. For certain high-volume items, that provides JD a big advantage with regards to negotiating lower prices and achieving greater economies of scale. It also lets the company, whose management has shown an obsession with optimizing the customer experience, fully handle customer support and returns, and make sure that popular items are in stock and ready to be quickly shipped.
Much like Amazon, JD's giant warehouse and logistics investments are weighing on its bottom line. Fulfillment spend rose 30% in Q1 to $900 million, and total costs and expenses rose 38% to RMB75.4 billion ($10.95 billion). And in an October Bloomberg interview, CEO Richard Liu sounded very Jeff Bezos-like when talking about profitability. "JD isn't a company chasing a one-to-two, or two-to-three-year goal," he said. "What we pay attention to is our profits after 10 to 20 years."
As with Amazon, the results of this mindset speak for themselves. Though Alibaba, with its unmatched buyer and seller bases, giant technology infrastructure and volumes of shopping data, isn't going anywhere, JD's business model and investments are allowing the company to more than hold its own.