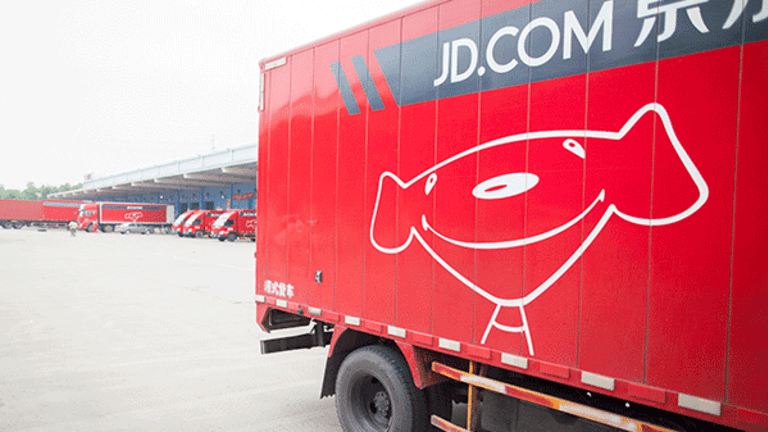 JD.com Invests $400 Million in Luxury Fashion Startup
JD.com has made a signifacnt investment into London-based fashion startup FarFetch.
Chinese e-commerce giant JD.com (JD) - Get Report has invested roughly $400 million into London-based startup Farfetch, an online marketplace for luxury fashion brands.
Along with the $397 million investment, JD.com founder and CEO Richard Liu will join Farfetch's board of directors.
While exact terms of the deal could not be learned, Farfetch's new valuation is a significant step up from its earlier $1.5 billion figure, according to Recode. 
With operations already in China, Farfetch intends to expand its reach in the region with JD.com's help in driving web traffic and offering logistics to bolster its brands and other services.
"As part of our major luxury push, we could not have found a stronger online partner than Farfetch," said Richard Liu, Chairman and CEO of JD.com. "We have always believed that the long-term trend of Chinese e-commerce is toward quality over price and this partnership with Farfetch further extends our lead in the battle for the future of China's upwardly mobile consumers."
Shares of JD.com were climbing higher during early morning trading on Thursday.
What's Hot On TheStreet
Tesla still doesn't deserve its valuation: Tesla TSLA fanboys have just gained their daily pound of flesh. The electric car company has reportedly reached a deal with officials in China to open a production facility in the world's biggest clean-energy car market. The deal would likely allow it to form a joint-venture with a China-based partner and avoid the 25% tariff applied to imported vehicles. The move would also substantially cut shipping and production costs when compared to Tesla's facility in Nevada, TheStreet's Martin Baccardax reports.
Tesla is now valued at an insane $61 billion...and counting.
What was this Kroger exec drinking: Maybe this Kroger KR fella has been up too late studying the aftershocks of Amazon's AMZN big deal for Whole Foods WFM . "I'm glad their stores are finally open," Kroger CFO Michael Schlotman said about German rival Lidl at Oppenheimer's Consumer Conference Wednesday. Schlotman said he is excited, in fact he feels "great about it," to finally start seeing if the preparations Kroger put in place to compete with Lidl will stand the heat. TheStreet's Lindsay Rittenhousewas all over this bizarre exchange.
Having your profit margins crushed by a ruthless German grocer shouldn't be exciting, Kroger.
Don't forget about Intel: Advanced Micro Devices AMDmay beat Intel Corp. INTC to selling the fastest computer chip this year, but the technology giant is working on other projects that are pushing the limits.
From artificial intelligence to drones, Intel is working to connect everything to the internet to collect data that can be used to improve safety, efficiency and lifestyles. Whether it is helping athletes perform better or making cars autonomous, Intel's technology is working to transform multiple industries. Here's 11 cool projects Intel is working on that investors seem to have forgotten about.
Visit here for the latest business headlines.