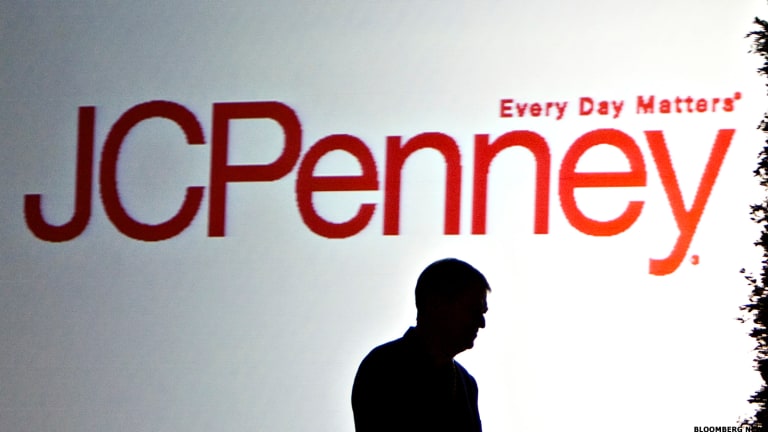 J.C. Penney's Latest Forecast Proves That It's The New Sears
The ailing department store slashed its 2017 forecast ahead of the holidays.
It seems that J.C. Penney Company Inc. (JCP)  is adding insult to its own injury these days. 
The department store lowered its full-year comp sales, profit and earnings forecast Friday, Oct. 27, predicting that its sales will be flat at best or -1%. The company also cut its adjusted earnings for the same period. The previous forecast was 40 cents to 60 cents; it's now 2 cents to 8 cents for the full year.Penney will also "accelerate the liquidation of inventory" in women's apparel. Shares were down up to 25% to $2.74 early Friday morning before the bell, following the announcement. As of late morning, the stock recovered slightly to $3.14.
Whirlpool Reminds Us All That Sears Will Eventually Cease to Exist
"In the third quarter, we took the necessary steps to accelerate inventory liquidation primarily across all apparel divisions, which increases available funding to invest in new and trending merchandise categories," CEO Marvin Ellison said in a statement. 
The idea is to eliminate older, slower styles to be replaced by more casual products catering to a "contemporary" buyer, Penney explained. Women's apparel is a problem for the chain, according to Analyst Omar Saad in a Friday research note. 
It "continues to be a challenge for JCP, dragging overall comps despite positive momentum in...appliances, home, Sephora, etc.," he wrote. The exceptionally warm weather may a factor in apparel's poor performance in recent months, Saad added. "While management did no specifically call out weather in the quarter, we think the warm weather over the past two months also adds increased risk to comp and/or gross margins in September [and] October for the traditional retailers," he wrote. 
Penney's laggard numbers are its own special burden to bear. While it's no news that department stores broke their stride years ago, Penney is faring especially bad. Its stock is down 56% year to date, to $3.68 in early October. 
"We don't view today's announcement as a department store-wide problem...more a JCP company specific one" wrote Gordon Haskett analyst Chuck Grom, who downgraded JCP from a price target of $4 to $3. "It's clear that new CFO Jeff Davis will need to significantly lower JCP's cost structure in order to offset the aforementioned gross profit margin pressures," he said. 
At this point, Wall Street is no longer holding out hope for the stodgy department store. Like Sears Holdings Corp. (SHLD) , J.C. Penney's only lifeline in recent years has been cutting costs and liquidating assets. Compared to other mid-tier department stores, Penney's shares have fallen the farthest despite starting out on par this year. 
"Cost cutting measures have been their sole respirator," said Ricardo Rubi, a retail marketing specialist and partner at consulting firm Simon Kucher. "It could keep on going like this for a couple of years, but at the end of the day, there probably won't be a big turnaround."
J.C. Penney has done little to reverse Wall Street's negative perception. Even as it has added new departments like appliances and flooring to drum up business, the bottom line has remained under pressure. 
"Shares are under pressure as expectations for FY18 [gross margin] expansion are now in the rear-view mirror," Jefferies analyst Randal Konik wrote in an August report, after the retailer's second-quarter earnings release. "Following last quarter's comp miss, recent fundamentals solidify our view of a challenged department store landscape."
In its most recent quarter, there were 127 store closures and rampant inventory liquidation, pointing to a further decline to come in earnings, according to Credit Suisse analysts in another post-earnings note.
J.C. Penney's most recent decline, according to Rubi, can be largely attributed to former CEO Ron Johnson's catastrophically ambitious rebranding efforts five years ago. Johnson's biggest misstep? Eliminating the coupons program, thus alienating its core customer base.
The department store is still reeling from losing customers, Rubi said. "It's very hard to regain loyalty...there's still a big hole in the customer segment." 
J.C. Penney declined to comment.
More of What's Trending on TheStreet: