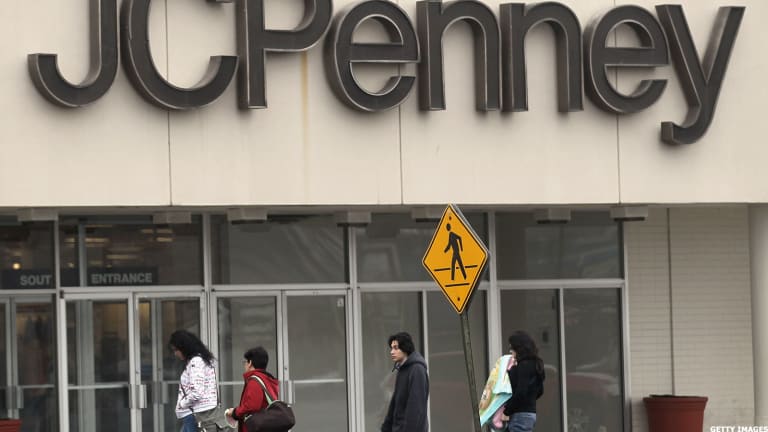 Publish date:
J.C. Penney to Expand Sephora Footprint, Benefit From Other Shuttering Retailers
Despite the move, shares of the department store chain had plummeted 9% on Friday morning after the retailer reported earnings.
Despite the move, shares of the department store chain had plummeted 9% on Friday morning after the retailer reported earnings.
J.C. Penney Co. (JCP) - Get Report has some big plans in 2018, but investors still aren't happy.
Shares had plunged more than 9% on Friday, March 2, to $3.55, despite the Plano, Texas, department store chain announcing expansion plans and opportunities to gain market share in certain product categories.
This year, Penney will open about 30 new Sephora locations in its stores, bringing the total Sephora store count to 670, CEO Marvin Ellison said on the earnings call. The retailer also will rebrand and remodel 100 of its in-store salons to "Salon by InStyle," he added, as salon customers shop twice as often as other customers.
J.C. Penney missed Wall Street's sales forecast for its fourth-quarter earnings Friday, posting total sales of $4.03 billion to the expected $4.05 billion. Its comparable sales increased 2.6% year over year, however, driven by strength in appliances, mattresses, furniture and fine jewelry. In the mattress category, for instance, the company delivered 60% sales growth in the quarter.

Ellison also underscored Penney's opportunity to gain market share in multiple categories as other distressed mall retailers such as Sears Holdings Corp. (SHLD) and Rue21 shutter more stores.
"There is over a $9 billion category overlap in the malls that we occupy with retailers that are in distress. And we see that as an opportunity for us to get a greater share," he said.
So far this year, Penney announced the closures of eight stores. But there could additional ones, Ellison told analysts. There are 50 malls in which it has leases that will see anchors shutter — presumably Sears and Bon-Ton Stores Inc. — and will not have the capital resources to redevelop the empty space, he said.
Anchor closures, nonetheless, give J.C. Penney an opportunity to renegotiate its leases, Ellison added.
Apparel, which underperformed in the fourth quarter, also has potential to gain market share in 2018 because of other struggling mall retailers.
"A strategic priority in 2018 will be our continued focus on fixing the women's apparel business, particularly activewear, dresses and contemporary and casual sportswear," Ellison said, pointing to new customers that were brought in by Fenty Beauty, Rihanna's makeup line that's exclusive to Sephora.
"The thing that Fenty was able to do for us is really appeal to a very multicultural customer," he explained. "We saw crossover from that customer going into areas like activewear, going into areas like denim, and going into areas like dresses and casual and contemporary."
Penney expected to see positive comp-sales growth in women's apparel in the first quarter of 2018.