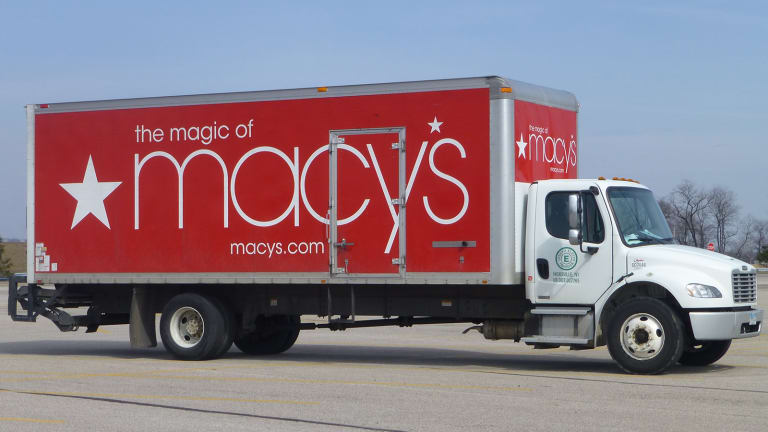 Wall Street Puts J.C. Penney and Macy's on Life Support
The department store's demise cannot be quarantined, it seems. In light of Penney's troubles, Macy's was downgraded too on Monday.
The decline of J. C. Penney Company Inc. (JCP) - Get J. C. Penney Company, Inc. Report is contagious, it seems.
Macy's, Inc. (M) - Get Macy's Inc Report was downgraded from hold to sell at a target price of $16 Monday, Oct. 30 by a Citi analyst, citing Penney's imminent death as a symptom of a sickness that ails the entire department store space.
While Macy's hasn't exactly thrived this year, Penney fares much worse. Its shares dropped nearly 25% last week after the company announced massive liquidation efforts and negative updates to guidance. At 11:35 a.m, EDT, Monday, JCP's shares were down nearly 8% to $2.88.
"In the current retail environment, we believe department stores are structurally disadvantaged to win," wrote Citi's Paul Lejuez. For this holiday season, he added, "We don't believe M has found the right tools to offset negative store traffic and margin pressures."
Lejuez predicts that credit and asset sales notwithstanding, Macy's would generate an operating margin of only 2.4% this year and negative 2% in 2018 because of weak comp sales, which have decreased up to 4% in each of the past two years. Macy's cost-cutting initiatives, he wrote, make up only a "partial cushion to the bottom line."
Even asset sales, Lejuez said, will fail to generate enough cash for dividend to avoid risk. He projects that gains from real estate will have peaked this year as Macy's has fewer valuable properties left to sell.
Listen to what Jim Cramer has to say about Macy's.
Macy's shares are down 3% Monday as of 11:30 a.m., EDT, to $19.
In a separate note, Lejuez downgraded Penney as well but he isn't alone. Analysts from BMO Capital Markets and Jeffries too piled on the department store, the latter also pointing to department stores' overall vulnerability.
"While we acknowledge the positive work JCP is doing to become less apparel reliant, the sector faces intense secular headwinds as mall traffic wanes and the shift to e-comm should also continue to weigh on profitability," Jeffries' Randal Konik wrote in a note.
Penney's tactic for survival has been cutting costs, between liquidating inventory to closing stores. However, there's only so much the retailer eliminate, retail experts warn.
"Cost-cutting measures have been their sole respirator," Ricardo Rubi, a retail marketing specialist and partner at consulting firm Simon Kucher, told TheStreet last month. "It could keep on going like this for a couple of years, but there probably won't be a big turnaround."
Macy's has taken similar measures. It announced 68 store closures earlier this year and expects to shutter 100 over the next few years. Almost 4,000 employees will be laid off.
More of What's Trending on TheStreet: