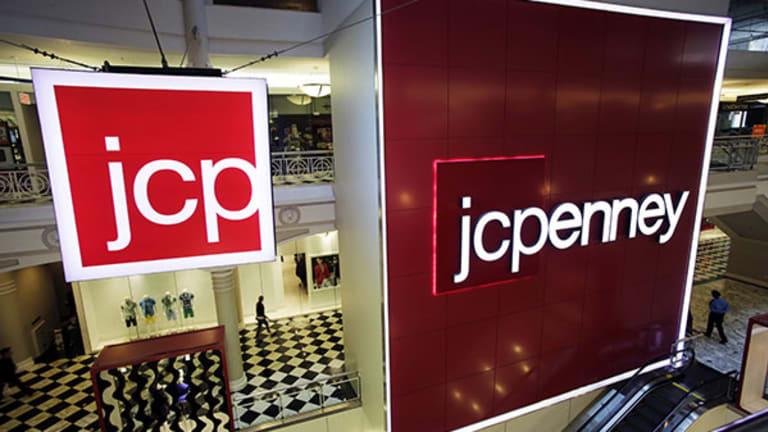 J.C. Penney Surprises Wall Street With Lower-Than-Expected Loss
J.C. Penney shares surged in after-hours trading after the struggling retail chain surprised investors by reporting better-than-expected bottom line results for the fourth quarter.
NEW YORK (TheStreet) - J.C. Penney (JCP) - Get Free Report shares surged in after-hours trading after the struggling retail chain surprised investors by reporting better-than-expected bottom line results for the fourth quarter.
The Plano, Texas-based company reported GAAP net income for the January-ending quarter of $35 million, or 11 cents a share. On an adjusted basis, the company reported a loss of $206 million, or 68 cents a share. Consensus estimates, according to Thomson Reuters, had called for an 85-cent quarterly loss.
Shares were rising 7.7% to $6.42 after the markets closed.
J.C. Penney's adjusted earnings did not include the following:
A 16-cent charge for restructuring and management transition charges;
An 8-cent charge for primary pension plan expense;
A 15-cent benefit from the net gain on the sale of non-operating assets; and
An 88-cent income tax benefit from continuing operations resulting from gains in other comprehensive income.
Fourth-quarter net sales fell 2.6% from the year-earlier quarter to $3.78 billion. Analysts had expected revenue to come in at $3.85 billion for the quarter, according to Thomson Reuters.
J.C. Penney had previously said that comparable store sales rose 2% in the quarter, with online sales specifically up $381 million for the quarter, or 26.3% versus the same period last year.
The retailer is forecasting comp sales between 3% and 5% for the first quarter.
Gross margin came in at 28.4% compared to 23.8% in the same quarter last year, representing a 460 basis point improvement.
The company noted that gross margin included a negative impact of 190 basis points associated with the discontinuation of brands that are not part of its current merchandising strategy. Gross margin was also negatively impacted by higher than anticipated clearance markdowns taken late in the quarter, it said.
"JCPenney achieved what it set out to do on a number of important fronts in 2013," CEO Myron E. (Mike) Ullman said. "We stabilized our business, both financially and operationally, and restored our process disciplines, promotions, inventory levels and focus on the customer. As a result, we generated positive comparable store sales in the fourth quarter and ended the year with more than $2 billion in total available liquidity. These important accomplishments reflect the progress we have made in our turnaround, which remains on course heading into 2014."
"With the most challenging and expensive parts of the turnaround behind us, we will focus on improving gross margin, managing expense and steadily growing our sales in 2014," he added. "Our strategic plan seeks to enhance performance across all of the key drivers of our business: merchandising, marketing, store experience, jcp.com, our teams, and our operations. The goal is to deliver consistently improving financial results, and to restore JCPenney as a leader in American retail."
For the full year, the company reported an operating loss of $1.42 billion, with comp sales down 7.4%.
J.C. Penney provided 2014 guidance, where it expects to increase comp sales in the mid-single-digits; "significantly" improve gross margin; and have in excess of $2 billion of liquidity by the end of the year.
For the first quarter, J.C. Penney is projecting comps to rise 3% to 5%, an improvement over last year's gross margin, while SG&A expenses are expected to be below last year's levels.
--Written by Laurie Kulikowski in New York.
Disclosure: TheStreet's editorial policy prohibits staff editors, reporters and analysts from holding positions in any individual stocks.