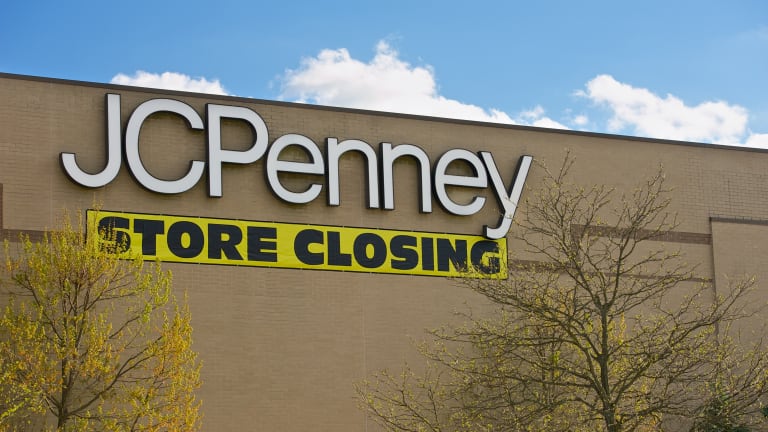 J.C. Penney's Bonds Painting a Grim Picture of 116-Year-Old Department Store
J.C. Penney shares get hammered Thursday in response to weak second-quarter results. Did you see the bond market move?
With $182 million in cash on the balance sheet after an abysmal second-quarter loss, J.C. Penney Co. (JCP) - Get Report and its future have the bond market very worried.
J.C. Penney's 8.625% second-lien bonds due in March 2025 fell 5.75 points in Thursday trading, marking their first foray into distressed territory at 78 cents on the dollar, according to S&P Global Market Intelligence. The bonds were priced at par five months ago.
Meanwhile, J.C. Penney's 5.875% secured notes due July 2023 declined to all-time lows at about 90 cents on the dollar. 
The alarming bond market moves came on the heels of J.C. Penney weak second quarter, despite broader strength in the U.S. economy. 
J.C. Penney shares crashed more than 25% after it reported a net loss of $101 million, or 32 cents a share, wider than the year-earlier loss of $48 million, or 15 cents a share.
On an adjusted basis, J.C. Penney reported a loss of 38 cents a share, well below the FactSet consensus estimate of a loss of 6 cents. Revenue also declined year over year to $2.83 billion from $3.07 billion, compared to analysts' $2.81 billion estimates.
For the full year, the company now sees an adjusted loss of 80 cents a share to $1 a share. The company previously saw a loss of 7 cents a share to a profit of 13 cents.
"The most worrying thing about the results is that if JCP can't perk itself up at a time when the retail mood is elevated, it suggests that there are fundamental weaknesses in the company's position. This is now be all the more difficult to remedy given the lack of a proper leadership team following the departure of Marvin Ellison and a number of other executives," wrote GlobalData Retail.
@TonyOwusu contributed to this story.
Walmart Inc's  (WMT) - Get Report second quarter was quite the opposite.