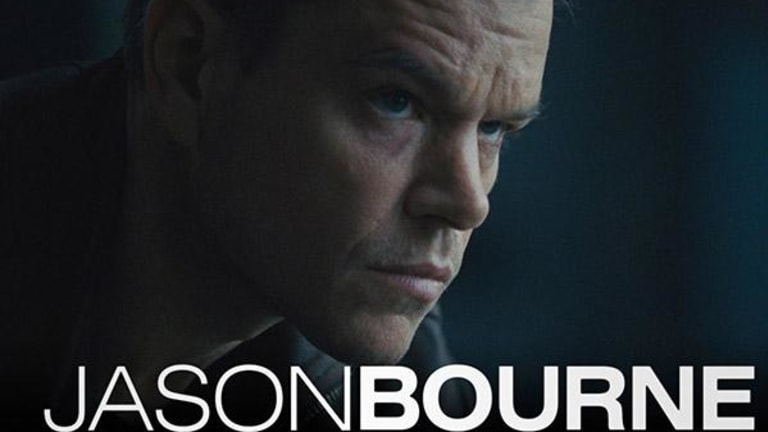 'Jason Bourne' to Take Out the Competition at the Box Office
Matt Damon's return to the 'Bourne' franchise is bound to get audiences excited. Elsewhere, raunchy comedy 'Bad Moms' looks to have a successful opening as well.
"Jason Bourne," "Bad Moms" and "Nerve" all arrive in theaters this weekend, and all seem in good position to perform well given their budgets. "Jason Bourne" will almost certainly come out on top, as older males are ready to flock to this re-teaming of Matt Damon and Paul Greengrass. Meanwhile, "Star Trek Beyond" will hope to stay on course, even with the added competition that "Bourne" will bring. Overall, the weekend box office should come in at around $175 million, down 5% from last weekend but up a terrific 25% from the same weekend last year.
Although it's been nearly ten years since Matt Damon last took on the role of Jason Bourne, Universal is still banking on the fact that audiences will remember the franchise. The tagline for the film, "You know his name," is an assertive reminder that "Bourne" is an icon, and it's a big deal that he is returning to theaters. And indeed, it's not difficult to argue that this franchise ushered in a new style of action filmmaking, one characterized by handheld camerawork and quick cuts that amp up the suspense. Films depicting heroes from James Bond to Bryan Mills of "Taken" have adopted the "Bourne" brand of action, and for that reason, the franchise should be considered iconic.
However, "Independence Day: Resurgence" demonstrated earlier this year that just because a franchise is responsible for a movie style that's in vogue doesn't mean that moviegoers will feel obligated to buy tickets. Just as the "Independence Day" brand of mass destruction couldn't attract a large audience to "Resurgence," people are not going to check out "Jason Bourne" just because they can count on seeing action in the cinema-verite style. Too many other films have offered the same thing, and so "Bourne" will have to depend on other factors to propel it to box office success.
Fortunately, Universal has rolled out an appealing marketing campaign for the film, highlighting the ever-appealing Matt Damon in action sequences that look intensely fun. A car chase down the Las Vegas strip is a highlight from the trailers, as is a scene where Bourne takes down an opponent with a single slug to the face. The casting of Tommy Lee Jones and Alicia Vikander may add some appeal, although the main draw, of course, is Damon. The actor is coming off an Oscar nomination and a heap of goodwill from his role in "The Martian" last fall, and many moviegoers are no doubt eager to see him return to the role that made him a bona fide star.
Although the reviews for the movie have been more mixed than those from the original trilogy (at press time, its Rotten Tomatoes score stood at 58%), the reception has not been negative enough to hamper box office potential in a serious way. Fans of the franchise will check out "Jason Bourne" as long as it's not supposed to be a total turkey, and the return of director Paul Greengrass has many fans excited. Look for the film to open with $53 to $56 million--lower than the $69.3 million opening of "The Bourne Ultimatum" but a solid start considering the film's $120 million budget.
Last weekend's No. 1 film, "Star Trek Beyond," should fall into second this weekend. The past two movies in the "Trek" franchise both saw sub-50% drops in their second-weekend, but that seems an unlikely fate for "Beyond" given competition from "Jason Bourne." The film should, at least, be able to capitalize on its good word-of-mouth to keep it from falling off of a 60%+ cliff. Look for "Beyond" to score a $25-$26 million second weekend, good for a ten-day cume just below $110 million.
"Bad Moms" will likely arrive in third place this weekend, as young studio STX Entertainment will hope to score its first opening weekend over $15 million. "Bad Moms" should clear that mark easily, and has the potential to go higher. The market is ripe for an R-rated comedy, as neither "Mike and Dave Need Wedding Dates" nor "Neighbors 2" (incidentally both starring Zac Efron) was able to light the box office on fire.
"Bad Moms," made for an economical $20 million, will probably have better luck thanks to its appealing premise and cast. Mila Kunis has been a part of such successful R-rated comedies as "Ted" and "Friends with Benefits," and although she may be less-than-believable playing the mother of two middle-schoolers, her presence should still attract interest. The film has been receiving positive reviews and will benefit from a trailer that's packed with raunchy laughs. The similarly-themed "Bad Teacher" was able to open to $31.6 million five summers ago, which may be too high a mark for "Moms" to reach. However, expect the movie to open with a stellar $21 to $23 million weekend, with the potential to show long legs throughout August.
"The Secret Life of Pets" will fall to fourth this weekend, but it will retain its title as the biggest family film in the marketplace. "Pets" should only experience a small drop, as no films that provide any real competition are opening this weekend. Expect the Illumination Entertainment film to gross $18 to $19 million this weekend, bringing its total to just short of $300 million.
It will be a close race for fifth this weekend, as four movies could hypothetically claim the spot. "Lights Out," "Ice Age: Collision Course," "Ghostbusters" and Lionsgate's new film "Nerve" all should land in the $9 to $12 million ballpark. Give the edge to "Ice Age: Collision Course," which will face the least competition for its target demographic. The animated movie should come in between $11 and $12 million for a disappointing total around $45 million.
On the lower end of the spectrum should be Lionsgate's "Nerve." The movie, which centers on an online truth or dare game and stars Dave Franco and Emma Roberts, will target a Millennial audience. The film opened on Wednesday to get a jump start on the competition, and earned a strong $3.8 million on its opening day. However, films targeting younger audiences have a tendency to be frontloaded, and "Nerve" may see waning box office returns following its opening. Expect the film to gross around $10 million for the weekend for a five-day start around $16 million.
A weekend recap will be posted on Monday with studio estimates.