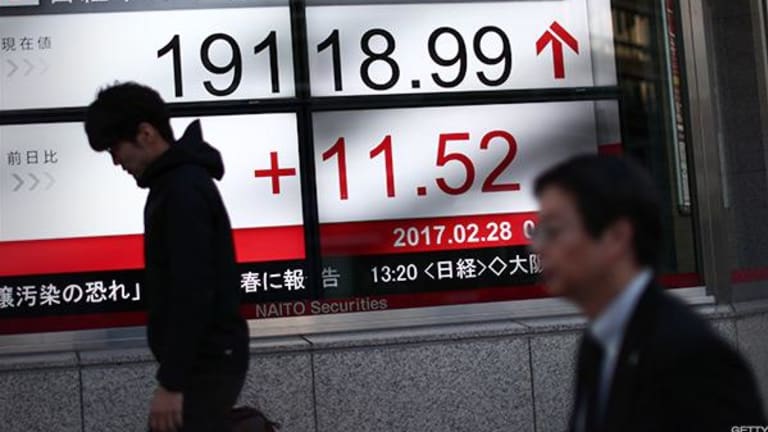 Japanese Stocks Shrug Off North Korea Concerns to Soar to 2 Year High
U.S. equities weren't the only markets on fire at the start of this week.
As the Dow Jones Industrial Average snagged its fifth consecutive record high close and the S&P 500 Index its second consecutive record high close Monday, Sept. 18, Japanese stocks also soared to new levels.
Shares on Japan's benchmark Topix index reached two-year highs on Tuesday with gains of 1.8%. The yen weakened for the third day in a row, strengthening demand from electronics makers, autos and banks, according to data from Bloomberg.
The Japanese currency dropped to near a two-month low against the dollar Tuesday as concerns focused on economic issues instead of the threat from nearby North Korea following a missile test that send a medium range weapon over Japan last weekend. A weaker yen offers a boost for export-related stocks.
Stocks were also sent higher on expectations that Prime Minister Shinzo Abe will hold a snap election more than one year early. Abe said Monday he'll make a decision on holding an election when he returns from a trip to the U.S.
The Topix had previously marked its best week since April on Friday, Sept. 15, with weekly gains of 2.9%. Japanese shares frequently strengthen around calls for new elections, Nomura Securities said, according to Bloomberg. Expectations that Abe and his coalition party will retain power has instilled confidence in investors.
Electronics makers led the Topix Tuesday as Fanuc Ltd. (FANUF) gained 3.1%, Murata Manufacturing Co. gained 2.7% and Panasonic Corp. (PCRFY) gained 2.5%.
More of What's Trending on TheStreet: