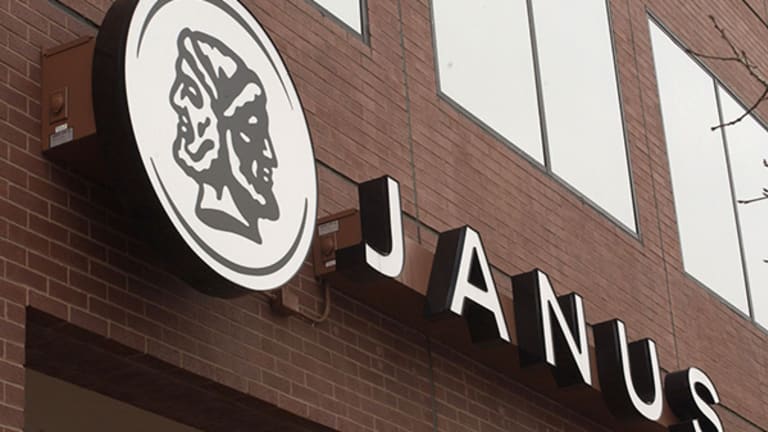 Janus Doubles Down on Risky Bond Bet With Bill Gross Hire
The hire of Gross comes at a risky time, with PIMCO under a cloud and fixed income potentially poised for a fall.
Updated from 11:18 to include BlackRock and Legg Mason share price reaction and statement from Jefferies report.
NEW YORK (TheStreet) -- With Janus Capital's  (JNS) hire of "Bond King" Bill Gross, the longtime equity mutual fund manager has announced its goal to become a top global player in fixed income.
Janus' $29 billion fixed income portfolio is dwarfed by the holdings of PIMCO, one of the world's largest fixed income managers with over $2 trillion in assets.
The market clearly liked the move with Janus shares rising 33.4% to $14.83 in afternoon trading Friday.
Still, the hire comes at a risky time, with most observers expecting the Federal Reserve to begin raising interest rates mid-to-late next year, suggesting a multi-decade bull run for bonds may finally be coming to a close.
Also, Gross joins Janus with PIMCO, the firm he founded, under a cloud. Performance has struggled of late and a very public dispute between Gross and his one-time protege, former CEO Mohammed El-Erian, led to El-Erian's departure in January. PIMCO is also being investigated by the Securities and Exchange Commission over potentially inflating exchange traded fund performance, according to reports by The Wall Street Journal and Bloomberg, among others. An email to a PIMCO spokesman was not immediately returned.
PIMCO's recent difficulties have clearly taken a toll on Gross, whose identity is closely tied to the firm he founded. Still, his impressive track record over several decades turned the so-called "Bond King" into the closest thing the bond industry has to a celebrity. And Gross's status only benefited from his reputation for sometimes eccentric public behavior.
What's more, flows into bond funds remain substantial. For three months ending in July U.S. taxable bond funds saw more inflows than any other fund category, according to a Morningstar report last month.
The timing of Gross in moving to Janus "could be brilliant or terrible," Michael Lipper, a fund industry veteran who is now president of investment adviser Lipper Advisory Services, which owns Janus shares on behalf of clients. "I don't know the level of patience on his part or Janus' part if it's terrible."
Janus had already made a formidable step into bonds with its hiring of former PIMCO executive Richard Weil as CEO in 2010. Still, says Lipper, "the shop is still basically an equity shop. It does not have the same distribution or institutional pattern that PIMCO has."
Founded in 1969, Janus rode the booms and busts in equity markets for several decades but has struggled to transform itself into a more stable fund manager in recent years. Clearly this latest move took Janus followers by surprise.
Following a recent meeting with Janus management, Keefe Bruyette & Woods analyst Robert Lee wrote in a Sept. 17 report that "management does not expect much if any additional personnel change." 
In a followup note Friday, Lee wrote, "we suspect that some assets could follow Gross to Janus, but this is impossible to quantify that at this point." He added that "there could be some hefty upfront costs to get Gross to leave Pimco, a firm he started and at which he very well paid, as well as costs of building out a new team."
In addition to the pop in Janus's shares, other asset management companies with a big fixed income presence saw their stock rise as well on the view that they could benefit from the turmoil at PIMCO.
"We believe the door opens further for other firms to gain market share," wrote Jefferies analyst Daniel Fannon in a note published Friday.
Names he singled out were BlackRock (BLK) , shares of which were up 3.40% to $332.45 in afternoon trades, and Legg Mason (LM) , which saw its shares pushed higher by 4.42% to $50.83.
Follow @dan_freed
Disclosure: TheStreet's editorial policy prohibits staff editors, reporters and analysts from holding positions in any individual stocks.