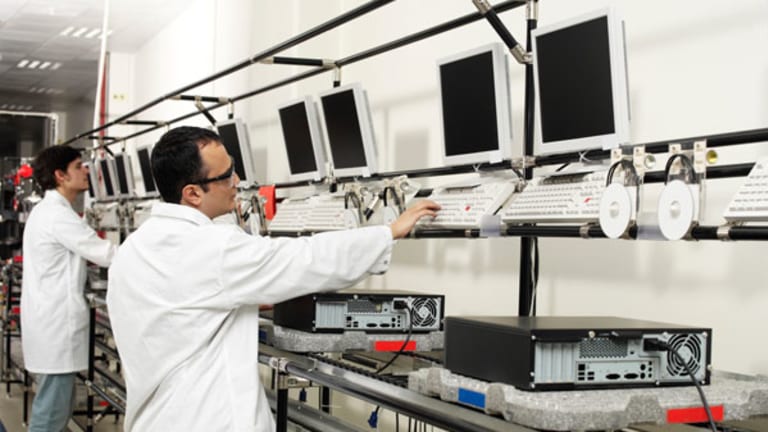 January Auto Sales Expected to Rise 6% to 7%
Predictions have healthy auto sales trends continuing, with Chrysler leading the pack.
DETROIT
) -- January auto sales numbers, scheduled to be released Wednesday, are expected to show positive sales trends continued into the new year.
TrueCar.com expects U.S. light vehicle of 874,481 units, up 6.7% from the same month a year earlier, while LMC Automotive expects 681,000 units, which it projects as a 6% gain. TrueCar and Edmunds.com expect a seasonally adjusted annualized sales rate around 13.5 million light vehicles, while LMC Automotive projects 13.8 million and Kelly Blue Book projects 13.2 million.
January's sales pace could be setting the scene for full-year sales.
Ford
(F) - Get Report
last week estimated full-year U.S. auto sales of 13.5 million to 14.5 million units, including 200,000 to 300,000 medium and heavy-duty trucks. Light vehicle sales have been rising steadily for three years, to 12.8 million last year from 11.6 million in 2010 and 10.4 million in 2009.
"For the first time in several years, we are starting the year off with a warm and fuzzy feeling of the good old days. where the industry and the consumers are once again focused on the excitement of the new cars -- and not which car company is going to survive, " said TrueCar analyst Jesse Toprak, in a statement.
"The positive momentum from the end of 2011 and a reasonable January 2012 sales rate will likely take industry sales very close to 14 million units this year," Toprak said.
LMC Automotive analyst Jeff Schuster added: "The upward movement of auto sales during the second half of 2011 and the stabilization of that trend in January cast a favorable light on 2012, despite the macro-level risks the industry continues to face."
"Coming off the North American International Auto Show in Detroit, a renewed sense of optimism is returning to the industry as the focus continues to shift from survival to planning for the future," Schuster said.
TrueCar forecasts that Chrysler, coming off a strong 2011, will once again lead automakers, with a 34% sales gain. Ford is expected to gain 8%, while
GM
(GM) - Get Report
loses 9%.
Toyota
(BA) - Get Report
and
Hyundai
would report double-digit sales gains, while
Honda
(HMC) - Get Report
is expected to report a 7% loss, TrueCar estimates.
Looking at Chrysler's gains, Edmunds.com analyst Michelle Krebs said the company's "momentum has been nothing short of remarkable, especially when it was on its last lifelines as recently as two years ago."
"It's poetic that Chrysler is receiving this well-deserved recognition almost exactly one year after its 'Imported from Detroit' ad campaign debuted during the Super Bowl, which was really the big turning point for the company," said Krebs, in a statement.
-- Written by Ted Reed in Charlotte, N.C.
>To contact the writer of this article, click here:
Ted Reed
>To follow the writer on Twitter, go to
.
>To contact the writer of this article, click here:
Ted Reed