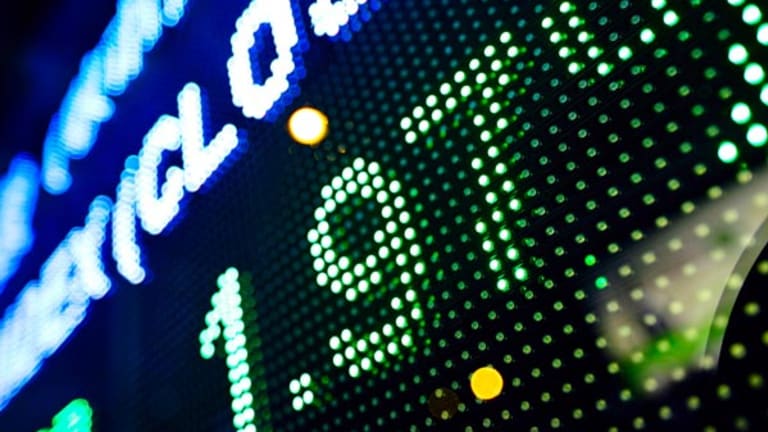 Publish date:
Jan. 29 Premarket Briefing: 10 Things You Should Know (Update 1)
U.S. stock futures turn lower; Turkey hikes rates; advertising remains a sore spot for Yahoo!; Boeing issues disappointing guidance.
U.S. stock futures turn lower; Turkey hikes rates; advertising remains a sore spot for Yahoo!; Boeing issues disappointing guidance.
Here are 10 things you should know for Wednesday, Jan. 29:  
1.-- U.S. stock futures were slipping ahead of a Federal Reserve stimulus decision Wednesday despite a hike in lending rates from Turkey and better consumer confidence from Germany. 
Stocks in Europe fell, reversing earlier gains. Asian shares closed Wednesday's session with gains. Japan's Nikkei 225 index rose 2.7%.
Turkey's central bank hiked its overnight lending rate to 12% from 7.75% and overnight borrowing rate to 8% from 3.5% to stabilize the Turkish lira and keep inflation under control.
2.-- The economic calendar in the U.S. Wednesday includes the rates decision from the Federal Open Market Committee at 2 p.m. EST. The two-day meeting marks Ben Bernanke's last as chairman of the central bank.
3.-- U.S. stocks on Tuesday jumped the most in two weeks, fueled by an upbeat housing price report and a slew of better-than-expected earnings and forecasts.
The S&P 500 rose 10.94 points, or 0.6%, to close at 1,792.50. The Dow Jones industrial Average gained 90.68 points, or 0.6%, to 15,928.56. The Nasdaq rose 14.35 points, or 0.4%, to 4,097.96.
4.-- President Obama told the American people on Tuesday night in his fifth State of the Union address that the U.S. economy was poised to continue adding more jobs.
The president noted the rebounding housing market, the manufacturing sector adding jobs for the first time since the 1990s, the country having produced more of its own oil than from abroad for the first time since the Ronald Reagan administration and large cuts in the deficit.
The speech comes more than five years after the financial crisis triggered the worst recession since the Great Depression and as the unemployment rate sits at its lowest level since October 2008.
The president said he would ask Congress to raise the minimum wage for federal contract workers to $10.10, a move that comes as Democrats highlight minimum wage as a central discussion of the income inequality debate.
5.-- Yahoo! (YHOO)  reported fourth-quarter earnings that were better than anticipated but advertising continued to be a sore spot for the Internet company.
Yahoo! noted in its earnings report on Tuesday that display revenue fell 6% in the fourth quarter from a year earlier to $491 million. The number of ads rose 3%, but prices continued to decline, falling 7% from the fourth quarter of 2012.
Yahoo! earned 46 cents a share on revenue, excluding traffic acquisition costs, of $1.2 billion. Analysts expected Yahoo! to earn 38 cents a share in the fourth quarter on revenue of $1.2 billion.
The company said it expects first-quarter revenue of between $1.06 billion and $1.1 billion.
The stock fell 4.8% in premarket trading to $36.38.

6.-- Facebook (FB) - Get Facebook, Inc. Class A Report is forecast by Wall Street on Wednesday to report fourth-quarter earnings of 27 cents a share on revenue of $2.33 billion.
Shares of the the social networking site rose nearly 3% on Tuesday to $55.14; the stock has risen close to 65% in the last 12 months, but growth concerns persist around the company.
Facebook shares fell 0.2% in premarket trading on Wednesday.
7.-- AT&T (T) - Get AT&T Inc. Report posted stronger-than-expected fourth-quarter earnings, helped by higher revenue from mobile and Internet service subscribers.
The nation's biggest telecommunications company said Tuesday that it earned $6.9 billion, or $1.31 share, in the quarter, a swing from a year-earlier loss of $3.8 billion, or 68 cents a share. Adjusted earnings in the fourth quarter were 53 cents a share, beating analysts' expectations by 2 cents. 
Revenue rose 2% to $33.2 billion from $32.6 billion. Wireless revenue, which includes equipment sales, rose 5% to $18.4 billion.
AT&T said it added 809,000 net wireless subscribers in the fourth quarter. 
The stock declined 2.5% before market open Wednesday to $32.85.
8.-- Aerospace giant Boeing (BA) - Get Boeing Company Report beat Wall Street estimates as per-share earnings rose 29% on increased deliveries of commercial aircraft. But the aircraft maker issued disappointing current year guidance and the shares fell in premarket trading.

9.-- IBM (IBM) - Get International Business Machines (IBM) Report is exploring the sale of some of its networking assets and may be seeking as much as a $1 billion, sources familiar with the matter told Re/code.
IBM is said to have informally approached several companies in the networking business, including Dell, Hewlett-Packard, Cisco, Juniper and Fujitsu, to gauge interest, Re/code reported.
IBM sold its low-end server business last week to Lenovo for $2.3 billion. 
10.-- Sprint (S) - Get SENTINELONE, INC. Report board members Masayoshi Son and Dan Hesse met recently with Justice Department officials who said they would view a Sprint acquisition of wireless rival T-Mobile US (TMUS) - Get T-Mobile US, Inc. Report with skepticism, people briefed on the conversation told The Wall Street Journal.
Department officials indicated at the meeting that a deal combining Sprint and T-Mobile could face regulatory difficulties, the people told the Journal. 
-- Written by Joseph Woelfel
To contact the writer of this article, click here:Joseph Woelfel
To submit a news tip, send an email to:tips@thestreet.com.
Copyright 2014 TheStreet.com Inc. All rights reserved. This material may not be published, broadcast, rewritten, or redistributed. AP contributed to this report.