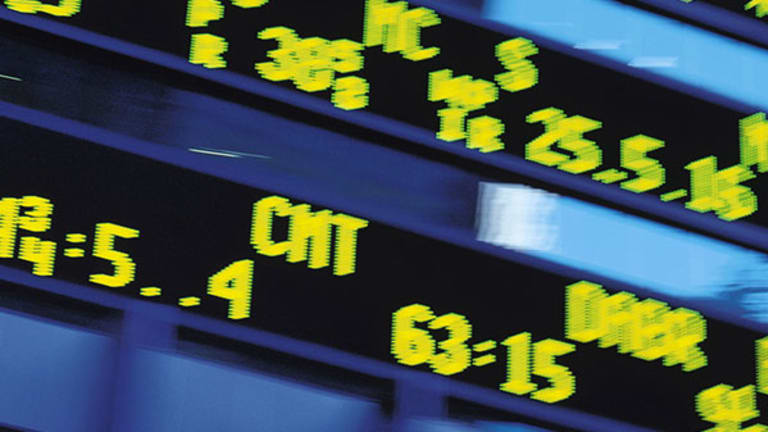 Publish date:
Jan. 21 Premarket Briefing: 10 Things You Should Know
U.S. stock futures decline early Thursday while European stocks edge higher ahead of a European Central Bank meeting.
U.S. stock futures decline early Thursday while European stocks edge higher ahead of a European Central Bank meeting.
Here are 10 things you should know for Thursday, Jan. 21:
1. -- U.S. stock futures declined early Thursday while European stocks edged higher ahead of a European Central Bank meeting at which rates are expected to be kept steady.
Asian shares ended the trading session sharply lower after posting gains earlier in the day. Tokyo's Nikkei fell 2.4%, Hong Kong's Hang Seng declined 1.8% and China's Shanghai Composite sank 3.2%.
Oil prices slipped but remained near $28 a barrel. The Energy Information Administration is expected to release its official data on U.S. stockpiles later Thursday.
2. -- The economic calendar in the U.S. on Thursday includes weekly Initial Jobless Claims at 8:30 a.m. EST, and the Philadelphia Fed Index for January at 8:30 a.m.
Must Read: 5 REITs to Trade for Gains in 2016
3. -- U.S. stocks on Wednesday finished down after crude closed at its lowest settlement since May 2003. 
It was a day of reversals on Wall Street, with the major averages changing direction almost by the minute. 
The Dow Jones Industrial Average plunged as low as 566 points, then recovered in the final hour to a loss of less than 130, only to fall back again and close down 250 points.
The S&P 500 fell to its lowest level since February 2014 earlier in the day, though clawed back to close 1.2% lower. 
The Nasdaq tumbled, then turned positive in the last hour, then closed down about 0.12%.
4. -- Foxconn (HNHPF) , the Taiwanese company that assembles the bulk of the world's iPhones, offered about ¥625 billion ($5.3 billion) to take over troubled Japanese electronics maker Sharp (SHCAY) , The Wall Street Journal reported, citing people familiar with the matter.
Sharp, which has been bailed out repeatedly by banks, is set to review a competing offer from Innovation Network Corp. of Japan, a government-backed investment fund. 
Foxconn is offering more money for Sharp and a willingness to shoulder all of its debt, people familiar with the offer told the Journal.
5. -- Kinder Morgan (KMI) - Get Report reported a fourth-quarter loss of 29 cents a share on revenue of $3.64 billion. Analysts were expecting earnings of 18 cents a share on $3.9 billion in revenue.
"We are pleased with KMI's business performance for the year, especially in light of a tremendously challenging commodity environment, and we are glad to have generated the greatest amount of annual distributable cash flow in the company's history along with a 7% increase in our DCF per share year over year," said Richard Kinder, executive chairman. "However, we were disappointed by KMI's stock performance, which declined 65% during 2015."
The Texas-based company operates over 84,000 miles of pipelines that transport natural gas, crude and refined petroleum and carbon dioxide.
Kinder Morgan was an early champion of the master limited partnership structure but switched to operating as a C-corp in 2014. Since then, the company's long-term investors have been bruised many times over.
6. -- Deutsche Bank (DB) - Get Report said Thursday it expects an annual loss of 6.7 billion euros ($7.3 billion) for 2015, compared with a net profit of 1.69 billion euros the previous year.
Germany's largest bank blamed the wider-than-expected loss on further litigation charges.
In an unscheduled announcement late Wednesday, Deutsche Bank said it would post a fourth-quarter loss of 2.1 billion euros, including 1.2 billion euros for litigation costs. The bank earned 441 million euros a year earlier.
Full-year litigation provisions stood at about 5.2 billion euros and restructuring and severance charges came to about 1 billion.
7. -- FireEye (FEYE) - Get Report said it paid $200 million to acquire threat intelligence company iSight Partners.
"This acquisition extends FireEye's intelligence lead with an offering no one else in the industry can match," FireEye CEO David DeWalt said in a statement. "Forward-looking security organizations -- from governments to the private sector -- know threat intelligence is the key to establishing a robust security posture tuned for the threats targeting each organization."


8. -- General Motors (GM) - Get Report  announced Thursday it formed a brand called "Maven" that will run its car-sharing ventures, including a new one that will begin competing with ZipCar next month in Ann Arbor, Mich., and spread to other metro areas later this year.
GM executives said they expect their main business model of selling cars to people will continue to be large, but they also see big changes coming with ride- and car-sharing.
"We see significant opportunity as that change occurs," GM President Dan Ammann said. "We very much as a company want to make sure we're at the forefront of that."
9. -- House lawmakers issued a subpoena to compel former Turing Pharmaceuticals CEO Martin Shkrei, reviled for price-gouging, to appear at a congressional hearing next Tuesday.
The House Committee on Oversight and Government Reform is investigating several companies for exorbitant drug price increases, including Canadian drugmaker Valeant Pharmaceuticals (VRX) .
Shkreli became notorious after his company Turing hiked the price of Daraprim, the only approved drug for a rare and sometimes deadly parasitic infection, by 5,000%. Since then, Shkreli has been deluged with criticism from patients, politicians and the media, with some labeling him the "most hated man in America."
10. -- Earnings are expected Thursday from Verizon (VZ) - Get Report , United Airlines (UAL) - Get Report , Southwest Airlines (LUV) - Get Report , American Express (AXP) - Get Report , Travelers (TRV) - Get Report , Union Pacific (UNP) - Get Report  , Starbucks (SBUX) - Get Report and Schlumberger (SLB) - Get Report .
TheStreet's Jim Cramer remains bullish on Starbucks, which is part of the Action Alerts PLUScharitable trust portfolio. The company's stock continues to be a good buy during the market weakness, Cramer said on CNBC's Mad Money last week.