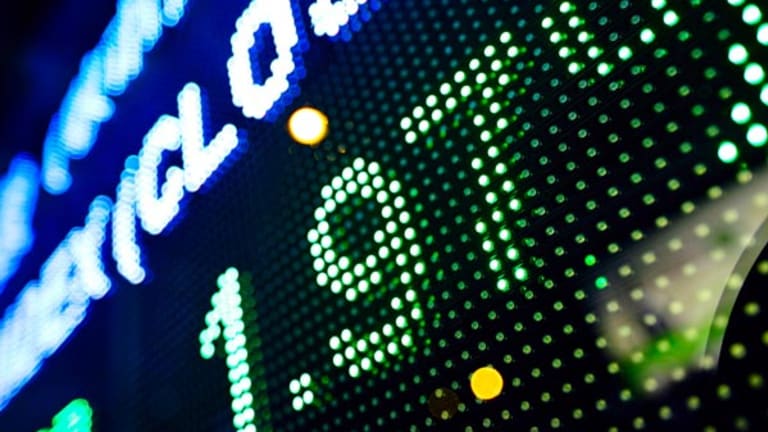 Jan. 13 Premarket Briefing: 10 Things You Should Know
U.S. stock futures are lower; GM says its closer to reinstating a dividend; Amec bids for Foster Wheeler; Ford to unveil an aluminum F-150; Accenture to fix Healthcare.gov Web site.
U.S. stock futures are lower; GM says its closer to reinstating a dividend; Amec bids for Foster Wheeler; Ford to unveil an aluminum F-150; Accenture to fix Healthcare.gov Web site.
Here are 10 things you should know for Monday, Jan. 13:  
1.-- U.S. stock futures were pointing lower on Monday while overseas equities mostly shrugged off a weak U.S. jobs report.
European stocks were rising slightly early Monday. Asian shares ended the session with gains. Hong Kong's Hang Seng index rose 0.2%. Japanese markets were closed for a holiday.
2.-- The economic calendar in the U.S. Monday includes the Treasury Budget for December at 2 p.m. EST.
3.-- U.S. stocks on Friday closed mixed after a worse-than-expected December jobs report underlined the rocky nature of the economic recovery.
The S&P 500 added 0.23% to close at 1,842.37, while the Dow Jones Industrial Average fell 0.05% at 16,437.05. The Nasdaq gained 0.44% to finish at 4,174.67. The S&P and Nasdaq added 0.6% and 1.03%, respectively, in the first full trading week of 2014. The Dow lost 0.2% for the week.
4.-- General Motors (GM) - Get Report Chief Financial Officer Dan Ammann told reporters the automaker is "the closest it has ever been" to reinstating a dividend.
GM last paid a dividend on its common stock in May 2008.
Ammann, who is set to become GM president on Thursday, made the comments on the sidelines of the North American International Auto Show in Detroit, Reuters reported. Ammann also said the European car market has bottomed but wasn't sure how fast it would rebound.
5.-- Amec, the British engineering company, said Monday it provisionally agreed to buy Foster Wheeler (FWLT)  in a cash and stock deal of $3.2 billion.
Foster Wheeler is listed in the U.S. but is based in Switzerland. 
Amec, which said the deal would improve its geographic reach, will offer 0.9 Amec shares and $16 in cash for each Foster Wheeler share, or $32 a Foster Wheeler share. Foster Wheeler shares closed Friday at $31.46.
6.-- Ford (F) - Get Report is expected to unveil at the International Auto Show on Monday a new F-150 pickup truck with a body built almost entirely out of aluminum. The lighter material cuts about 700 pounds off the 5,000-pound truck.
"There is already so much buzz around the F-150, including a lot of questions about how the aluminum body will affect weight reduction, fuel economy and performance, Edmunds.com analyst Jessica Caldwell said. "I wonder if it will be something people embrace, or if people will think it strays too far from what a truck is. The traditional truck market is not used to radical change."
7.-- Consulting giant Accenture (ACN) - Get Report received a one-year contract to continue technical improvements to HealthCare.gov, the flawed online health insurance marketplace set up by the Affordable Care Act. 
Accenture takes over from CGI Group (GIB) - Get Report, the main contractor of the marketplace. CGI has had a contract to run the Web site since 2011. 
8.-- Fast food chain Wendy's (WEN) - Get Report is expected by analysts on Monday to report preliminary fourth-quarter earnings of 6 cents a share on revenue of $611.3 million.
9.-- "12 Years a Slave" won best motion picture drama at the 2014 Golden Globes on Sunday night, while "American Hustle" took the top prize for best comedy or musical motion picture.
10.-- The Denver Broncos beat the San Diego Chargers, 24-17, on Sunday night and are headed to the AFC Championship Game against the New England Patriots next weekend.
Earlier in the day, the San Francisco 49ers beat the Carolina Panthers, 23-10, and will play the Seattle Seahawks in the NFC Championship Game next Sunday.
-- Written by Joseph Woelfel
To contact the writer of this article, click here:Joseph Woelfel
To submit a news tip, send an email to:tips@thestreet.com.
Copyright 2014 TheStreet.com Inc. All rights reserved. This material may not be published, broadcast, rewritten, or redistributed. AP contributed to this report.