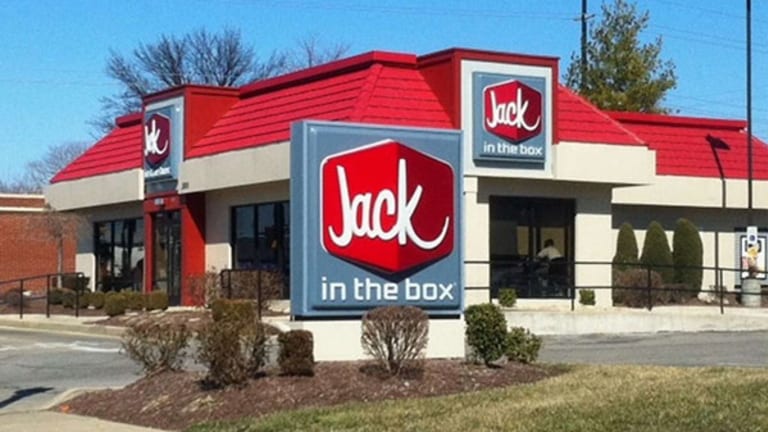 Publish date:
Jack in the Box Stock's Trajectory in Question After Analyst's Sell Rating
The fast-food chain's stock has risen nicely this year, but Goldman Sachs says it's time to sell the stock. What gives?
The fast-food chain's stock has risen nicely this year, but Goldman Sachs says it's time to sell the stock. What gives?
Fast-food restaurant chain Jack in the Box (JACK) - Get Report just received a sell rating from Goldman Sachs. The negative sentiment is warranted. Comparative sales have been sluggish, and competition in the fast-food and fast-casual markets is fierce.
It's time to pocket gains.
The company has gained 20% year to date. The surge has pushed its price-to-earnings ratio to about 27, which is higher than YUM! Brands' P/E  of 22 and McDonald's P/E of 21.
The company's combination meals that allow you to "eat tacos like side orders" have generated a loyal following. So too is the company's "brunch-fast."
Most analysts are bullish about the stock. The current consensus among more than a dozen investment analysts is that the stock is a buy. Median price targets point to 22% upside.
With Chipotle Mexican Grill still under a cloud, a number of its customers migrated to Jack in the Box. This was probably why many on Wall Street put their bets on the "short CMG; long JACK" trade.
Jack in the Box's early fourth-quarter trends have been favorable, according to Wedbush analysts, Seeking Alpha recently reported. The analysts said their channel checks showed that same-store sales were on track increase at the 1.5% clip the analysts had expected. Wedbush also said there was upside for Jack in the Box's earnings per share because of increasing buybacks and refranchising.
But Goldman Sachs sees risks to Jack in the Box's future growth, and that was behind its recent initiation of coverage on the stock with a sell rating. The Goldman analysts are concerned that McDonald's may grab a portion of Jack in the Box's market share, particularly in the early morning and late-night segments. Jack in The Box currently brings in 40% of its business from breakfast or late night eating.
In addition, Soniclast month warned about lower-than-expected traffic, in a sign that consumer spending was sluggish for the restaurants category. This could mean pressure on margins throughout the industry.
Goldman's sell rating on Jack in the Box is definitely worrying; avoid the stock for now.
---
How many times have you heard someone on CNBC say, "I actually think the economy is fine here in the United States. Buy stocks!"? If you're like many Americans, you've probably heard it more than once. But just because they're saying it, doesn't make it true. Because I can tell you with absolute certainty it's not. America is in deep trouble. And the crisis looming on the horizon has the potential to make 2008-2009 look like child's play. The window to protect yourself is rapidly closing. I'll show you how here.
This article is commentary by an independent contributor. At the time of publication, the author held no positions in the stocks mentioned.