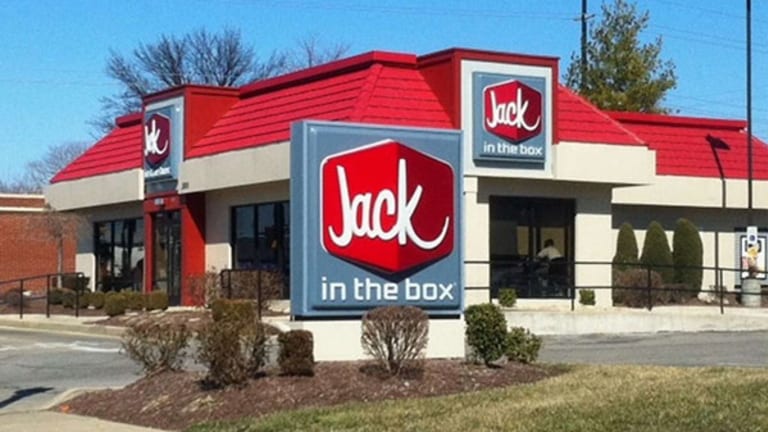 Jack in the Box Might Bounce Higher
Jack in the Box stock has sprung up 29% year to date. Can it continue higher?
Shares of Jack in the Box (JACK) have sprung up 29% year to date. Can the stock continue higher?
Earlier this month, Jack in the Box reported third-quarter earnings of $1.07 per share, or 20 cents better then expected. Revenue rose 2.6% to $368.94 million. System-wide same-store sales grew a modest 1.1%. Company-owned same-store sales decreased 0.2%, but the average check rose 3.5%. Qdoba same-store sales increased 0.6% system wide, and 1% for company owned restaurants.
While same-store sales were in line with expectations, consolidated restaurant operating margins increased by 10 basis points to 21.9% of sales.
Management raised fourth-quarter guidance, but reduced its fiscal 2017 forecast. The company anticipates fully diluted fiscal 2016 earnings of $3.65 to $3.75 vs. the $3.57 consensus. Same-store sales are forecast to end the year flat to up 0.5% and up 1.5% to 2% at Qdoba.
The company will end fiscal 2016 with 20 new Jack restaurants and 50 to 60 new Qdoba locations, of which approximately 35 will be company-owned locations.
At the May analyst meeting, the company said it is trying to add more than $400 million in earnings before interest, taxes, depreciation and amortization by fiscal 2018. Management has been able to increase consolidated restaurant margins from 13.2% in 2011 to 20.4% in 2016, and margins will end the year near 21%.
Analysts like the stock for three reasons. First, refranchising the system will save on overhead. Second, management believes it can lift restaurant-level operating margins. Third, the company believes it can increase same-store sales.
Jack in the Box is aggressively refranchising its restaurants. By the time it has sold 90% of its restaurants, it believes it can gain as much as 65 cents to 78 cents per share in accretion through cost reductions. By franchising the less desirable units, restaurant-operating margins should rise. The company believes Jack in the Box operating margins will exceed 25% and 20% at Qdoba. Furthermore, by refranchising, management believes it can get same-store sales to increase 2.5% to 3.5% per year at Jack in the Box and 4% to 5% at Qdoba.
If the company can achieve its goals, consensus estimates for fiscal 2017 and 2018 could be low.
Given the consistent progress management has made over the last few years, I think the stock can find its way over $100 as estimates increase.
This article is commentary by an independent contributor. At the time of publication, the author held no positions in the stocks mentioned.