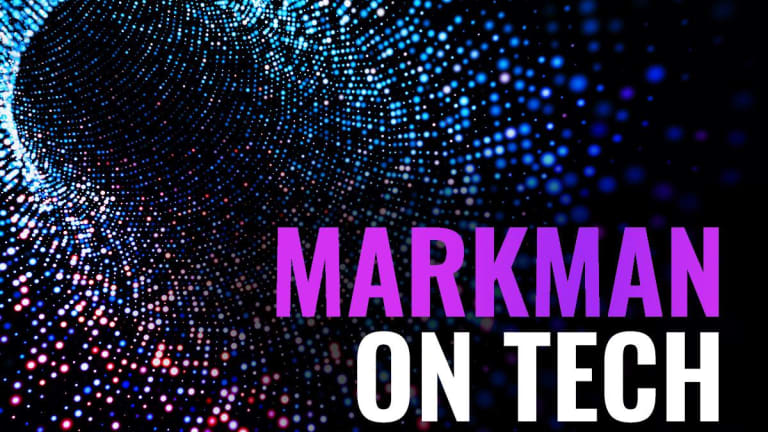 Publish date:
Meet Jack Henry -- the Genius Behind Smart Banks
Attacks from the fringe of finance are pushing regional banks and credit unions to fortify their business with new technologies to make their ecosystems stickier.
Attacks from the fringe of finance are pushing regional banks and credit unions to fortify their business with new technologies to make their ecosystems stickier.
Thanks to Silicon Valley, the world of finance is in the middle of a technology revolution. Old business models are being slain by taps, swipes and software.
Bankers know this, and they're freaking out. They worry about becoming dad's bank. That anxiety plays right into the hands of product managers at Jack Henry & Associates (JKHY) - Get Jack Henry & Associates, Inc. (JKHY) Report .
It's a company investors should learn to love, and buy. (Full disclosure: I own shares in Jack Henry).
Jack Henry is not a household name. Don't worry. That's by design. The Missouri financial technology company operates behind the scenes, helping regional banks and credit unions control risks, make regulatory filings and, most recently, get hipper with online banking.
It's a solid, predictable business. For the past five years, sales have increased at a steady high single-digit clip. In 2018, the company did $1.5 billion in revenues.
That's a far cry from the company Jack Henry and Jerry Hall started in 1977. Back then, they had an office above an engine repair shop, a single rented computer, and just one client. Sales in the first full years amounted to $9,360. But the pair were onto something. Their software automated many of regulatory filings that kept bankers up to their elbows in paperwork. Sales shot up to $115,000 in the second year. And by 1985, only eight years removed from a walk-up office and motor oil fumes, Jack Henry and Associates was headed to a successful initial public offering.
From there, managers leveraged core positions in risk management and regulatory software, coupled with gaudy operating margins, to build out a full suite of software tools for banks.
A secondary offering of 1.5 million shares in 2000 financed the buyout of Symitar, a San Diego software outfit. Its Episys platform had become the gold standard for credit unions with assets exceeding $50 million.
Goldleaf Financial Solutions and Pemco Technologies were bought in 2009. A year later, iPay, the largest e-bill pay provider in the United States, was folded in. In 2014 Jack Henry acquired Banno, a developer of online and mobile banking software. And Bayside Business Solutions, a payment processing provider, solidified the mobile payments platform in In 2015.
Today, from its corporate headquarters tucked away in picturesque Monet, Jack Henry sales pros help 11,300 regional bank and credit union managers build software backends to process payments online, deposit checks by snapping photographs, transfer money with swipes, taps and even Amazon Alexa voice commands.
These applications look and feel like they were made by the local banks and credit unions. They have corporate branding and all of the other flourishes of hue and language. But the backend is all Jack Henry.
The combination is a winner.
During the second quarter financial results conference call, David Foss, chief executive officer, told analysts the company continues to win new customers. Jack Henry booked 19 new debit processing customers in the period, bringing the total to 214 on the new platform. It also added 45 new clients on its Banno payments processing platform.
Foss claims that 95% of banking end users continue to use the Banno backed mobile apps, month-over-month.
Jack Henry knows its mostly smaller town banking clients are under attack from Silicon Valley. Companies like PayPal (PYPL) - Get PayPal Holdings Inc Report and Square (SQ) - Get Square, Inc. Class A Report are promising to reimagine banking with popular peer-to-peer money transfer mobile apps. Apple (AAPL) - Get Apple Inc. (AAPL) Report is encroaching in the payments business with its Card product.
These attacks from the fringes are pushing banks to fortify their business with new technologies to make their ecosystems stickier.
A 2017 report from Price Waterhouse Coopers found that 82% of incumbent financial institutions expected to increase partnerships with fin-techs during the next three to five years. This is a tidal wave of new investment in the offing.
Both culturally and geographically, Jack Henry is the right fit. And the company has amassed an arsenal of best-in-class fighting tools.
In 2018, sales rose 8.3% year-over-year, to $1.5 billion. Gross profit margins, always a mainstay at Jack Henry, surged to 43%.
Although the company continues to win customers, and report consistent high single-digit revenue growth, it is still not widely followed on Wall Street. Moreover, the outlook for its products and services is strong. Regional banks and credit unions have to modernize their offerings or die.
This is an opportunity for long-term investors.
Shares trade at 34.9x forward earnings and 6.9x sales. Neither of these metrics is cheap. However, Jack Henry stock has never been cheap. These multiples are within the historic range despite the terrific outlook.
The stock declined from $163 to $126, before rebounding to $141 in the past few months. Based on sales growth, the stock should trade to $210 over the next two to three years.
The author of this column owns the following stocks mentioned: Apple, Square and Jack Henry & Associates