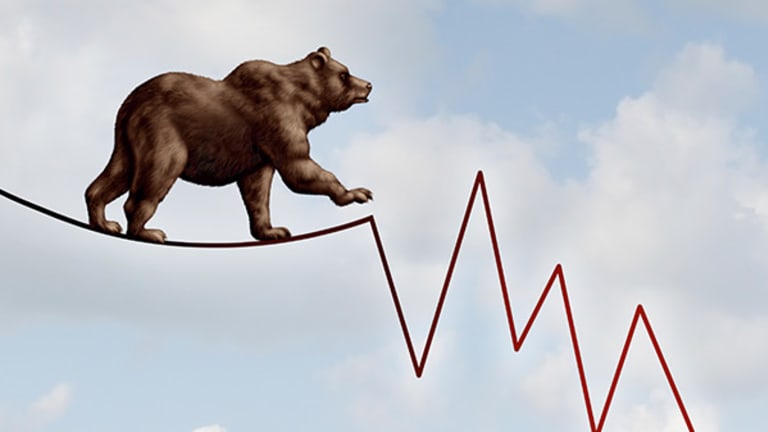 Jabbing a Needle in the Overinflated Nymox Prostate Drug Hype
Nymox will not be successful in convincing the U.S. Food and Drug Administration (or its counterpart in Europe) to approve fexapotide to treat men with enlarged prostates.
It's time for some truth-telling about Nymox (NYMX) - Get Nymox Pharmaceutical Corp Report after a week in which the drug maker's stock took a long hike up Cow Feces Mountain.
Nymox will not be successful convincing the U.S. Food and Drug Administration (or its counterpart in Europe) to approve fexapotide to treat men with enlarged prostates.
How do I know this? Because regulators don't approve new drugs that fail large clinical trials.
Nymox conducted two large clinical trials of fexapotide in a combined 1,000 men with enlarged prostates, also known as benign prostatic hyperplasia, or BPH. Half of the men were given a single injection of fexapotide into their prostate, the remaining men were given a placebo injection. After one year of follow-up, doctors examined the men to measure the extent of improvement in their BPH symptoms.
As reported by Nymox in November 2014, there was no difference between fexapotide and the placebo in either phase III studies.
Experimental drugs that cannot demonstrate a benefit over placebo don't receive marketing approval by the FDA. This is particularly true for diseases like BPH, where patients already have ample treatment options, including low-cost generic pills.
I don't know how other men feel, but if my prostate was enlarged and giving me problems, I'd rather pop a pill once a day for relief over having a doctor insert a probe into my anus in order to jab my prostate with a large needle. Yes, this is how fexapotide is administered.
Nymox said this week that approval applications for fexapotide will be filed "in the next 1-2 quarters." Good luck with that, Nymox.
The most fascinating aspect of the Nymox story is its continued existence. Nymox's stock price cratered to pennies per share after the failed phase III studies were disclosed in November 2014. With almost no cash, you'd think Nymox would have been forced to fold. But almost two years later, the company is still in business and the stock almost completely recovered, albeit briefly.
Chalk up Nymox's rebound to persistent promotion and the willingness of traders to latch onto any stock with momentum. The company is certainly not surviving on fundamentals. Fexapotide is worth nothing. Including the most recent financing, Nymox has approximately 5 cents per share in cash. Yet at $4.34 per share, the company's market value exceeds $240 million.
Nymox CEO Paul Averback did not respond to a message seeking answers to questions about fexapotide, but claims he and the company have made over the past year about the drug's purported benefit for BPH patients are easily debunked.
Back in November 2014, Averback blamed the failure of the fexapotide phase III clinical trials on a larger-than-expected response from patients treated with placebo injection. That's an absurd claim.
Both phase III studies followed patients for one year and didn't allow the patients to receive treatment with any additional approved or experimental BPH drugs beyond the single injection of fexapotide or placebo. Nymox might have a legitimate reason to blame a placebo effect had the studies only lasted three months, like most studies of BPH drugs. There is no way that a placebo effect would hold up for an entire year of follow up.
Frankly, it's difficult to believe Nymox was able to complete the two phase III studies given the long follow-up period and the restrictions on the use of concomitant BPH medicines. This might explain Nymox's refusal to disclose any details about the two failed fexapotide studies.
Data from the studies have not been published or presented at any scientific meetings despite completion almost two years ago. Did Nymox actually conduct and finish the two fexapotide studies? The only proof comes from the company's press releases and SEC filings. There's been no independent verification because no one outside the company or its paid consultants has actually seen data from the studies.
In July 2015, Nymox issued a press release claiming fexapotide beat placebo in a prospective, double-blind, long-term BPH extension study. The company added that it intended to seek approval for fexapotide based on these results.
There is no independent evidence, apart from Nymox's press release, that this BPH extension study of fexapotide is real.
A fexapotide long-term BPH extension study is not listed in the ClinicalTrials.gov database. The description of the two (failed) phase III studies in the same ClinicalTrials.gov database does not include any mention of patients continuing follow-up for longer than one year.
In the July 2015 press release, Nymox claims patients in the extension study were followed for a median duration of three and half years after a single injection of fexapotide or placebo. And after this long follow-up period, the men treated with a fexapotide showed greater improvements in their BPH symptoms compared to men treated with a placebo.
Think about this Nymox claim for a moment. After one year, there was no difference between fexapotide and placebo when BPH symptoms were measured. But after the same patients were followed for an additional two and half years (median), fexapotide finally beat placebo. 
If you had an enlarged and bothersome prostate, would you wait three and half years for an injection like fexapotide to work better than a placebo? Of course you wouldn't, especially given the availability of convenient pills to treat BPH.
The two phase III studies of fexapotide were designed to last one year, after which the treatment blind was broken so the results could be analyzed and reported. Yet Nymox claims the extension study had patients and doctors blinded to their treatments (fexapotide or placebo) for another two and a half years.
That's highly unlikely.
Nymox didn't report the number of patients included in the efficacy analysis of the extension study. I suspect the number of patients is minuscule, far below the 1,000 men enrolled in the two phase III studies.
Nymox also fails to acknowledge if patients enrolled in the extension study were allowed to take concomitant BPH medicines. For obvious reasons, this would compromise the positive results claimed by the company.
The results touted by Nymox from the fexapotide extension study in July 2015 have not been published nor presented at a medical meeting. Like with the data from the two phase III studies, there is no independent verification of anything Nymox claims.
I've saved the most ridiculous and comical Nymox claim for last, which is this week's announcement -- another press release -- that patients treated with placebo in the original phase III studies who then crossed over to receive fexapotide for two to three years required fewer surgeries than placebo patients who went on to receive conventional BPH therapies.
Hmm. Last July, Nymox claimed patients in their studies remained on their randomized treatments, fexapotide or placebo, for three and a half years. This week, Nymox contradicts itself by admitting placebo patients were eligible to receive fexapotide. The patients were also allowed to receive treatment with conventional BPH medicines.
If Nymox follows through with its promise to file for fexapotide's approval in the next quarter or two, the clock will start ticking down to the company's demise. There is no medical need for fexapotide and the clinical data collected from two phase III studies show clearly the drug has no benefit for men with enlarged prostates. Nymox has spent the past two years in a futile quest to spin bad clinical data.
More likely, Nymox won't send a fexapotide approval package to the FDA or its European counterparts. The company will find more reasons to delay. There will be additional stabs at post-hoc data mining from failed clinical trials. And, of course, there will be more follow-on Nymox stock sales. 
What there won't be is a fexapotide marketing approval.
A vigilant and efficient financial regulatory system would have forced Nymox to shut down a long time ago.
Adam Feuerstein writes regularly for TheStreet. In keeping with company editorial policy, he doesn't own or short individual stocks, although he owns stock in TheStreet. He also doesn't invest in hedge funds or other private investment partnerships. Feuerstein appreciates your feedback; click here to send him an email.