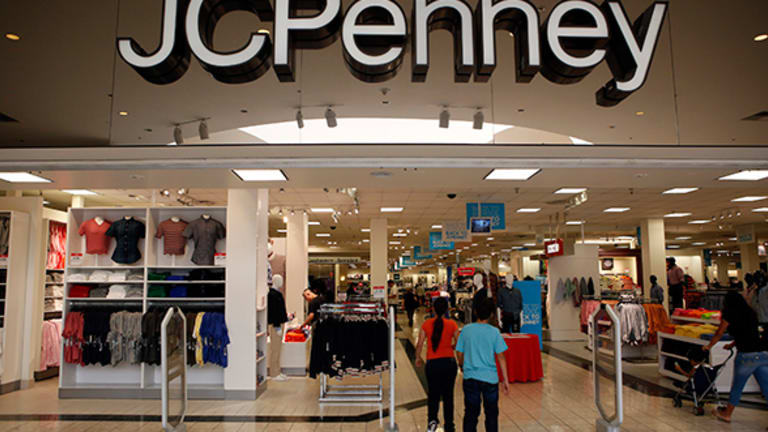 J.C. Penney's Stock Is Getting Crushed - Here's What Went Down
Like Macy's, Nordstrom and Kohl's, this quarter was not J.C. Penney's strongest.
J.C. Penney (JCP) - Get Report  has unsurprisingly joined a growing list of retailers reporting weak first quarters.
Before Friday's market open, J.C. Penney reported a first-quarter net loss of 38 cents a share, compared to the loss of 21 cents a share analysts surveyed at Factset expected. The retailer posted revenue of $2.7 billion, generally in line with Wall Street's estimates for $2.78 billion. Same-store sales declined 3.5 percent in the quarter.
Meanwhile J.C. Penney affirmed its outlook for 2017, expecting earnings of 40 cents to 65 cents a share and comparable store sales to either fall or gain 1 percent.
On a company earnings call, J.C. Penney CEO Marvin Ellison said despite seeing "a challenging apparel business," growth was driven by categories including activewear, touting "one of the hottest brands" Adidas (ADDYY) , and appliances.
"Admittedly we have a lot of work to do," Ellison said.
On the call, J.C. Penney CFO Ed Record said the north eastern U.S. region was the worst performing for the retailer. He said J.C. Penney is "committed" to working to reduce inventory by 5 percent by the end of 2017. At the end of the first quarter, inventory was up 0.8 percent to $2.95 billion.
Shares of J.C. Penney crashed as much as 10.9 percent to $4.70 in afternoon trading.
Said Piper Jaffray analyst Erinn Murphy, "While we wholeheartedly agree with the strategic actions underway, we remain worried that structural factors have more influence at the end of the day."
The news comes after on Thursday, both Macy's (M) - Get Report and Kohl's (KSS) - Get Report reported weak quarterly reports, only adding to concerns that the outlook for retailers is grim. Nordstrom (JWN) - Get Report had a slightly better first quarter but its same-store sales still slipped 0.8 percent.
J.C. Penney, Macy's and the dyingSears Holdings Corp. (SHLD) are part of a growing list of 20 battered retailers, by TheStreet's count, being forced to shutter massive amounts of stores due to declining mall traffic, the rising cost of rent and wages and heightened pressure from e-commerce giants like Amazon (AMZN) - Get Report .
J.C. Penney alone plans to close 138 stores stores by the end of the summer, representing 13 percent to 14 percent of the retailer's current store base. On the call, Record said J.C. Penney is also in the process of closing a distribution center. The liquidation process begins May 22.
More retail news on TheStreet: