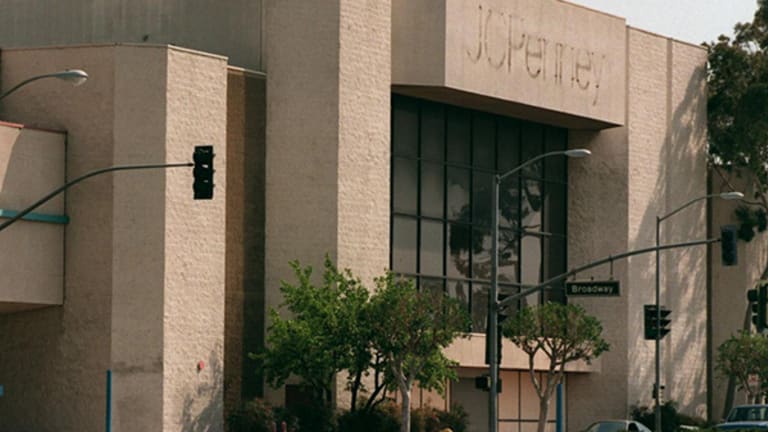 Why J.C. Penney May Have No Choice but to Aggressively Close More Than 300 Stores by 2020
More store closures for struggling J.C. Penney could be lurking.
More J.C. Penney (JCP) stores could go dark very soon. 
"700 is likely the ultimate ideal fleet size [for J.C. Penney] based on current store volumes. Thus, we expect aggressive ongoing store closures over the next 2-3 years," wrote Morgan Stanley analyst Kimberly Greenberger in a note on Monday. J.C. Penney said earlier this year that it plans to close 138 stores stores by the end of the summer, representing 13% to 14% of its current store base.
The company currently has more than 1,000 stores in operation. 
Greenberger's call is not without merit. 
Sales at the retailer's stores in A and B-rated malls were about the "same" during the first quarter, J.C. Penney CFO Ed Record told analysts on a conference call last week. The company's overall same-store sales declined 3.5% in the quarter. A bright spot, said Record, were sales at J.C. Penney's off-mall locations where they were a "couple hundred basis points" better than locations at malls.
There is no dancing around the fact J.C. Penney, much like its rivals in the mall, struggled in the first-quarter amid more people shopping online instead of visiting a store. Retailers, especially those tied to middle income consumers such as J.C. Penney, also battled cautious spending due to delayed tax refunds.
J.C. Penney reported a first-quarter net loss of 38 cents a share, compared to the loss of 21 cents a share analysts anticipated. The retailer posted revenue of $2.7 billion, generally in line with Wall Street's estimates for $2.78 billion. The company affirmed its outlook for 2017, expecting earnings of 40 cents to 65 cents a share and comparable store sales to either fall or gain 1 percent.
CEO Marvin Ellison said despite seeing "a challenging apparel business," growth was driven in categories including activewear, touting "one of the hottest brands" Adidas (ADDYY) , and appliances.
"Admittedly we have a lot of work to do," Ellison said.
Said Piper Jaffray analyst Erinn Murphy, "While we wholeheartedly agree with the strategic actions underway, we remain worried that structural factors have more influence at the end of the day."
The news came after both Macy's (M) and Kohl's (KSS) reported weak quarterly reports, only adding to concerns that the outlook for retailers is grim. Nordstrom (JWN) had a slightly better first quarter but its same-store sales still slipped 0.8%.
J.C. Penney, Macy's and the dyingSears Holdings Corp. (SHLD) are part of a growing list of 20 battered retailers, by TheStreet's count, being forced to shutter massive amounts of stores due to declining mall traffic, the rising cost of rent and wages and heightened pressure from e-commerce giants like Amazon (AMZN) .
Read More Trending Articles:
Amazon Should Be Terrified by This New Service Walmart Is Quietly Testing in China
Cisco Could Be Looking to Acquisitions to Help Solve Its Biggest Challenge
We Quickly Learned Why Ford's New Truck Named After a Killer Dinosaur Is a Beast
Editor's Pick: Originally published May 15.