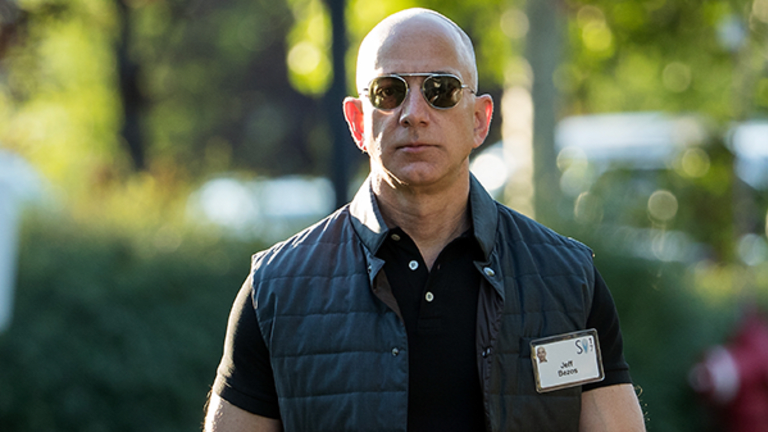 J.C. Penney, Kohl's, and Macy's Must Suck It Up and Call Amazon or Risk Dying, Ex-Amazon Exec Says
If these struggling retailers don't figure out how to work with Amazon, then it's the executives' fault, he said.
Amazon (AMZN)  has brought retailers to their knees but they need to pick themselves back up and ask the e-commerce giant for help, according to a former Amazon executive. 
"They will have a challenging future if they don't embrace Amazon," said Brittain Ladd in an interview with TheStreet. "They need to have the courage to be bold and reach out to Amazon and say, 'How do we work together?'" Ladd left Amazon in May for family reasons after working there for two years, first as the senior manager of strategy and expansion for AmazonFresh and then as the senior manager of Amazon Global Logistics for the Special Projects unit.
We Discovered 20 Reasons the 2018 Honda Accord Is a Really Big Deal
Rather than trying and failing to beat Amazon, traditional retailers like Kohls Corporation (KSS) , J.C. Penney Co. Inc (JCP) , Gap Inc (GPS) and Macy's (M) should be figuring out how they can leverage Amazon's platform for their own gain, Ladd explained. "That's what will determine the winners and losers -- who decides to work with Amazon," he said about the retailers. 
Retail executives have probably been hesitant to approach Amazon so far because they're scared of the unknown, wondering if Amazon will double down on its efforts to crush them if they come forward and admit they're struggling to keep up, Ladd said. Retailers and other companies tend to see Amazon as predatory, but during his time at Amazon Ladd says he never heard executives discussing how to take another company out of business. Instead, the meetings were always centered around "how do we further delight customers." He also recalls that Amazon executives were always willing to listen. 
These retailers are also probably not thrilled to team up with their biggest rival for help, he said. However, desperate times mean you have to think outside of the box. Amazon has managed to trump Kohls, Gap and other stores because the company is always willing to consider big ideas and has rendered small ideas all but obsolete, Ladd continued. Most companies use their four office walls as a frame of reference and are thus unwilling to embrace change, but Amazon has always seen the entire world as its frame of reference.
J.C. Penney Shares Are Getting Run Over
The retailers that are struggling are struggling because they didn't do enough to innovate, he continued. Now if these four struggling retailers don't figure out how to work with Amazon, then that will be the executives' fault, he noted. "I think you will start seeing more companies teaming up with their 'enemies' as they realize it may be the only avenue for success or survival," he said in conclusion. 
In a note to investors in early July, MKM Partners' analyst Rob Sanderson said the median growth for the top-20 U.S. retailers was 2.4% in the 2016 fourth quarter, 0.8% in the 2017 first quarter and will most likely decline to 0.6% in the 2017 second quarter. "This does not end well for traditional retailers and many will go the way of Borders and Circuit City, leaders in the first two large categories disrupted by Amazon.com," he wrote. 
More of What's Trending on TheStreet: