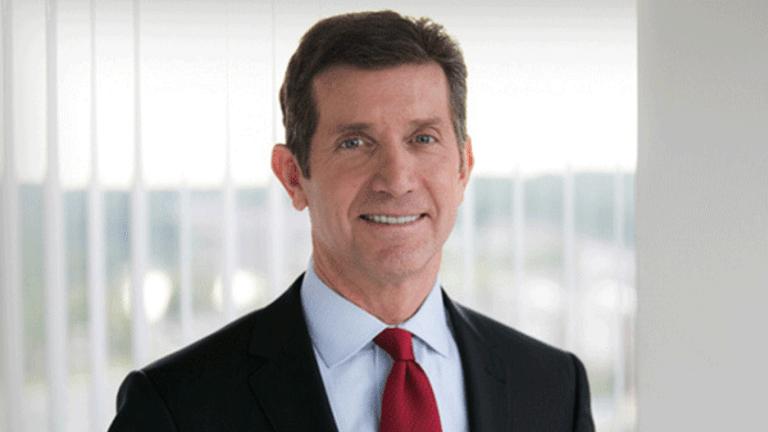 Johnson & Johnson CEO Talks Trump, Taxes and M&A After Mixed Earnings
CEO Alex Gorsky dishes on Monday's meeting with President Trump during Johnson & Johnson's conference call.
Johnson & Johnson's (JNJ) - Get Free Report shares fell nearly 2% Tuesday, hitting $111.76 apiece after the company released mixed end-of-year earnings for fiscal year 2016. The pharmaceutical and medical device company had announced better-than-expected earnings but worse-than-expected revenue.
The company's CEO, Alex Gorsky, also discussed his Monday meeting with President Donald Trump, which he said focused more on overall economic growth than the future of health care. 
He called the conversation with Trump "productive" and noted that it focused on jobs in the U.S. and abroad. Gorsky also reiterated his support for a more competitive tax rate for repatriation of cash from abroad to the U.S. J&J, which is working to complete a $26 billion acquisition of Actelion (ALIOF) , could benefit hugely from repatriation. Gorsky previously voiced support a change in the tax rate during the J.P. Morgan Healthcare Conference earlier this month. 
"I did kind of get higher expectations that tax reform is coming," analyst Damien Conover of Morningstar said by phone. "That was probably my biggest takeaway."
Additionally, Gorsky highlighted investments in manufacturing within the United States during the call, likely a nod to the president's staunch stance on U.S.-made products. To analyst Ashtyn Evans of Edward Jones, these prepared marks were interesting.
"I think they'll continue to voice their opinion [on healthcare reform]," Evans said by phone. "They have a lot of expertise in the area."
Gorsky also provided further guidance on the company's plans for M&A in the coming months. He declined to comment on the company's acquisition of Actelion.
However, he was willing to chat about the company's strategic review of its diabetes care unit. The strategic review includes its LifeScan, Animas and Calibra Medical divisions. In 2016, the units drew in $462 million in revenue, down from $480 million in 2015. "These are very good businesses but perhaps they're better in someone else's portfolio," Gorsky said. 
Analyst Danielle Antalffy of Leerink wrote in a note that the diabetes care unit could fetch between $2 billion and $2.5 billion if JNJ decides to sell them off. 
He added that J&J is still very interested in diabetes but the company just needs to determine if these three specific divisions still fit in with JNJ's mission. JNJ divested eight business segments in 2016. 
Gorsky said J&J plans to work on bolt-on, early licensing deals, which in the past have been successful for the company. 
"We do look at large opportunities," Gorsky said. "We have broad discussions about that with the board. The large transactions by their very nature tend to be more challenging...We've found it to be more successful to take the early stage, smaller companies."
J&J said earnings for the three months ended in December, excluding special items, came in at $1.58 a share, compared to consensus estimate of $1.56 per share. Revenue for the quarterly period came in at $18.1 billion, the company said, below estimates of $18.26 billion for the quarter.
Adjusted 2017 earnings forecasts were set at between $6.93 and $7.08 a share, well shy of analysts' estimates of $7.11. Revenue forecasts were set at $74.1 billion to $74.8 billion, short of forecasts of $75.1 billion.
"We thought our earnings were very strong for the year and we are very pleased with the results. We grew our top line at an accelerated rate vs. the prior year," Johnson & Johnson CFO Dominic Caruso told CNBC's "Squawk Box" Tuesday morning. "We had very strong EPS growth of about 8.5%, and we delivered very strong total shareholder return for 2016, in excess of 15%."
Furthermore, Caruso said the company is "excited" about the momentum Johnson & Johnson has moving into 2017. However, despite Caruso's excitement, the stock has been in decline during Tuesday's session.
"If you look at consensus estimates, we noticed that not many of the analysts that follow us have updated their projections for 2016 based on the recent currency movement," Caruso noted. "We are reporting based on real currency movements. We think that is the only area of any significant difference between our results and expectations."
Entering 2017, Caruso noted that Johnson and Johnson has revised its models to reflect the current currency rates. "Not all of the investment community has done that," he said. "We think that is really the only difference between our expectations and theirs."
Johnson & Johnson has a market cap of $303.67 billion as of Tuesday.