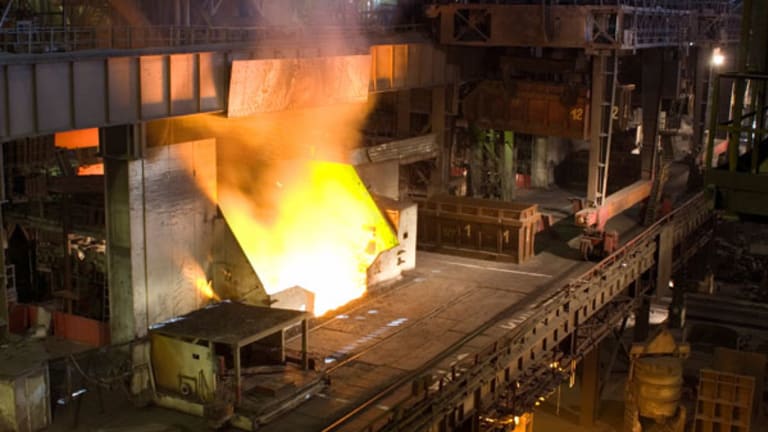 Ivanhoe Mines Up on Mongolia Tax Break
Ivanhoe Mines shares soar after the Mongolian government cancels a tax law that would have heavily reduced profits at the company's gold and copper project there.
ULAANBAATAR, Mongolia (TheStreet) -- Ivanhoe Mines (IVN) , the Canadian mineral exploration outfit, cleared a crucial hurdle Tuesday in its ongoing effort to develop a huge copper and gold deposit in the Gobi Desert of Mongolia.
Mongolia's parliament amended four tax laws -- a move that, effectively, will allow Ivanhoe to make a profit once the mine begins producing metals.
Under earlier laws, passed three years ago, the Mongolian government would have taken 68% of all profits from the country's copper and gold fields. The amendments passed Tuesday by the parliament, known as the State Great Khural, will cancel the tax rule.
Ivanhoe shares surged on the news in New York trading Tuesday, changing hands recently at $10.32, up $1.58, or 18%. Volume reached nearly 10 million shares, five times the daily average.
Investors have been waiting for a green light on the project for some time. Ivanhoe's financial prospects are all but completely bound up with the profitable development of the mine, dubbed Oyu Tolgoi, where the company discovered mineral deposits back in 2001.
Full approval for the mine would trigger an investment in Ivanhoe by
Rio Tinto
(RTP) - Get Free Report
, which is a joint partner in Oyu Tolgoi but had reportedly balked on pumping more cash into the project because of the Australian mining giant's own struggles with high debt levels.
But the announcement Tuesday appeared to alleviate those doubts. The two companies said they plan to ink the investment, worth up to $1.5 billion, soon.
Rio Tinto's American depositary receipts slipped 64 cents to $161.87 in New York trading Tuesday afternoon. The company as well as the entire mining and metal sector in the U.K. were downgraded Tuesday by a London-based analyst with
JPMorgan
(JPM) - Get Free Report
.
-- Written by Scott Eden in New York
Copyright 2009 TheStreet.com Inc. All rights reserved. This material may not be published, broadcast, rewritten, or redistributed.