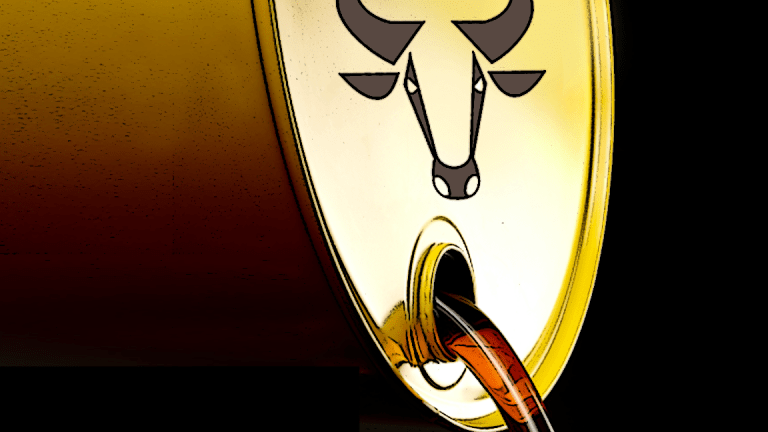 Why Warren Buffett Must Be Excited About Rising Oil Prices in 2018
Commodity prices are rising, OPEC is signaling further support for oil prices and U.S. analysts are excited about the outlook of oil stocks in 2018.
The world's largest oil producers are calling for a rebalancing market in the back half of 2018, and with that comes a buying opportunity for oil stocks, according to industry followers. 
"I think we have hit an inflection and am constructive on commodity prices," Williams Capital Group LP oil analyst Gabriele Sorbara told TheStreet on Wednesday. "A bottoming out and rally kicked off for the sector around mid-3Q17. Along with this momentum, we are entering 2018 with greater confidence around a turn-around for the sector."  
Indeed, global benchmark Brent crude futures are up about 21% to $63.61 a barrel from $52.75 a barrel at the start of the third quarter, while U.S. benchmark West Texas Intermediate crude futures are up roughly 22% to $57.55 a barrel from $47.29 a barrel on Sept. 1. 
And the U.S. Energy Information Administration reported yet another substantial reduction in domestic crude inventories Wednesday, Dec. 13. U.S. stockpiles decreased by 5.1 million barrels over the previous week, signaling further leveling off of the country's massive oversupply. 
Meanwhile, on Wednesday, OPEC adjusted its supply forecasts from the U.S. and other non-OPEC producers, and subsequently predicted oil markets won't return to the five-year average until late next year. 
The so-called oil cartel said non-OPEC supply in 2018 would be 990,000, about 120,000 barrels a day higher than it previously anticipated, primarily due to increased U.S. output. U.S. output will increase by 180,000 barrels per day in 2018 to hit 1.05 million barrels of oil per day, OPEC said in its December report. 
OPEC's monthly report comes two weeks after the organization agreed Nov. 30 to extend its oil output cut through the end of 2018. OPEC, or the Organization of the Petroleum Exporting Countries, which consists of 14 countries, and certain non-OPEC, led by Russia, are curbing supply by 1.8 million barrels a day to rebalance global supply and demand and boost oil prices. 
Libya and Nigeria, which had been exempt from previous cuts, were also tasked with limiting output in 2018. OPEC member countries and Russia together produce about 40% of the world's oil. 
Following the Nov. 30 meeting, OPEC signaled the market would return to balance in the third quarter of 2018, but due to the increased non-OPEC supply, the cartel suggested Wednesday its efforts to rebalance the market may take well into the fourth quarter to fully develop. 
OPEC may have to extend its cuts even further, however, to truly bring the market to balance, JPMorgan Securities LLC analysts said in a recent research note. 
"We assume that OPEC will agree in June or possibly in November to extend the cuts through to the end of [the first quarter of 2019], much as the current agreement was originally designed to expire at the end of 1q2018," JPMorgan commodities analysts Abhishek Deshpande and David Martin wrote, adding that "OPEC's decision to extend cuts through 2018 to take OECD oil inventories down to the 5-year average is clearly supportive of prices."
With that support, analysts are definitely more positive on stocks in the sector, which have been viewed unfavorably for the better part of three years, particularly those of oil producers. 
"With broader market indices at record levels, we see the potential for a rotation into the energy sector," Sorbara opined Wedneday. "We remain constructive at current valuations, as we believe there is the potential for continued momentum in both oil and natural gas prices in the coming year, which should outstrip the rate of rising oilfield service costs and impacts from crew degradation, maintaining or improving current margins/returns for the sector on average."
As such, here are a few of our favorite oil and gas stocks for 2018:
Resolute Energy
As far as producers go, Resolute Energy Corp. (REN) is one of the least expensive Permian focused names following the company's recent divestiture, according to Capital One Securities Inc. analysts. The firm estimates Resolute will have an enterprise value to Ebitda multiple of 4.8 times in 2018, versus the median Permian operator multiple of 9 times. 
Moreover, Resolute has drilled some the highest quality horizontal wells in the Delaware Basin on its 20,000 net acre position in Reeves County, Texas, and it is currently testing additional drilling zones on its acreage, which could add 100 or more drilling locations to what Capital One estimates is 350 current drilling locations. Each additional 50 drilling locations could boost REN's valuation by $2 per share. 
And given Resolute Energy's relatively small acreage position and its low valuation, it's possible the company could be a takeover target in 2018, a year that some analysts feel will separate the Permian winners from the losers and potentially lead to corporate consolidation. 
Cimarex Energy
According to the folks at Seaport Global Securities LLC, it's OK to have at least one non-Permian stock in your portfolio, and it's time to pull the trigger and add exposure to the Stack and Scoop plays of Oklahoma -- though we'd note that Cimarex Energy Co. XEC, one of Seaport's favorite Stack/Scoop names, has a large position in the Permian Basin. 
"The play checks a lot of boxes for us, the returns are strong and likely to improve, there's ample inventory, delineation upside provides the potential for NAVs to be re-rated higher, and the entry price is right," Seaport analysts wrote in a Dec. 12 research note. "Furthermore, while attention thus far has largely focused on the STACK area, we expect upcoming SCOOP and Merge results to elevate the standings of these areas."
The firm said Cimarex is one of the most attractive Stack/Scoop public names overall, and the company also provides some of the best returns in the region, and has one of the highest growth profiles and greatest inventory depth. 
"The STACK/SCOOP continues to heat up -- it's now the most actively leased basin across all US resource plays," Seaport said. "The rig count nearly doubled over the last year, toppling the pace of the mighty Permian's growth at +65% YoY; and every week seems to bring a new press release or presentation slide with the latest record-setting well."
Enterprise Products Partners
While Enterprise Products Partners LP (EPD) - Get Free Report , with a market cap of $55 billion, is widely regarded as a cored midstream holding, it has not been immune to the broader sector sell-off, according to a Dec. 13 note from Tudor, Pickering, Holt & Co.
The analysts said the company has been plague as heavy capital investment between 2014 and 2017 translated to little incremental Ebitda, but upgraded the stock from Hold to Buy on Wednesday. 
"We see inflection approaching as NGL value chain set for strong growth in coming years, contracts ramp on recent growth projects and base business turns higher allowing contributions from ~$9B of near-term capital to shine through," TPH wrote. 
NGLs, or natural gas liquids, are the most overlooked piece of the midstream value chain, according to TPH. The firm believes more NGL will be produced than expected by the market in the coming year as associated natural gas production from West Texas' Permian Basin and the Mid-Continent region are richer than anticipated.  
"Higher processed volumes translate to increased pipe, frac and ultimately export terminal throughput," Tudor said, adding this was a major factor in its upgrade to EDP.
Phillips 66
When in doubt, go with Buffett. That phrase typically reigns true, though the Oracle from Ohama has been burned in the past on his energy investments. Remember Oncor Generation, the Texas utility owned by formerly public holding company Energy Future Holdings? 
Nevertheless, Buffett has long been a major backer of petroleum products refiner Phillips 66, and his investment so far has paid off. The company's stock is up 231% since Buffett's firm Berkshire Hathaway Inc. (BRK.A) - Get Free Report (BRK.B) - Get Free Report first bought nearly 30 million shares in May 2012, according to FactSet. 
That's impressive, considering the S&P Equal Weight Energy index, which tracks various energy companies across the energy spectrum, including Phillips 66, Pioneer Natural Resources Co. (PXD) - Get Free Report and Helmerich & Payne Inc. HP is up just 2.4% over that span. 
Buffett's investment in Phillips 66 has been flat since September 2016, however. And indeed, few analysts have price targets far above the company's current $100 per share valuation. But a rising tide lifts all boats, so as the broader energy sector outlook begins to improve, keep an eye on Phillips 66, and particularly what Buffett, who owns more than 15% of the stock, does with his holding. 
More of What's Trending on TheStreet: