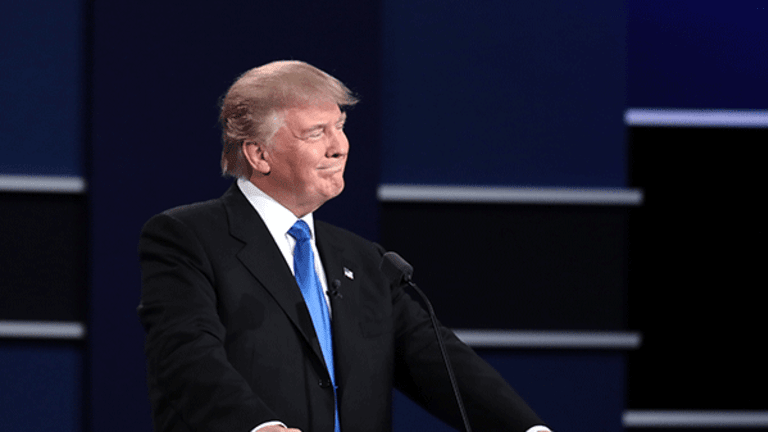 IT Services Provider CDW Could Get a Boost From Trump's Presidency
CDW is well-positioned to benefit from potential moves by the president-elect on corporate tax rates.
IT giant CDW (CDW) could see a surprising boost from Donald Trump's presidency. 
"We think CDW is uniquely positioned to materially benefit from potential initiatives that could be implemented under President Elect Trump," wrote RBC Capital Markets analyst Amit Daryanani in a Friday note. 
Daryanani explained that if Trump achieves his goal of reaching 4% in U.S. GDP growth and implements initiatives including tax reduction, it could also lead to an overall improvement in IT spending from 2% to 4%.
Throughout his campaign, Trump has vowed to lower the corporate tax rate from 35% to around 15% to 20% in an effort to attract more businesses to the U.S. The president-elect wants to apply the same 15% tax rate across all businesses whether they are corporations or partnerships.
Part of his tax reform also includes cutting rates on companies bringing overseas cash back to the country. At the same time, though, slashing the tax rate could reduce federal tax revenue. 
"We further envision lower corporate tax rates broadly could drive better demand from core CDW customers ... which could enable CDW share gains at an accelerated pace," Daryanani added. 
Shares of CDW are up about 2.7% since Trump's election, and 6% year-to-date.
CDW offers a range of hardware and software products that serve the IT needs of organizations in North America and the United Kingdom. It serves the government, education and healthcare end-markets as well as corporations and small and medium businesses. 
On the flip side, public sector and healthcare spending could receive more scrutiny and see potential headwinds from a Trump administration, Daryanani cautioned while adding that education-focused spending is poised to remain robust. 
The public segment, which consists of government, education and healthcare, is CDW's big growth driver, having clocked in a 11% increase year-over-year during the latest quarter. Education reported a 15% annual increase in revenue, while government saw a 9% jump and healthcare reported 6% sales growth. 
The company reported mixed third-quarter results earlier this month, posting $3.71 billion in revenue and $0.97 of earnings per share vs. the consensus estimates of $3.76 billion in revenue and $0.90 in EPS. 
While it's still in the early days, Trump's surprising victory could end up having a significant impact on the tech universe. 
Amazon.com (AMZN)  stock has taken a beating since the election of Trump who had previously argued that Jeff Bezos' e-commerce empire has an antirust problem. Cybersecurity companies such as Proofpoint (PFPT) and FireEye (FEYE) have been poised to benefit no matter who won the election. Meanwhile, defense industry-focused chipmaker Microsemi (MSCC) could be among the biggest beneficiaries within the semiconductor world if Trump follows through on plans to increase military spending.