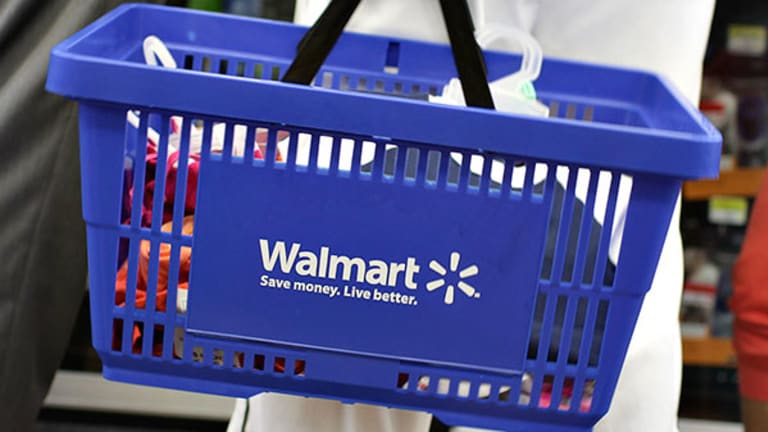 It's Time to Short Walmart
Walmart shares have been losing momentum and are under selling pressure.
Walmart (WMT) shares have been trading near their highs recently but are starting to lose traction. The stock may be preparing for what could be a significant pullback.
In Tuesday's session, Walmart closed below its 50-day moving average for the first time in three months. This is particularly noteworthy because the 50-day average has diverted above the 200-day average by a level not seen since the January 2015 high in the stock price. The reversion that followed that high triggered a near one-year 35% decline in the stock, and while this is not to suggest that another decline of that length or magnitude is in store, it does warrant attention.
In addition to closing below the 50-day average in the last session, the stock also closed near the low of the day and on the $72 level, which has been support for the last month. Daily moving average convergence/divergence is overlaid on a weekly histogram of the oscillator and is tracking lower in bearish divergence to price and below the center line on both timeframes. This is an indication of negative price momentum and an early shift in the direction of the trend. The volume-by-price overlay on the chart reflects buying or selling pressure at a particular price level, and the Chaikin money flow indicator at the bottom of the chart is an indication of money flow over a particular time period. They are in agreement that at this level and at this time the stock is seeing selling pressure.
A close below the $72 support level is a short entry point using an initial percentage buy-to-cover stop above the 50-day average. Like all short positions, this is a speculative trade and requires a disciplined plan with the primary objective the preservation of capital.
This article is commentary by an independent contributor. At the time of publication, the author held no positions in the stocks mentioned.