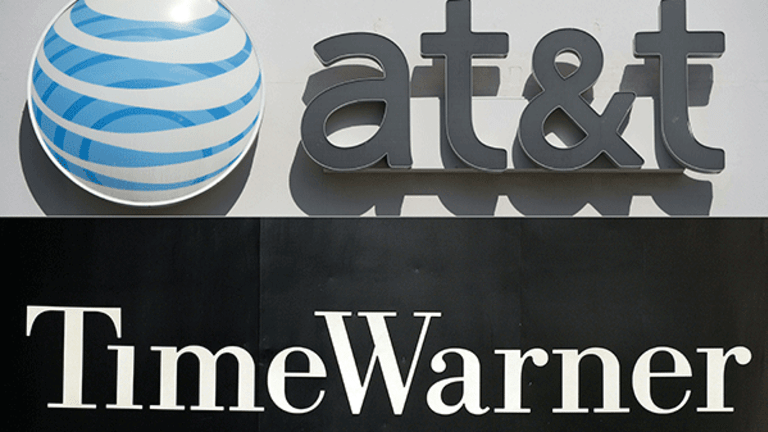 It's Not Too Late to Buy Time Warner, Monsanto, Other M&A Targets
Some of the biggest deals already announced on Wall Street are currently pricing in hefty premiums for investors willing to take the risk.
Merger and acquisition activity is heating up in 2016. Just in the last month, in fact, we've seen $324.8 billion in announced deal value in the U.S., a 45% increase over the same period last year.
That huge uptick in merger and acquisition announcements brings 2016's year-to-date total to $1.8 trillion. The increase in deals is also turning into a very good thing for investors this year: With an average premium paid of almost 47%, acquisitions are one of the few big drivers of returns during a flat market.
It's no coincidence that we're seeing deal flow increase this year.
With record cash on corporate balance sheets at the same time interest rates are skittering along record lows, companies are trying to figure out a strategy to earn meaningful returns on those piles of cash. One big solution to that problem has been M&A activity. By buying other businesses, management gets to justify holding onto those record cash reserves. So, big M&A deals have been getting more frequent and more lucrative for investors.
Here's the thing: Contrary to popular belief, you don't need to have a crystal ball and get in ahead of the next big acquisition announcement to profit from the M&A trend.
In fact, some of the biggest deals already announced on Wall Street are currently pricing in hefty premiums for investors willing to stomach the headline risk right now.
Today, we'll take a closer look at four big deals that could pay you a big premium this fall.
Time Warner 
A big merger is creating a big potential opportunity -- the biggest, in fact. The $107 billion acquisition of Time Warner Corp. (TWX) announced by AT&T (T) - Get AT&T Inc. Reportlast month is the largest M&A transaction announced so far this year. But Wall Street doesn't have this one figured out just yet. Because of that, shares of Time Warner still trade for a steep discount to AT&T's offer price. There's still a 20% upside baked into shares if the deal gets done.
Make no mistake, there's a good reason for the discount: With the election cycle grabbing the headlines, the buyout is getting politicized at the same time AT&T and Time Warner need a big regulatory thumbs up to get their deal done. TWX's 20.44% discount to the current deal price represents the risk that it gets held up.
But there's still a big opportunity here. While analysts are painting about a 75% probability that the AT&T/Time Warner deal eventually does happen, the markets are currently only pricing in 32% odds that the deal gets done, according to Bloomberg. It's a textbook definition of an asymmetric bet: "heads I win a lot; tails I don't lose much."
The deal is all the more attractive for Time Warner shareholders because AT&T is arguably overpaying for it. Time Warner includes some flagship assets like HBO and CNN that are likely helping to drive AT&T's willingness to pay more than another content company would. There's certainly headline risk here, but it's likely to dissipate somewhat after election day. In the meantime, AT&T and Time Warner look likely to pass their first round of anti-trust scrutiny later this year.
Monsanto 
It's been a pretty lousy year for shareholders in $44 billion agrichemical giant Monsanto  (MON) . Shares are only up 2.2% since the calendar flipped to January, which means that this big stock is still materially trailing the S&P 500 on a performance basis. That's despite the fact that Monsanto got a big buyout offer back in May that was upped in September.
Bayer (BAYRY) - Get Bayer AG Report agreed to pay $128 in cash per share for Monsanto, an offer that currently represents a 27.12% premium to where shares sit today.
Here again, we've got a situation where the odds analysts see of a deal going through are far higher than the market is giving credit for. Current pricing implies that Mr. Market sees a mere 20% chance of the Bayer/Monsanto deal closing. Buying Monsanto makes a lot of sense for Bayer. The arrangement would hand the German drugmaker a major boost to its existing agribusiness operations, which include more than 30 crop protection and seed brands. Still, there's minimal overlap between Bayer and Monsanto, and the deal would hardly be unprecedented from an antitrust standpoint.
The combination of a stagnant stock market and a challenging agricultural commodity market are driving Wall Street to underestimate the odds that Bayer's Monsanto buyout closes. And, like with the AT&T/TWX deal, that's creating an attractive opportunity for investors willing to stomach the headline risk of buying a high-profile deal before it closes. The acquisition is far from guaranteed at this point, but it's not as bleak as investors are pricing in.
Level 3 Communications
There's a good reason why shares of CenturyLink (CTL) - Get CenturyLink, Inc. Reportsold off this week on news that the company is planning to acquire $20 billion peer Level 3 Communications (LVLT) -- CenturyLink is probably overpaying for its network asset peer. While that's probably not a very compelling reason to be a fan of CenturyLink right now, it is a very good reason to pay attention to Level 3. There's currently a 14.58% merger premium baked into this deal.
Joining forces with Level 3 Communications makes sense for CenturyLink. The combined company will have a substantial fiber network around major U.S. cities, giving the new company the ability to compete against much largest incumbents AT&T and Verizon (VZ) - Get Verizon Communications Inc. Report for business-services revenues. But that doesn't necessarily mean that it's a good deal at any cost for CenturyLink.
Ultimately, CenturyLink used its arguably undervalued stock to pay a hefty premium for a stock that already traded for a lofty valuation, essentially exacerbating the negatives of the deal for CTL shareholders. But shares have already given back a big chunk of their market value at this point, and as the dust settles, it's leaving an opportunity for investors to play the Level 3 side of the trade.
Current prices suggest that Mr. Market is implying below 50% odds that the deal gets done. Meanwhile, there's a very high likelihood of regulatory approval happening for CenturyLink to buy Level 3 in order to effectively compete against its larger rivals. And that means that the almost 15% merger premium is more likely than not to be collected by Level 3 shareholders in the coming months as Wall Street wakes up to the odds of the deal.
It's certainly worth a second look this week.
Valspar 
Paint company Valspar (VAL) - Get Valaris Ltd. Reportis up 20% so far this year, boosted in a big way back in March by news that peer Sherwin-Williams Co. (SHW) - Get Sherwin-Williams Company Reporthad agreed to pay $113 per share in cash for the firm. The combination would create a giant in the North American paint and coatings market, something that's concerned the Federal Trade Commission. The FTC has blocked the deal as is, sending a shock to Valspar's share price last week.
Thing is, the deal is still overwhelmingly likely to happen.
Despite the odds, Mr. Market is pricing in a nearly 14% discount to the $113 cash purchase price right now, which implies that market participants are only voting the probability of completion at 58%. It's far more likely that buyers who pick up shares of Valspar now are going to get to collect the difference between where shares sit now and the $113 per share that SHW will pay them in 2017.
Customer concentration from Lowe's (LOW) - Get Lowe's Companies, Inc. Reportis one major hurdle that the FTC is weighing -- the addition of Sherwin-Williams' paint to Lowe's stores was a one of the big reasons why Valspar saw weak numbers in 2015. Regulators worry that combining the companies would create too much pricing power over a big customer like Lowe's. That's a relatively low hurdle to fix, however, and if Sherwin-Williams can convince Lowe's to weigh in with the FTC in favor of the deal, they may be able to pull it off without additional divestitures.
As is, if additional asset sales are needed, it could drop SHW's buy price for Valspar to $105, still a 5.5% premium to today's prices on top of any deal proceeds. While the premium isn't as fat as some of the other big M&A deals on the table right now, it's nothing to ignore in the low-rate, low-return market environment we're currently stuck in.
This article is commentary by an independent contributor. At the time of publication, the author was long MON.