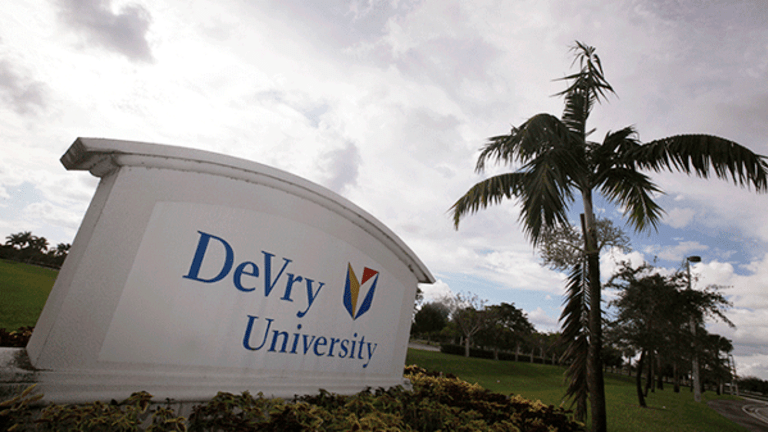 It's Going to Take More Than Lax Regulation to Turn Around For-Profit Education Sector
Investors have poured hundreds of millions into education stocks recently, but education experts suggest caution.
Investors who have poured money into education stocks betting on deregulations of the for-profit education industry under the incoming Trump administration may need to think twice.
Since the election of Donald Trump on Nov.8, shares of for DeVry Education (DV) - Get Free Report and Strayer Education (STRA) - Get Free Report , two of the biggest education companies by market value,have climbed more than 25% in price. During the same period, shares of Bridgepoint Education (BPI) - Get Free Report and Grand Canyon Education (LOPE) - Get Free Report have also risen 43% and 20% respectively.
Despite the dramatic stock gains experienced by for-profit colleges, education experts caution that deregulation or relaxation of tough Obama-era education policies might not lead to a resurgence of for-profit colleges for the long-term.
"I think people are jumping to conclusions about how beneficial the Trump Administration will be toward for-profits," said Kevin Kinser, professor at Penn State College of Education. "Much of the problem wasn't because of onerous regulation at the federal level, but because of the investigation of state attorney generals and violations of rules from the SEC or the Department of Education that no one is considering changing."
For-profit institutions operate on a business model that depends on high enrollment rates to rake in profits. In recent years, recruitment scandals, tough crackdown on shady practices from the Obama administration as well as a stronger employment market have led to a steep decline of enrollment in for-profit colleges and in some cases, the closure of certain institutions.
The criticism for the for-profit industry focuses on recruitment. These institutions have been known to be aggressive, deceitful and targeting vulnerable groups such as veterans, single mothers and minorities. A recently unsealed whistle-blower lawsuit filed against Apollo Education's (APOL)  University of Phoenix in July 2014, for instance, alleges that the company pressured employees to enroll in classes to inflate graduation and job placement statistics among many other violations.
For-profit colleges have been reported over the years to have intentionally lowered the standards for enrollment and simplified the process of securing federal loans to attract more students. Yet students who had enrolled in these schools often failed to achieve their desired academic and financial outcomes. Many of the students either didn't complete their degrees or couldn't find jobs all while being straddled with thousands of dollars in debt.
In recent years, the expose of such practices has dealt a blow to the reputation of many for-profit institutions, which in turn has led to a resistance from both consumers and the federal government. Corinthian Colleges and ITT Educational Services, once two of the largest for-profit institutions, both filed for bankruptcy after the Obama administration cut off federal funding for the schools amid accusations of inflating student outcomes and deceptive recruitment practices. On the smaller side, Denver-based Weston Educational Inc., the operator of for-profit Heritage College, filed for Chapter 7 protection on Nov. 21 after closing all 10 campuses because of a shortage of cash.
Meanwhile, expecting less intense pressure from federal agencies and improved legislative prospects, some analysts believe that the election of Donald Trump is likely to create a more hospitable investment environment for some of the for-profit college stocks.
"While it will not solve competitive or market challenges, it should relieve some meaningful overhang in the sector and, we believe, gradually provide access once again to the capital markets for these companies," wrote Trace Urdan, analyst at Credit Suisse in a research note immediately after the election on Nov. 11, highlighting companies like Capella Education (CPLA) - Get Free Report , DeVry Education Group, Strayer Education and Grand Canyon Education. Based on the election result, Credit Suisse upgraded its rating on the DeVry stock to "outperform" from "neutral" while picking low-risk Grand Canyon Education stock as the one for investors to re-enter the group.
 Yet even with less regulation, an instant rollback of previously implemented regulations and an uptick in enrollment still seem to be easier said than done.
"It's as though people expect us to be living in a different country in two months," said Ann Marcus, professor of Higher Education at New York University. "Some of this needs congressional action and Congress is not a monolith of support for anything. It's a complicated place."
As education stocks continue to see their values rebound, experts believe that investors should look at schools on a case-by-case basis rather than depend on a business-friendly Trump administration to simply reverse the enrollment patterns at for-profit institutions.
"My advice is pay attention to the business model of the schools that you are looking at to invest in. Students who go there, if they have a pretty good graduation rate and students who graduate get good jobs, then it probably actually does provide value and will have a long-term success," said Elizabeth Baylor, Director of Postsecondary Education at Center for American Progress, a Washington D.C.-based independent nonpartisan policy institute.
Some for-profit educators appear to be doing very well while others attribute their disappointing quarterly performance to a challenging and competitive market.
DeVry said Nov. 1 that revenue for the quarter ended Sept. 30 increased 1.9 percent to $450 million compared to $440 million last year, led by solid growth in its Medical and Healthcare, and International and Professional Education segment. For Strayer Education, revenues for the three months ended Sept. 30 increased 3% to $102.2 million, compared to $99.1 million for the same period in 2015, principally due to increased enrollment. Grand Canyon Education reported a net revenue increase of 8.8% to $210.4 million for the third quarter of 2016, compared to $193.4 million for the third quarter of 2015. Capella Education posted a revenue of $105.9 million in the third quarter of 2016, up 5.8 percent compared to $100.1 million in the third quarter of 2015.
On the other hand, Bridgepoint Education posted a revenue for the three months ended Sept. 30, 2016 as $136.6 million, compared with revenue of $140.8 million for the three months ended Sept. 30, 2015. Apollo Education Group reported a net revenue for the fourth quarter 2016 of $492.5 million compared to $600.3 million for the fourth quarter 2015.
While some of these for-profit colleges reap in profits for investors, in a report conducted by nonprofit research and advocacy group Education Trust, the organization found that as for profits have experienced a 236 percent increase in enrollment between 1999 to 2009, the six-year graduation rate among first-time, full-time freshmen seeking bachelor's degrees at for-profit colleges is just 22 percent nationwide compared to 55 percent at public institutions and 65 percent at private nonprofits. 
DeVry, Strayer Education and Grand Canyon Education did not respond to calls seeking comment. Bridgepoint Education declined comment.