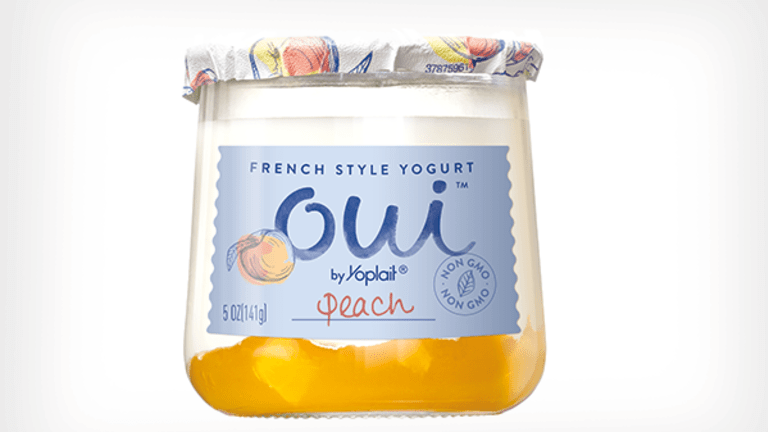 General Mills Would Like It If You Eat More Yoplait Yogurt, Soon
Revenue declined 6% during the 2017 fiscal year to $15.62 billion.
General Mills Inc. (GIS) - Get Report is zeroing in on two stagnant categories—yogurt and cereal. But it has also garnered cost cuts to offset declines and is focused on product innovations and e-commerce growth in the next fiscal year.
For the 2017 fiscal year ending Wednesday, May 28, General Mills reported earnings of $3.08 per share on revenue of $15.62 billion, a 6% revenue decline year over year. The results were still ahead of analysts' expected earnings of $3.05 per share on revenue of $15.56 billion. Double-digit U.S. yogurt sales declines drove a 3% year-over-year fourth-quarter sales decline to $2.39 billion, with organic net sales down 4%.
In addition, Barclay's wrote in a note, Wednesday, June 28, that the company's North American retail segment profit rose by more than 9% year over year versus its own estimate of over 4%. 
"We expect to get back to operational excellence this year," new CEO Jeff Harmening said on a call with analysts. After about a year as COO, Harmening was appointed CEO on May 3, starting his tenure on June 1.
General Mills shares rose 2.5% to $56.92 in morning trading Wednesday.
CFO Don Mulligan touted savings of $390 million, from the cost of goods sold, but warned that the company does not expect "challenging" U.S. trends to improve soon. For the 2018 fiscal year, the Minneapolis company expects organic net sales to decline 1% to 2% and constant-currency earnings per share to increase 1% to 2%.
"While our yogurt declines continued in the quarter, as we expected," the remaining business improved about 1.5% in the last quarter, Harmening said. Cereal remains a priority, with a demographic "emphasis on Hispanic families and empty nesters." New products include Strawberry, Blueberry and Apple Cinnamon Toast Crunch cereals following the continued success of General Mills' Cinnamon Toast Crunch.
"We were late to respond as Greek yogurt developed earlier in this decade," Harmening said, and the company has to play catch-up by leading "fundamental innovation that helps build new segments and bring new customers to the category." This week, for example, General Mills starts shipping its Oui French yogurt, available in eight flavors at a "premium but affordable" price point, as part of its "emerging yogurt segment, which we call Simply Better."
Such large purveyors of Greek-style yogurt as Chobani, Fage and Dannon have capitalized on the American public's appetite for the dense, ultra-creamy snack, while General Mills ceded market share to rivals. According to Statista, Greek-style yogurt accounted for 4% of the U.S. market in 2008; by 2014, it had jumped to 52%.
In General Mills' North America natural and organic products, where the company has made several acquisitions, sales topped $1 billion for the year.
E-commerce sales are up 62% in U.S. last year and 32% globally, and General Mills said it's unfazed by Amazon.com Inc.'s (AMZN) - Get Report pending $13.7 billion acquisition of the upscale grocer Whole Foods Market Inc. (WFM) .
"All of our major customers have had e-commerce components...there are a variety of customers who participate in e-commerce," Harmening said. "We've got great relationships with Amazon, great relationships with Whole Foods," including being named vendor of the year with Whole Foods for two years in a row. General Mills is "really pleased" with e-commerce growth and natural and organic product growth, both of which bode well in the new retail landscape that will follow the close of the merger.
More of What's Trending on TheStreet:
Apple's iPhone Triggered Mind-Blowing Changes to How Investors Trade Stocks
Amazon Could Easily Own Whole Foods and Rite Aid or Express Scripts, This Top Analyst Says