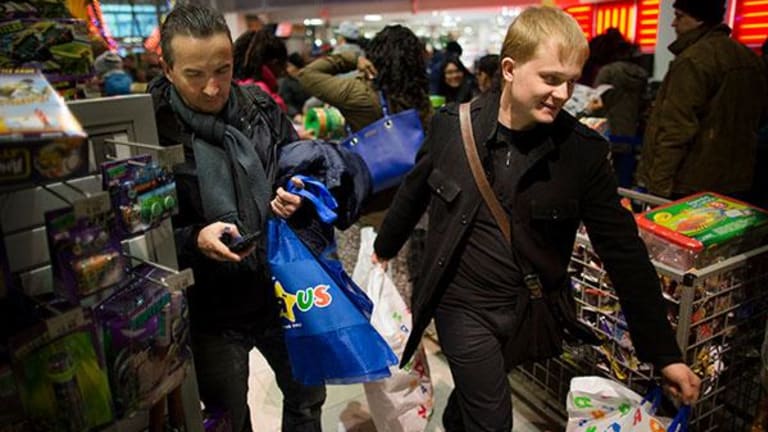 It May Be Time to Get Rid of Mattel Stock
With the loss of Disney Princess and amid a sluggish earnings growth rate, shareholders may want to think about selling Mattel stock.
Mattel's (MAT) - Get Report heyday may have come and gone, making it a stock shareholders likely will want to get out of heading into the New Year.
The company's first major blow came this year when Walt Disney (DIS) - Get Report handed the Barbie maker's long-held Disney Princess contract to rival Hasbro (HAS) - Get Report . Mattel had made the Disney Princess dolls since 2000.
Last week, analysts at Zacks Investment Research cut Mattel stock rating to a "sell" from a "hold," noting that the shares have underperformed in its industry group this year.
"Lack of innovative schemes for brand awareness and brand innovation has been hurting the company's revenues and point of sale momentum," Zacks said in a Dec. 20 note. "Also, sluggish performance of certain segments and brands along with [the] loss of the Disney deal has added to the concerns."
Historically, Mattel has put up an earnings per share growth rate of 3.1%, compared to the industry average of about 21%. The company is expected to grow at a rate of 1.4% for the 2016 full year, while the industry average is estimated to increase at a 14% rate, according to the Nasdaq.
And amid a drop in toy sales -- NPD Group reported on Dec. 21 that during the sixth week of the holiday season, revenue from toys declined 9% - Mattel's toys are slipping in popularity compared with Hasbro products.
On Christmas morning, many parents who purchased the app-controlled, voice-monitored Barbie Hello Dreamhouse - users can control the functions of the house by voice command - were far from pleased with Mattel. When children went to play with the high-tech doll house, they were greeted with an "Error Code 18" message, which turned out to be a wireless network issue that disabled the voice control.
Twitter user @jimmymcarthur wrote "A true modern Christmas. I'm tweeting @ToyTalk and @Barbie about my problems with our Dreamhouse wifi. WTF kind of world is this?"
The company behind the technology for the doll house, ToyTalk, responded to the complaints in a statement that advised users to turn the Barbie Hello Dreamhouse off for 15 seconds and then power it back up.
Mattel did not return a request for comment so it is unclear how many people were affected.
Meanwhile, Target (TGT) - Get Report reported on its third-quarter earnings call in November that Disney Princess dolls plus board games by Hasbro dominated its toy sales.
And Hasbro's Pie Face Showdown - in which two players compete to find which will be smushed in the face by a dollop of whipped cream - was Amazon's (AMZN) - Get Report best-selling toy during the Black Friday, Cyber Monday shopping weekend.
Mattel is expected to release its 2016 fourth quarter earnings report on Feb. 3, when analysts surveyed at Factset are anticipating the company to post earnings of 72 cents a share on $1.97 billion in revenue, compared year-over-year to earnings of 63 cents a share on $2 billion in revenue.
Shares of Mattel were slightly lower to $27.50 late Thursday morning.
(Amazon.com is held in the Growth Seeker portfolio. See all of the holdings with a free trial.)