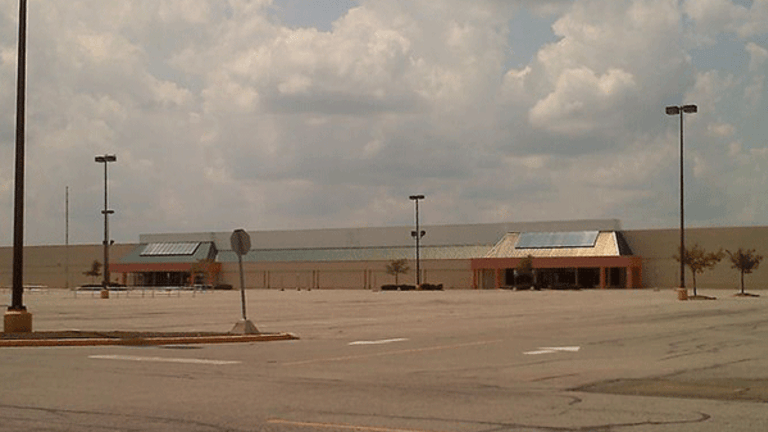 It Keeps Getting Worse for Dying Sears, Now Kmart Was Just Hacked
More bad news for Sears.
It just keeps getting worse for dying Sears Holdings Corp. (SHLD) .
The struggling retailer said late Wednesday that its Kmart chain was a victim of malicious hack. A report of the hack was first reported by security news site KrebsonSecurity. 
Sears spokesman Howard Riefs told TheStreet via email when asked about the number of impacted Kmart stores, "as this is an ongoing investigation, I'm not able to provide a specific number."
The company released the following statement:
"We recently became aware that Sears Holdings was a victim of a security incident involving unauthorized credit card activity following certain customer purchases at some of our Kmart stores. We immediately launched a thorough investigation and engaged leading third party forensic experts to review our systems and secure the affected part of our network.
Our Kmart store payment data systems were infected with a form of malicious code that was undetectable by current anti-virus systems and application controls. Once aware of the new malicious code, we quickly removed it and contained the event. We are confident that our customers can safely use their credit and debit cards in our retail stores.
Based on the forensic investigation, NO PERSONAL identifying information (including names, addresses, social security numbers, and email addresses) was obtained by those criminally responsible. However, we believe certain credit card numbers have been compromised. Nevertheless, in light of our EMV compliant point of sale systems, which rolled out last year, we believe the exposure to cardholder data that can be used to create counterfeit cards is limited. There is also no evidence that kmart.com or Sears customers were impacted.
Given the criminal nature of this attack, Kmart is working closely with federal law enforcement authorities, our banking partners, and IT security firms in this ongoing investigation. We are actively enhancing our defenses in light of this new form of malware. Data security is of critical importance to our company, and we continuously review and improve the safeguards that protect our data in response to changing technology and new threats."
Click here for the latest business headlines.
Read More Trending Articles:
Netflix CEO Reed Hastings: We're Starbucks and Amazon Is Walmart