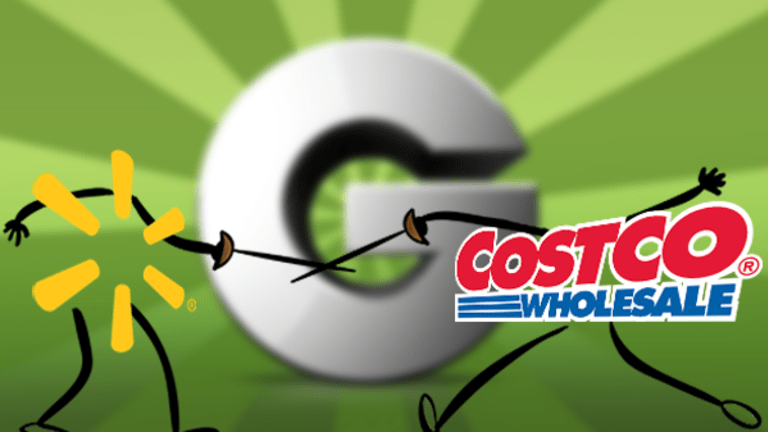 It Has Gotten So Sad for Costco and Sam's Club They Are Discounting Stuff on Groupon
Sometimes, it's what's not talked about that is more telling than what is.
Forget this Costco (COST) - Get Free Report vs. Tiffany (TIF) - Get Free Reportbattle. Here's something bizarre.  
When vendors sell on Groupon, Inc. (GRPN) - Get Free Report , they are typically new businesses introducing themselves to customers, or companies with weak sales, which they're trying to perk up.
It's can only be the latter for Walmart Stores Inc.'s (WMT) - Get Free Report Sam's Club and warehouse rival Costco, both of which have been hawking their memberships by sweetening them with discounts or freebies, on the e-marketer site, whose time-sensitive offers go to subscribers who pay no fee to join.
TheStreet found one recent Costco deal on Groupon that gave subscribers new to Costco a $20 Costco cash card, coupons worth $36 for specific products, $25 off an order of $250 and $75 off Costco-sponsored travel to specific locales, if they sign up for the $60-a-year Gold Star membership. 
In June when Costco raised its annual membership fee by $5, Sam's Club dropped its membership price to $30 per year, normally $45, for any Groupon subscribers who aren't already Sam's Club members. But there was more: a $5 e-gift card and a rotisserie chicken and $105 in "instant savings" loaded on the new member's club card.
A Groupon spokesman maintained in an email to TheStreet on Aug. 2, that, "The implication that only damaged brands use Groupon is old and tired. In addition to Costco and Sam's Club, we've featured other hugely successful brands such as Amazon (Kindle Unlimited & Audible), Apple Music, Pandora, Hulu, Blue Apron, BJ's Wholesale, Google Express, Match.com, Nutrisystem, HelloFresh and the Washington Post among others. These brands seek us out because our marketing platform has brought them millions of new customers."
However, in the New York City area, many the Groupon offers come from vendors or companies that need to generate sales or are not well-known or both. 
The Groupon spokesman added that the company has nearly 32 million active customers in North America and 157 million app downloads. 
As of May 2, 2017, Costco reported nearly 89 million cardholders and 49 million households, according to a fact sheet on its site; the latest data on Sam's Club membership, from a 2012 company fact sheet, showed the Walmart membership club has half the members of Costco, or 47 million. 
Are you buying any of these brands at Costco? 
Still, the total revenue for Sam's Club was $57 billion for fiscal year ending January 31, 2017, according to its website; the parent company reported total revenue of $486 billion. There are 659 Sam's clubs across the U.S. and Puerto Rico, noted the company's website.
For the same period, Costco reported revenue of $119 billion and has 511 warehouses in the U.S. and Puerto Rico, according to the company website.
A spokeswoman for Sam's Club told TheStreet on Aug. 2, that the company doesn't reveal membership numbers. On Thursday, Aug. 3, she sent this quote by email to TheStreet: "We've done several Groupon offers to reach a broad audience with exciting offers for shoppers to experience Sam's Club, much like we do with other promotional vehicles from time to time."
A representative for Costco declined to respond to a request for comment.
More of What's Trending on TheStreet: