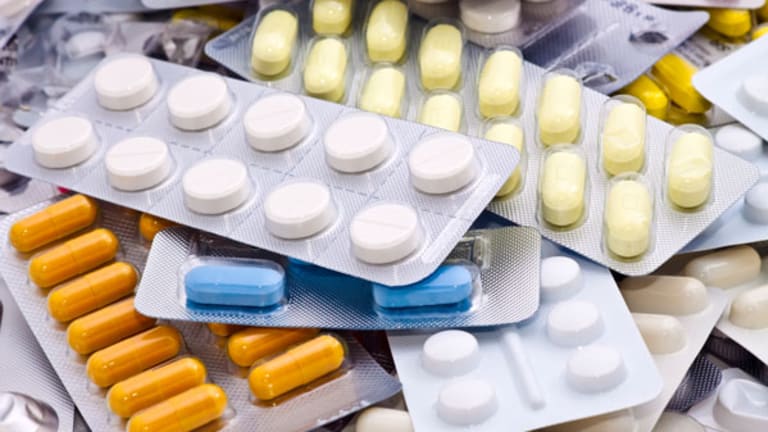 Isis, Genzyme Fall on Drug's Liver Toxicity Worries: BioBuzz
Cholesterol-lowering effects of mipomersen overshadowed by worries of liver damage.
CARLSBAD, Calif. (
) -- Shares of
Isis Pharmaceuticals
(ISIS)
and
Genzyme
(GENZ)
are lower Wednesday after new concerns about liver toxicity emerged from a late-stage study of their experimental cholesterol-lowering drug.
That drug, an injection known as mipomersen, was able to lower "bad" cholesterol levels by 28% in patients who carry a single defective gene that causes extremely high cholesterol levels. By comparison, patients treated with a placebo saw their cholesterol levels increase by 5%.
The patients enrolled in this phase III study suffer from heterozygous familial hypercholesterolemia (HeFH) and cannot lower their cholesterol using typical cholesterol-lowering medicines.
Mipomersen's positive cholesterol-lowering effects were overshadowed -- at least in Wall Street's view -- by new safety data connecting the drug to elevated liver enzymes and fat deposits in the liver. Investors worried that the liver toxicities picked up in the phase III study could be a signal that mipomersen is causing significant damage to patients' livers.
Isis shares are down 18% to $9.06 while Genzyme's stock is down 1% to $54.19 in recent trading.
On a conference call Wednesday morning, Isis CEO Stanley Crooke downplayed the mipomersen safety worries, stating that "no new concerns" were raised in this study that were not detected in previous studies. Furthermore, Crooke said none of the patients treated with mipomersen experienced liver dysfunction.
Yet, at the same time, Crooke, in reply to a question, conceded that MRI scans of mipomersen patients in the study detected fat deposits on their livers -- a safety signal that wasn't found in prior mipomersen studies.
"We're still analyzing the data," said Crooke of the liver-fat findings, adding that it's consistent with what's been shown when mipomersen was tested in animals.
Isis and Genzyme previously conducted a phase III study of mipomersen in patients with homozygous familial hypercholesterolemia (HoFH) -- a rarer and much more severe form of the same disease in which patients inherit two defective genes that can cause fatal levels of cholesterol elevation. In that study, mipomersen lowered cholesterol levels by 25% but patients also experienced elevated liver enzymes.
HeFH patients are less sick than HoFH patients, so expectations going into Wednesday results were that mipomersen would cause less liver toxicity in HeFH patients. But in its announcement Wednesday and on the conference call, Isis described the liver safety data as being "similar" between the two patient groups.
Genzyme says it intends to seek approval in the U.S. and Europe for mipomersen as a treatment for HoFH patients in the first half of 2011.
Cel-Sci's CEO Drops South African Mystery Partner
(At 6:11 AM EST)
Cel-Sci
(CVM) - Get Free Report
CEO Geert Kersten made a rare appearance Tuesday at an investor conference in New York City but noticeably absent from his presentation was any mention of
Byron Biopharma
.
Byron Biopharma is supposed to be Cel-Sci's marketing partner in South Africa for the company's experimental cancer drug Multikine, according to a deal announced last March. Yet as I reported in November,
has no known business address or history of engaging in drug development or marketing. Byron seems to exist only on paper, even though it was granted
South African commercial rights to Multikine
as part of a sweetheart stock deal with Cel-Sci.
Cel-Sci has long refused to provide any evidence that Byron is a real company or a legitimate Multikine partner. On Tuesday, Cel-Sci went further by making Byron disappear.
During Kersten's brief investor pitch at the BIO CEO & Investor Conference, Byron's name was conspicuously missing from a slide listing Cel-Sci's Multikine marketing partners. The Israeli drug maker
Teva Pharmaceuticals
(TEVA) - Get Free Report
was listed, as was Taiwan's
Orient Europharma
, but Byron was AWOL.
Kersten provided no explanation for why Byron no longer ranks a mention as a Multikine partner. Was it simply an oversight? A mistake? Perhaps, but that seems unlikely since Kersten's presentation included a slide that focused solely on the company's Multikine partnerships. Surely, someone would have noticed that one of the drug's three partners was left off.
Cel-Sci's annual report for the company's 2009 fiscal year filed with the Securities and Exchange Commission on Jan. 13 still lists Byron as the South African marketing partner for Multikine. To maintain that license, Byron must pay Cel-Sci $125,000 by March 15. Cel-Sci expects to begin a phase III study of Multikine in head-and-neck cancer during the summer.
If Kersten's presentation Tuesday was Cel-Sci's way of tacitly acknowledging that Byron isn't a real company or Multikine partner, then the company still needs to explain who purchased the 3.75 million shares of Cel-Sci common stock and 7.5 million warrants for the oh-so-cheap price of $750,000 last March in exchange for the South African rights to Multikine.
It's an important question since whoever bought the Cel-Sci stock and warrants -- at a cost basis of 20 cents a share and 25 cents a share, respectively -- is sitting on millions of dollars in profits. The stock and warrants are registered and freely tradeable, but Cel-Sci has never disclosed whether Byron, or the person(s) pretending to be Byron, sold the stock and warrants.
One group that has a definite interest in getting to the bottom of the Byron mystery is a group of Cel-Sci shareholders led by Iroquois Capital Management. The Iroquois group is suing Cel-Sci for breach of contract and other charges, alleging that Cel-Sci fabricated Byron because the company wanted to raise money without triggering anti-dilution clauses in a previous financing.
Cel-Sci denies the allegations and the lawsuit is still working its way through the courts, but Tuesday's presentation with the Byron omission seemingly gives the Iroquois group a juicy piece of evidence in which to pursue its case.
Cel-Sci didn't respond to an email message seeking comment.
Cel-Sci shares closed Tuesday down a penny to 65 cents a share. The stock has lost almost 70% of its value since last September.
-- Reported by Adam Feuerstein in Boston.
Follow Adam Feuerstein on
.
Adam Feuerstein writes regularly for TheStreet.com. In keeping with TSC's editorial policy, he doesn't own or short individual stocks, although he owns stock in TheStreet.com. He also doesn't invest in hedge funds or other private investment partnerships. Feuerstein appreciates your feedback;
to send him an email.