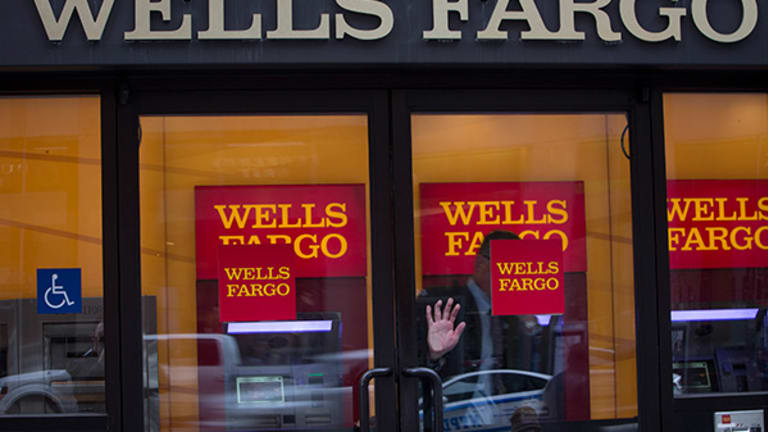 Is Wells Fargo Done for? Or Is It Time to Buy Its Stock?
Wells Fargo stock has been dragged down by a high-profile scandal. Is it time to buy or sell shares of this bank?
Wells Fargo's (WFC) - Get Wells Fargo & Company Report  stock has plummeted because of the ongoing scandal over its setting up of unauthorized accounts for its customers. In fact, they're down more than 12% over the past month, wiping out more than $20 billion of the bank's market capitalization.
This leaves investors with an interesting choice: They can either take advantage of the recent price declines and buy the stock on the assumption that the worst is over; or they can stay away from the stock, figuring that the current scandal is just the tip of the iceberg as far as Wells Fargo's problems go.
Wells Fargo is Berkshire Hathaway CEO Warren Buffett's second-largest holding. You can see his 20 highest-yielding holdings here (including Wells Fargo). What do past Buffett quotes tell us about situations like these?
On one hand:
"The best thing that happens to us is when a great company gets into temporary trouble... We want to buy them when they're on the operating table."
- Warren Buffett
On the other hand:
"In the world of business, bad news often surfaces serially: you see a cockroach in your kitchen; as the days go by, you meet his relatives,"
- Warren Buffett
The question is: How many cockroaches are there at Wells Fargo?
If the company is mostly good with a few temporary issues, Wells Fargo is a buy at current prices. It has a price-to-earnings ratio of 10.9 and a high dividend yield of 3.4%. The company has grown earnings an average of 7.9% a year over the past five years. 
Wells Fargo is a holding in Jim Cramer's Action Alerts PLUS Charitable Trust Portfolio. Want to be alerted before Cramer buys or sells WFC? Learn more now.
There's no question Wells Fargo is a high-quality bank with a strong competitive advantage trading at bargain prices.
About two months before the current scandal broke out, Buffett applied for permission to add to his stake in Wells Fargo. Clearly, he thought (prescandal) the company was a worthy buy.
With share prices down more than 10% since that time, the company is even more of a bargain today.
How egregious are the scandals at Wells Fargo? Here's what's happened:
The company opened up more than 1.5 million deposit accounts that were likely unauthorized. The company also submitted applications for over 500,000 credit card accounts, without customer consent. These accounts would go on to generate more than $400,000 in fees.
Wells Fargo was fined $185 million for the abuse, and an additional $5 million in customer refunds. The company has also fired 5,300 employees whom it believes were largely responsible. Here's a quote from Wells Fargo CEO John Stumpf that is prominently featured on the company's Vision and Values page on its website:
"Everything we do is built on trust. It doesn't happen with one transaction, in one day on the job or in one quarter. It's earned relationship by relationship."

­- John Stumpf, CEO of Wells Fargo
Clearly, Wells Fargo has a systemic problem. More than 5,000 employees have been let go. That's not one or two bad apples. Stumpf has either done a poor job of communicating the company's values, or these values are simply corporate window dressing and have no bearing on the actual operations of the company.
More recently, the bank has paid millions of dollars to settle federal charges that it seized vehicles owned by members of the military without a court order.
More cockroaches are coming out of the bank vaults...
Stumpf has agreed to reduce his pay by $41 million, but he still will receive a $100 million-plus bonus when he retires.
From an ethical perspective, Wells Fargo has failed its customers. From a business perspective, the scandal likely will tarnish the company's reputation somewhat. Though it is unclear how much this will effect new account openings from customers.
From an investing perspective, Wells Fargo appears too cheap to pass up, however. The fines the company has incurred over the last month are a drop in the bucket compared to the company's $22.39 billion in earnings over the last 12 months.
This is likely a wake-up call for Wells Fargo. The company now has the opportunity to put into effect better policies that will benefit customers and incentivize employees to not be overly aggressive in new account openings.
It is doubtful that consumers will care about these scandals two, three or four years from now. Most people will probably not remember them even a year from now.
Wells Fargo is a blue-chip stock with a long corporate history. The company was founded in 1852. It has survived (and thrived) over the last 164 years. This will not be the end of Wells Fargo's growth.
The cockroaches that have scurried out are troubling, but they are relatively minor. They will not impact the long-term profitability of the company.
Because of this, now is an excellent time to buy into one of the best banks in the world at a discounted price. The share price may continue to fall in the short term, but it's highly likely the investment will be favorable over longer periods.
This article is commentary by an independent contributor. At the time of publication, the author held no positions in the stocks mentioned.