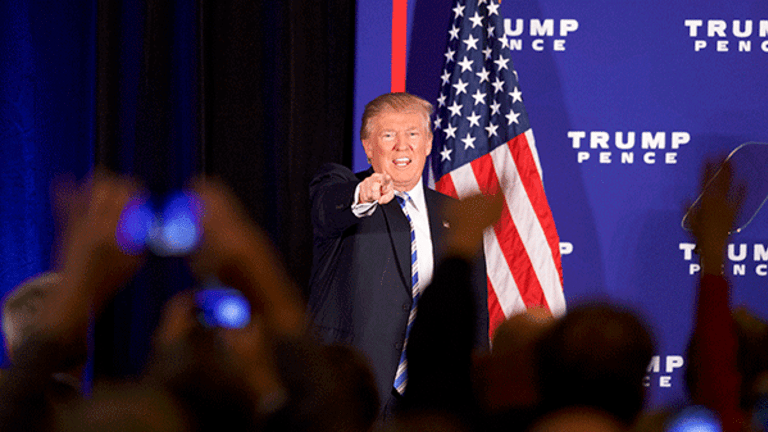 Is Trump a Bad Omen or Simply a Black Swan for TV Political Advertising?
'You can't get blood from a Trump,' says Gray Television CEO Hilton Howell, Jr., of the GOP candidate's impact on political spending.
What does the new administration mean for Wall Street? Jim Cramer's first reaction to the election is live on TheStreet's Facebook page tomorrow morning at 8 am ET. He joins our team of reporters along with experts and analysts tracking the markets with us.
Gray Television (GTN) - Get Report Chairman and CEO Hilton Howell, Jr., summed up the experience of the 2016 elections for many TV station owners during the broadcaster's third-quarter earnings call on Tuesday.
"You can't get blood from a Trump," Howell told investors.
The 2016 campaign had blockbuster potential, with a contentious Presidential race between two divisive candidates, the Senate in the balance and the Supreme Court up for grabs. Many broadcasters have benefited from tight down-ticket races, but diminished spending by the Presidential candidates has dampened the quadrennial payday for station owners such as Gray and E.W. Scripps (SSP) - Get Report . Others, like Nexstar (NXST) - Get Report , which also reported Tuesday, and CBS (CBS) - Get Report still posted gains from the mudslinging.
Shares of Atlanta-based Gray fell 80 cents, or 9.8%, to $7.40 on Tuesday afternoon. The company's earnings per share of 26 cents for the quarter were well off forecasts of 39 cents, according to FactSet.
Gray expected to at least match the $144 million in political ads from the last Presidential cycle in 2012. With sharp declines in spending in Colorado, Ohio, Nebraska, West Virginia and Wisconsin and Virginia contests, Gray now forecasts $91.8 million to $92.8 million in 2016 political spending.
Uncertainty about the election has caused non-political advertisers to pause decisions about ad spending in the fourth quarter and next year. "This election, unlike almost any election in our prior history, has put a large, heavy blanket over everyone's thoughts," Howell said.
However, the Gray CEO denied that the pullback is a sign of a local advertising recession or of a new normal for future campaign cycles.
"We really think that 2016 truly is a black swan event," Howell said. Trump's ability to generate free media and to spread word via Twitter (TWTR) - Get Report and Facebook (FB) - Get Report are unique, he added.
"We think it's a one-off and don't expect anyone to be in the political process-unless he wins tonight and urns again if four years-that has that kind of base presence with the American public," Howell said.
Facebook is a holding in Jim Cramer's Action Alerts PLUS Charitable Trust Portfolio. Want to be alerted before Cramer buys or sells FB? Action Alerts PLUS Charitable Trust Portfolio
Nexstar CEO Perry Sook said that the Texas broadcaster has already topped it's full-year forecast of $100 million in political advertising. The company expects more than $50 million in the fourth quarter.
While Nexstar is topping its 2012 performance handily, it too feels the Trump effect.
"If I look at our political billings in 2016 versus 2012, presidential revenue was down 40% over what Obama and Romney spent in 2012," Sook said. Senatorial spending is up over 70% in 2016 versus 2012, however, and gubernatorial candidates spent more than 30% more than in the last cycle. Overall, Nexstar expects a 25% bump in political advertising this year.
Nexstar shares were up $1.63, or 3.3%, to $50.23, even though earnings per share of 78 cents per share was below FactSet's consensus of 85 cents.
After the election, the markets will get results from Tribune Media (TRCO) - Get Report and Media General (MEG) , the latter of which is merging with Nexstar.
Sook said that he aims to complete the merger with Media General in the fourth quarter, giving Nexstar a total of 171 TV stations covering of a third of the nation.
Despite the Trump effect, the Nexstar CEO gave investors an optimistic read on TV, political advertising and the election.
"Our republic will survive," he said.