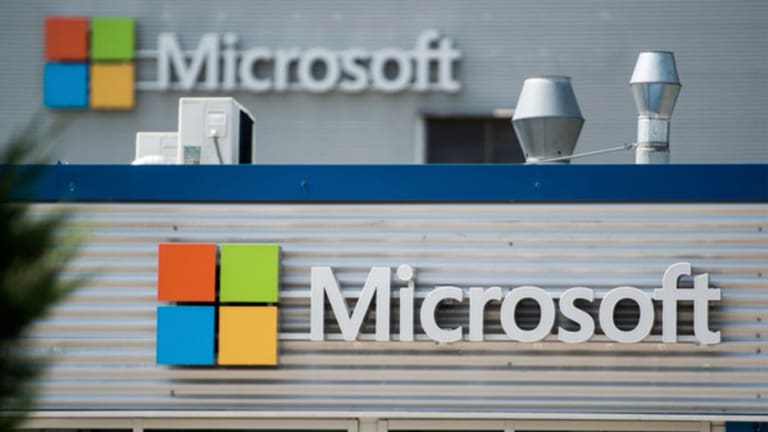 Is This the Time to Sell Microsoft Stock?
With the tech company at all-time highs, is it time to get out of its stock? Or is there enough room for growth to make holding shares worth it?
Shares of tech pioneer Microsoft (MSFT)  recently hit an all-time high, and on Tuesday they're trading less than $1 below that level.
The company, which is the force behind Windows, Office and the Xbox, has witnessed a gain of 16% in the past three months, and some observers may be wondering whether it can go higher.
But there's growth ahead for Microsoft, with Wall Street analysts predicting 11.4% growth in adjusted earnings per share next year.
And right now the stock trades at about 18 times forward earnings, which means it's trading at a discount to Facebook, Google owner Alphabet, Amazon and Netflix.
Alphabet, Apple and Facebook are holdings in Jim Cramer's Action Alerts PLUS Charitable Trust Portfolio. See how Cramer rates the stocks here. Want to be alerted before Cramer buys or sells AAPL, FB or GOOGL? Learn more now.
Despite this, some observers might tell you that right now is the perfect time to sell your position and collect profits. But is it really? 
Investors let go of their investments for a number of reasons.
The first is that a stock has been tardy in performance compared with peers or even loss-making in the long term.
But the five-year total returns for Microsoft shares are at 21.3% vs. 17.4% for the "Software - Infrastructure" industry, according to Morningstar. The S&P 500 clocked 16.7% total returns over five years.
If you take just the last year into account, Microsoft has clocked in total returns of 37% vs. 25% for the industry and 13.2% for the S&P 500. Clearly, Microsoft is no underperforming investment. It's worth every penny you put into it.
The second reason investors jettison shares is if growth is slowing. 
Let's look at the kind of earnings growth Microsoft should deliver over the next five years. Wall Street expects Microsoft to deliver 8.5% annual growth in earnings per share during that time. (That's better than Apple!). 
CEO Satya Nadella has turned Microsoft into a smarter and more aggressive organization. He's cut excess flab (jobs), focused on emerging themes like virtual reality, digital, the cloud (Azure) and productivity, as well as going ahead with a LinkedIn acquisition.
You could point out that Facebook may be profitable and growing faster, but Microsoft boasts of a much stronger balance sheet. Microsoft carries more than $113 billion in cash, four times Facebook's cash hoard. Even traditional software makers such as Oracle don't possess the near-impregnable Microsoft fortress of a balance sheet.
A third reason to let go of a stock would be if shares already were trading near price targets. 
You could argue there's little gas left in the tank because Microsoft shares trade only 3.4% below the average 12-month price target from analysts.
The fact is that Microsoft's stock performance has been surprising. If the company continues to maintain its pace, we expect price targets to be hiked.
Without a doubt, Microsoft's 2.5% dividend yield (vs. the application software sector's average yield of 1.04%) is reinforced by 12 years of consecutive growth and a payout ratio of less than 50%.
This makes Microsoft a smart passive income opportunity.
Remember, Apple hands out about 2% in dividend yields. SAP is a 1.5% dividend yield giver. Adobe doesn't offer any dividends. Ditto for Facebook and Alphabet. 
So unless you really need the money you've invested in Microsoft, we see zero reason to sell it.
Sure, the stock could go up and down (as most stocks do), but there are no definite signs of an earnings slowdown, balance sheet deterioration or dividend cuts on the horizon.
In fact, Microsoft is today a different entity than it used to be. It's a new company carving out a brand-new position for itself in a rapidly altering tech landscape.
---
85% Accurate Trader gives his Personal Guarantee: "Give Me 9 Minutes a Week and I Guarantee You $67,548 a Year." As you can see, Apple remains a great play for investors. But what if I told you I know a way you can see a $67,548 per year - or more - in profitable trades just by following this simple step-by-step process? The trader who is sharing this secret has been right more than 8 out of 10 times, turning $5,000 into more than $5 million for himself. Click here to see how easy it is to follow his lead and collect thousands of dollars in "Free Money" every month.
This article is commentary by an independent contributor. At the time of publication, the author held no positions in the stocks mentioned.