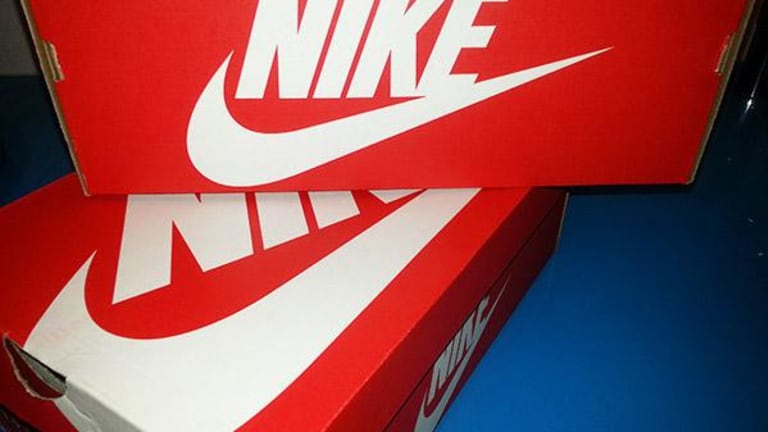 Is There Still Hope for Nike?
How the company can get the bears off its back when it reports results Tuesday.
How the company can get the bears off its back when it reports results Tuesday.
What an uncharacteristic year for sneaker king Nike (NKE) - Get Report .
Shares of Nike have nosedived about 18% so far this year, making it the worst-performing component in the Dow Jones Industrial Average. Meanwhile, the stock has underperformed second-tier competitors such as Lululemon Athletica (LULU) - Get Report and Columbia Sportswear (COLM) - Get Report , which are up 31% and 25%, respectively, this year. Each company has done a fine job on the product front, notably Lululemon.
Top-tier threat Adidas (ADDYY) has seen its stock skyrocket 55% amid a stunning turnaround in how its brand is perceived among consumers (thank you, Kanye West). Nike's only solace during this Debbie Downer of a year -- bitter rival Under Armour's (UA) - Get Report stock has cratered 24% this year as it ramps up investments to better compete with its much larger Oregon-based competitor. (Under Armour is part of TheStreet's Growth Seeker portfolio.) 
Countless things have gone wrong for Nike this year, at least in the eyes of Wall Street. First is the reality that Adidas and Under Armour are stealing business -- especially in the lucrative basketball sneaker area -- from Nike in all sorts of categories. That has created doubt among investors on whether Nike still deserves to trade on the lofty price-to-earnings multiple it does. "Overall, we remain cautious near term on the stock given, in part, due to strong competition and a shift to lifestyle products," points out Deutsche Bank analyst Dave Weiner.
Then there is the stronger-than-expected discounting of Nike's products across the retail sector, notably in places such as Marshall's. The company has an inventory issue (as was reaffirmed in my latest Marshall's store walks) in part caused by department store closures and sporting goods bankruptcies. Inventory issues don't correct overnight, and as they work themselves out will weigh on profit margins and how the brand is perceived in the minds of consumers.
Adding insult to injury, Nike's product innovation pipeline appears to have stalled, according to many observers (though I would argue against this -- the company continues to churn some amazing sneakers, like the new Crossfit-friendly Metcon ones I am reviewing and the $720 self-tying version sweeping the Internet).
Says Cannacord Genuity analyst Camilo Lyon, "An improvement in Nike's product pipeline is still more than a year away."
It's highly unlikely Nike delivers the type of quarter that completely crushes the bear thesis on the stock. Fundamental problems such as too much inventory in various channels and more competitive pricing on a range of sneakers are just that, fundamental to the company right now. Moreover, the strength of the U.S. dollar was likely a continued serious headwind during the quarter.
To get the bears concerned, however, that their raid is over, here is what Nike has to show when it reports earnings later today:
Inventories grow far less than the 11% increase seen for the three months ended Aug. 31.
Nike executives sound more confident on the product that could be coming within the next six months. They sounded more upbeat on the last earnings call, but their tone has to be taken to the next level if there is truly some great stuff coming in early 2017. They have to send some signals to a market clearly concerned on the product pipeline.
Basketball sneaker sales perked up during the quarter amid improved prices on top brands like Kevin Durant and Kyrie Irving. Foot Locker did note in late November that it saw a good response to the latest from Nike with respect to each brand. (Foot Locker is part of TheStreet's Trifecta Stocks portfolio.)
Employees of TheStreet are restricted from trading individual securities.