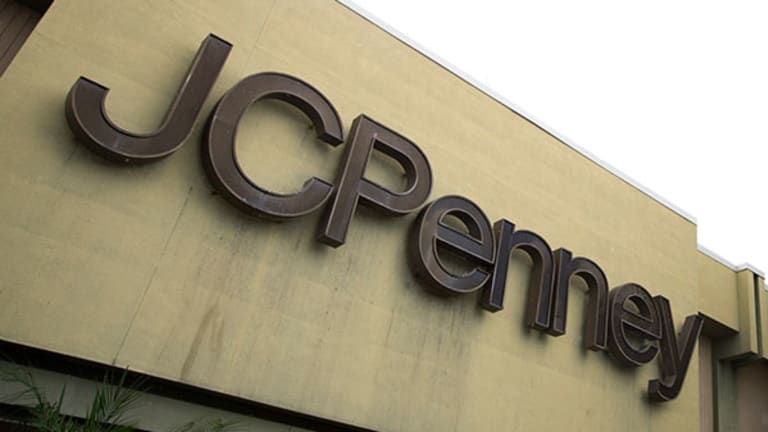 Is There Any Hope for J.C. Penney?
Still struggling retailer J.C. Penney is expected to report yet another big quarterly loss on Wednesday afternoon - the ninth consecutive quarterly loss for the department store chain. Should investors keep hope for this company?
NEW YORK (TheStreet) - Struggling retailer J.C. Penney (JCP) - Get Free Report is expected to report yet another big quarterly loss on Wednesday afternoon - the ninth consecutive quarterly loss for the department store chain. Should investors keep hope for this company?
"Let me start off by saying that the turnaround of J.C. Penney is beginning to take hold. We're making significant strides toward restoring J.C. Penney to its rightful place in retail," CEO Mike Ullman said on J.C. Penney's third-quarter earnings call in November.
Despite those encouraging words from Ullman, looking at the preliminary numbers and news coming from the Plano, Texas-based company throughout the January-ending fourth quarter, investors are anything but soothed. J.C. Penney announced on Jan. 15 the closing of 33 stores and elimination of 2,000 positions in order to focus on stores with the "highest potential growth opportunities."
Aside from the doom and gloom, J.C. Penney does have a few bright spots. On Feb. 4, J.C. Penney said fourth-quarter comparable sales were a positive 2%, its first quarterly comp number since 2011. For the nine-week November and December period, comparable store sales rose 3.1% over the same period last year. Sales via jcp.com jumped approximately 26.3%. On Feb. 6, the company announced that it would develop - instead of sell -- land surrounding its headquarters in Plano, Texas. Six days later, it announced it was hiring Ed Record as its new chief financial officer to replace existing CFO Ken Hannah, effective March 24.
Record, 45, has nearly 25 years of financial and operational performance experience at big retailers. He was most recently as the COO of Stage Stores SSI of Houston managing the financial and operational performance of multiple retailers. Before that he had senior finance roles at Kohl's KSS and before that at Federated stores.
Wall Street investors will be out when Ullman and other management members open up the lines for questions during J.C. Penney's conference call after the markets close. They will want answers answered and accountability.
"No matter what J.C. Penney reports there will be three glaring issues that need addressing by highly paid executives," says Brian Sozzi, CEO of Belus Capital Advisors and a RealMoney contributor. "One, are we done with the store closures? Two, who is running the company in 2014? And three, how does it emotionally feel about its ability to raise more liquidity in 2014?
J.C. Penney is expected to report a loss of 85 cents a share on $3.85 billion of revenue.
 Shares are down roughly 41% since Nov. 20, the day of its third-quarter earnings call. Big investors like George Soros have given up on the stock.
JCP
data by
Like Sozzi, there is a growing list of analysts who think the company will have to find funding in 2014 - especially if the company wants to still be around in 2015.
"We believe liquidity concerns could resurface in 2014 despite [approximately] $3 billion in capital raise over the last year," Sterne Agee analyst Charles Grom wrote in a Feb. 19 note in which he suspended his $3 price target until further clarity on the turnaround. "We estimate the company will burn through [approximately] $2.7 billion in cash in FY13."
Grom, who rates the company at "neutral," offered three scenarios of where the company could raise funds if necessary:
"We believe the company may be able to: (1) raise ~$500 million in debt through a term loan 2nd lien to its ABL or work with lenders to tap~$400 million through the accordion feature on its ABL; (2) sell non-core assets such as (a) its 240 acres of real estate (~$150 million est.), (b) ~30 unencumbered automotive/tire locations, & (c) its five mall JVs (~$100 million est.); (3) monetize its below market leases for an estimated $100-$200 million; (4) issue a convert, although unlikely given the stock's low market capitalization and extreme volatility, and/or (5) issue additional equity as a last resort if absolutely necessary. Regarding option five, if such an equity offering were priced at approximately $6 per share, we estimate that a ~$650 million capital infusion would be roughly 25% dilutive to existing shareholders.".
Looking ahead to the first-quarter, analysts are expecting yet another loss. J.C. Penney i s expected to lose $1.14 a share, according to the most recent Thomson Reuters estimates. As of right now, consensus estimates are calling for a loss of $3.07 a share for the coming fiscal year.
"We believe management will guide to positive EBITDA excluding pension on mid-single-digit comp growth and gross margin above 34% for the year," Goldman Sachs analyst Stephen Grambling writes in a Feb. 24 note. "We are below this range as we remain concerned about JCP's comp recovery, which has underperformed peers that have reported 4Q to date. We also expect greater detail on the gross margin cadence throughout the year."
That said, Grom believes that J.C. Penney can eventually dig itself out of its hairy predicament, "but a significant change in comp trajectory needs to take hold."
"Sales per square foot likely need to be 25%+ above trough 2013 levels with gross profit margins in the 36-37% range and SG&A per squarefoot growth of only ~3%-6% vs. 2013. Importantly, we still view this as achievable, but believe thepace of recovery needs to accelerate soon, particularly given the weather/macro headwinds we areseeing throughout retail," the note said.
--Written by Laurie Kulikowski in New York.
Disclosure: TheStreet's editorial policy prohibits staff editors, reporters and analysts from holding positions in any individual stocks.