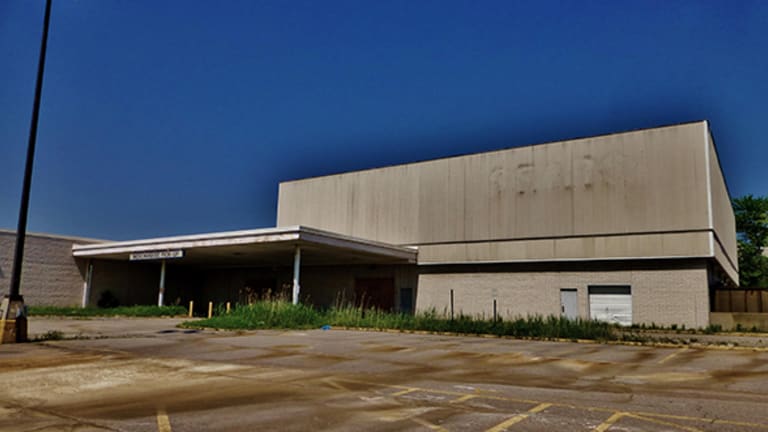 J.C. Penney Is the Latest Retailer to Hint That Shopping at Malls Has Died
So far, first quarter results for some big-name mall players have been very bad.
So far, first quarter results for some big-name mall players have been very bad.
The shift to online shopping continues to enact excruciating pain on any retailer tethered to the mall. 
On Thursday, Macy's (M) - Get Report reported first-quarter earnings of 24 cents a share, a far cry from the earnings of 36 cents a share analysts surveyed at Factset were expecting. The retailer's revenue declined 7.5 percent to $5.34 billion, compared to Wall Street's estimates for $5.48 billion.
The struggling mall-based retailer also saw its same-store sales drop 5.2 percent for the three months ended April 29.
Shares of Macy's plunged 17 percent to $23.50.
Newly-appointed Macy's CEO Jeff Gennette, who took over on March 23, told TheStreet in a recent interview that his "mission" for 2017 is to " right the core business and set the foundation for future growth."
"What we are trying to reinforce is that what we recognize is different than in other bad business cycles we have been through," Gennette said. "We are talking about the differences between cyclical changes and fundamental changes."
In January, Macy's said it was working to close 68 under-performing stores in an effort to shutter 100 more by the end of the year.
The news from Macy's comes in the wake of several other tepid reports from mall-based brands.
Editors' pick: Originally published May 11.
Before Friday's market open, J.C. Penney (JCP) - Get Reportreported a first-quarter net loss of 38 cents a share, compared to the loss of 21 cents a share Wall Street expected. The retailer posted revenue of $2.7 billion, generally in line with Wall Street's estimates for $2.78 billion. Same-store sales declined 3.5 percent in the quarter.
Meanwhile J.C. Penney affirmed its outlook for 2017, expecting earnings of 40 cents to 65 cents a share and comparable store sales to either fall or gain 1 percent.
But the market wasn't buying the optimism. Shares of J.C. Penney crashed as much as 9 percent to $4.75 in pre-market trading on Friday.
Watchmaker Fossil (FOSL) - Get Reportreported a net loss of $1 a share for the period ended April 1, steeper than the loss of 27 cents a share analysts surveyed at Factset expected. The company posted revenue of $581.8 million, lower than Wall Street's estimates for $591 million. Fossil is in the unenviable position of having to battle two major fundamental shifts: a transition to smartwatches and the upheaval in its distribution channel, mostly related to store closures by department stores. 
Shares of Fossil crashed 21 percent to $14.44 in Wednesday trading.
In America, sales plunged 17 percent, while watch sales dropped 9 percent, leather items fell 21 percent and jewelry slipped 12 percent. In its retail business, same-store sales fell 11 percent.
Although Fossil badly missed estimates, CEO Kosta Kartsotis said on a company earnings call this evening that its results were "in line with our expectations" and that the downturn in the retail industry, including its own move to close 40 stores since the year-ago period, was to blame for the weak results. Not everyone agreed with the CEO's assessment, however.
"Results were disappointing with top line weakness and margin deterioration driving an earnings miss. With soft demand across categories, geographies, and channels, there is no silver lining to results," wrote Jefferies analyst Randal Konick.
For the second quarter, Fossil predicts it will incur a net loss of between 83 cents and $1 a share and for the full year, it expects a loss in the range of 30 cents to 40 cents a share. The company anticipates that its revenue will decline 8 percent to 11.5 percent in the second quarter and 1.5 percent to 6 percent for the full year.
"We were sticker-shocked by the magnitude of the second quarter guide," said Macquarie Capital analyst Laurent Vasilescu.
Meanwhile, handbag purveyor Coach (COH) saw sales for its namesake brand plunge 40 percent at department stores during the first quarter. The striking decline reflects Coach's decision last year to vacate under-performing mall locations to protect its profit margins. Sales at its own retail stores were much better. 
Topping off the mall misery is the near dead Sears Holdings Corp. (SHLD) .
Sears said in April that its same-store sales since the start of the year crashed 11.9 percent between both its Sears and Kmart banners. Excluding one-time gains related to the sale of the Craftsman tool business and certain real estate, Sears lost between $190 million to $230 million. That is worse than a year ago when it lost $181 million.
The growing number of weak first quarter earnings from mall retailers shouldn't be such a huge surprise. So far this year, the entire mall space has borderline collapsed. 
So far in May, announced store closings are nearly twice that of this time last year, while announced openings are up 20 percent, according to new data from global think tank Fun Global Retail & Technology. Overall, closings have been announced for 3,296 stores this year, up a disturbing 97 percent year-over-year. Most of the shuttered stores have comes from the department and specialty store categories.
In February, J.C. Penney announced a plan to shut down 138 underperforming stores. The store closures, which are poised to be completed by July 31, represent 13 to 14 percent of J.C. Penney's current store base and less than 5 percent of annual sales.
J.C. Penney had said same-store sales at the targeted locations were "significantly below" the remaining store base and operate at a much-higher-expense rate due to poor productivity. The company is expected to gain some $200 million in annual cost savings from the closings. Fellow department stores Macy's and Sears have continued to close stores in droves amid the shift to online shopping.
In total, more retailers have filed for Chapter 11 protection in 2017 alone than in the entire 2016 year, and about 20 more, by TheStreet's count, have announced major store closures.
And the hemorrhaging doesn't look as if it will end anytime soon. 
Retail companies will lead a parade of firms filing Chapter 11 petitions in the second quarter as the sector struggles with more distress, insolvency and restructuring, attorneys toldTheStreet's sister publication The Deal.
"The number of retail filings is large and growing," said Marshall S. Huebner, co-head of Davis Polk & Wardwell LLP's insolvency and restructuring group to The Deal.