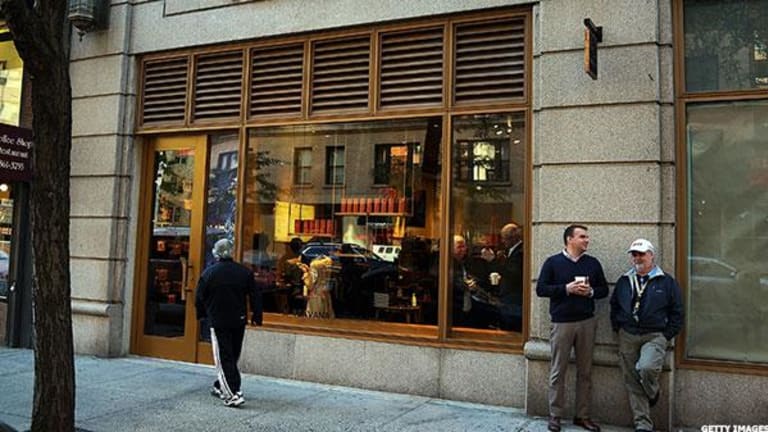 Starbucks Closing All 379 Teavana Stores Because Who Buys Expensive Loose Leaf Tea in a Mall
Starbucks may be in need of an intervention.
Starbucks (SBUX) - Get Starbucks Corporation Report  has a mixed track record on acquisitions, something that came to a forefront once again when the coffee king reported its latest results on Thursday.
After missing Wall Street's sales estimates for the third quarter, Starbucks announced that it would be closing up shop at Teavana, the tea chain it acquired for an astronomical price of $620 million in 2012.
"As reported on the Q2 call, many of the company's principally mall-based Teavana retail stores have been persistently underperforming," Starbucks said in a statement. "As a result, Starbucks will close all 379 Teavana stores over the coming year, with the majority closing by Spring 2018."
On its previous earnings call with analysts in April, Starbucks CEO Kevin Johnson, who took over from longtime leader Howard Schultz earlier that month, blamed its struggling Teavana stores, in part, for company's meager profit gain. Once again, for the third-quarter ended July 2, earnings per share were only in line with Wall Street's estimates.
"While the Teavana brand continues to be highly accretive to our tea business in Starbucks stores, many of our mall-based Teavana stores are continuing to have a negative impact on our overall results," Johnson said in April. "We have launched a review process and intend to take clear action to improve the performance of our Teavana mall store portfolio."
READ MORE: Why Starbucks Should Buy This Billion-Dollar Greek Yogurt Company
The bad news about Teavana shouldn't come as a shock to anyone who knows the history of Starbucks' acquisitions.
David Henkes, research firm Technomic's advisory group senior principal, said in an earlier interview that Starbucks uses acquisitions to gain new menu items, concept ideas and expertise. In addition to Teavana, Starbucks' other big acquisitions include the La Boulange bakery brand and Evolution Fresh cold-pressed juice brand. 
"It becomes difficult for large chains to focus on growing a second concept when their primary focus is on their [core] brand," Henkes said, explaining that he can't say whether Starbucks "consciously" purchases companies it knows it's going to drain then shutter.
Henkes said whether there's 600 or 50 locations under the subsidiary company, those other brands represent such a small sliver of the overall pie that they will always cost more than they earn.
Said a Starbucks spokeswoman to TheStreet via email, "These acquisitions have allowed us to elevate and enhance the customer experience and we believe that the value of the brands we've invested in are paying off."
Here's a look back at Starbucks' biggest buys, and where they are now. 
Top stories on TheStreet:
Taking Apart Samsung's Galaxy S8 Beside an iPhone Shows How Picky Apple Is About Design