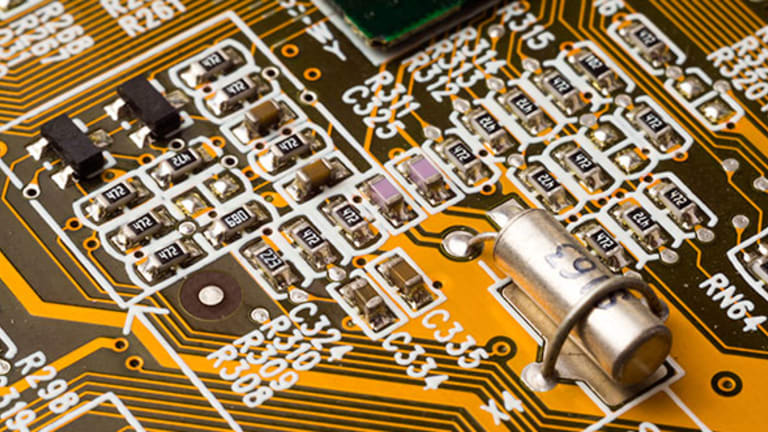 Is Semiconductor and Optical Interconnect Maker Inphi Worth Buying?
Inphi is up 61% this year, driven by strong demand for its optical interconnect products.
Year to date, shares of small-cap semiconductor maker Inphi (IPHI) - Get Inphi Corporation Report are up 61%. After this big run, can investors ride it higher?
Inphi is seeing booming demand for its optical interconnect products from data centers and cloud service providers. Its products include optical amplifiers and drivers. These devices are small, which allows data centers to pack them in with great density; they also have low power requirements, which makes them an ideal solution if you need to connect up 10,000 servers in a data center. Nobody wants to connect up that many servers with 1 gigabit ethernet. Traditional ethernet wiring is too slow, too costly and consumes too much electricity. Increasingly, data centers are using fiber optic cables in as many places as possible.
Inphi's products are designed for short distances of 20 km to 40 km, or 12 to 24 miles. The company has solutions that range in speeds from 100 gigabit to as much as 600 gigabit.
According to research firms Infonetics and Crehan Research, the market for optical, data center and networking will grow to as many as 90 million ports by 2018, making the addressable market worth about $2 billion.
Cloud providers are in the midst of building large fiber networks within their facilities. In March, Microsoft (MSFT) - Get Microsoft Corporation Report announced it was working with Inphi to build out its Azure cloud service. Microsoft is using Inphi's Color Z transceivers. Each Color Z can send optical signals as far as 49 miles at speeds of 100 gigabit. These are great if you need to connect up a few datacenters that are scattered around town.
Two weeks ago Inphi announced it had begun sampling the world's first 64 gigabaud dual channel linear amplifier that supports data rates of 400 Gbps to 600 Gbps on a single wavelength for long haul, metro and data center interconnects. If it works as advertised, it could be a real game changer for the company, since most investors consider Inphi's addressable market rather limited. It also makes the company a tasty acquisition target for a larger semiconductor company that has the need for speed.
On Aug. 8, Inphi reported second-quarter earnings of 32 cents per share, 4 cents ahead of the consensus estimate. Revenue rose 22% to $60.5 million. Revenue was below the analyst estimate of $69.3 million. Management guided down for the third quarter. The company anticipates revenue of $66.8 million to $68.8 million, vs. the $71.2 million consensus estimate.
The disappointing news knocked the stock down, but then the shares roared back after Acacia (ACIA) - Get Acacia Communications, Inc. Report raised guidance for the second time in two weeks. I attribute the weak revenue to growing pains, as well as the crazy nature of the optical space. These companies are notoriously difficult to model.
With Inphi's optical business growing by 30% per year, Inphi is one of the most attractive semiconductor stocks around. And, in my opinion, one of the most attractive acquisition targets.
Eventually, Broadcom (AVGO) - Get Broadcom Inc. Report could acquire Inphi. Broadcom seems top-heavy with gigabit ethernet parts and could use more speed.
Broadcom already competes in the "PAM-4" market. PAM-4 devices use four amplitude levels of light, with each level represented by two bits (00, 01, 11 and 10) instead of just using a 1 or 0. PAM-4 devices allow twice the transmission capacity, but are typically used for short-haul optical communications. Broadcom has a line of 25 Gbit PAM-4 products.
Companies like Inphi have lumpy quarters because there are few buyers of these bleeding-edge optical components. When a big customer, like Microsoft, turns off the spigot because it finished building out its data center, it can be rather traumatic for investors.
The technobabble is really, really thick with this group. So the stocks tend to trade as group since investors don't bother to distinguish between the companies and their products. Investors don't seem to understand or care about what the companies actually do!
For those interested in speculating in the optical space, you could buy Inphi into weakness. Since Inphi's addressable market is only $2 billion, the end game here is acquisition by a larger semiconductor company. If you have the stomach for it, you could ride the light with Inphi.
This article is commentary by an independent contributor. At the time of publication, the author held no positions in the stocks mentioned.