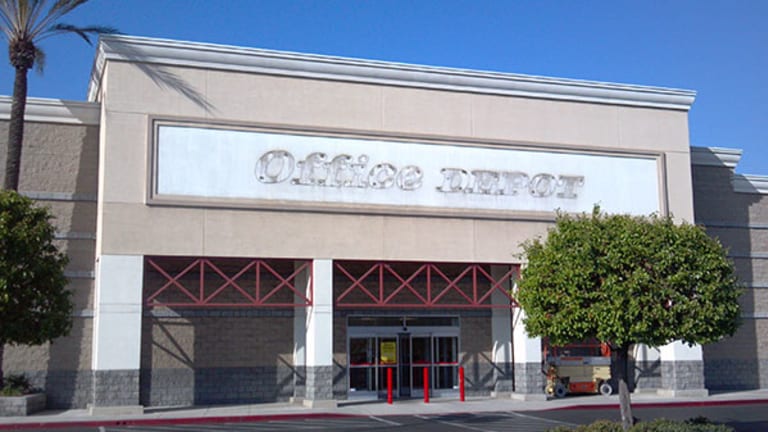 Is Office Depot Falling Apart? It Will Now Close Hundreds More Stores
Woah, Office Depot. This isn't pretty.
Beleaguered Office Depot (ODP) - Get Report looks like it is close to falling apart thanks to online juggernaut Amazon (AMZN) - Get Report , one-time suitor Staples (SPLS) and prevalent economic conditions.
At least that is one takeaway from the large amount of corporate jargon and new calls to action that Office Depot heaved on the plates of investors on Wednesday.
The office supplies retailer -- which endured more than a year of trying to get regulators to approve a sale to Staples only to see it fail earlier this year -- reported Wednesday its third straight quarterly earnings miss. Second-quarter earnings, excluding one-time items, came in at 3 cents a share, down from 6 cents a year earlier, and short of Wall Street's estimate of 6 cents.
Same-store sales declined 1% year over year at the company's more than 1,500 North American retail stores, due mostly to sluggish traffic to its stores. Sales increased in furniture, copy and print services, supplies, and cleaning and break room products, and declined in computer and related technology products. At the company's business solutions segment, which primarily ships office supplies under contract to businesses, sales declined 7%, when excluding the impact of the strong U.S. dollar.
Office Depot reiterated the sales drop was to "substantial business disruption" related to the thwarted acquisition by Staples.
The company slashed its full-year operating profit target to $450 million to $470 million from a prior forecast of about $500 million.
With its sales and profit under pressure, investors continuing to head for the exits. Shares are down 42% year to date.
Office Depot conceded that it needs to take some drastic actions. The primary action, among several announced on Tuesday, will be to further shrink its vast U.S. store base in order to save money.
Over the next three years, Office Depot said it will shutter 300 stores. Since 2014, Office Depot has closed about 400 stores.
Executives also unveiled a fresh round of cost-cutting measures in an attempt to save over $250 million by the end of 2018. They said they were pursuing a sale of Office Depot's money-losing 289-store international outfit as well.