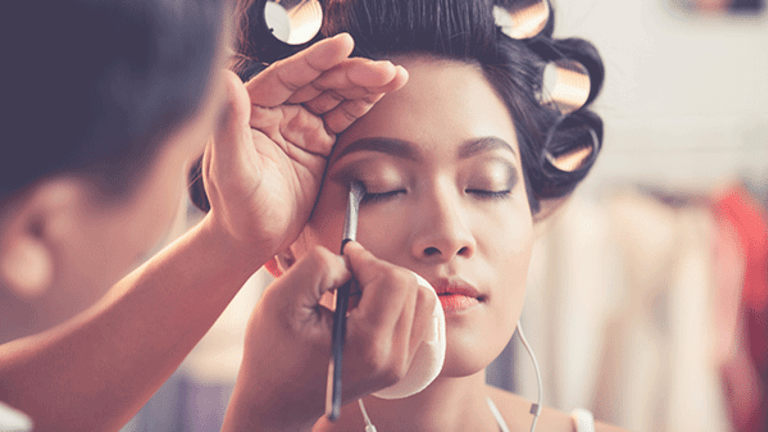 Is Makeup Peaking?
ULTA had a tremendous quarter, yet shares took a tumble. What gives?
Maybe she's born with it after all.
Despite posting a stellar second quarter, Ulta Beauty Inc. (ULTA) - Get Ulta Beauty Inc. Report saw its shares fall by more than 10% on Friday. So what gives?
The beauty market at large is slowing, some experts say, which means Ulta will confront heightened competition on price. Others are not so sure, arguing that investors overreacted based on false presumptions and that the makeup market is still expanding.
"We believe the story is shifting to a market share war from market expansion," BMO Capital Markets analyst Shannon Coyne said in a research note, and this creates apprehension for Ulta shareholders.
For years, Ulta succeeded in setting itself apart from the formidable Sephora and other cosmetics retailers by offering both high-end and drugstore beauty names in suburban locations. But as the makeup market exploded in recent years, department stores and Amazon.com Inc. (AMZN) - Get Amazon.com Inc. Report entered the mix. The latter, which carries smaller labels, is expected to soon offer prestige products. Meanwhile, Sephora will also widen its price points by offering cheaper choices through the ColourPop line, according to Coyne.
Sears Is Facing a Colossal Problem That Might Ignite a Bear Raid
"If department stores and mass channels are successful and able to maintain share, at 4% market growth, this would reduce the beauty pie by $2.5 billion to $5.4 billion," she wrote.
Oppenheimer analyst Rupesh Parikh warned in a note days before Ulta's earnings release of a "less robust U.S. beauty market," pointing to pressure from department stores and L'Oreal S.A.'s observation in its latest earnings call that the North American market is lagging behind the global one.
But others argue that the negative sentiment is overblown, and urge investors to reconsider Ulta's potential.
Cowen analyst Oliver Chen called Ulta's stock "expensive, worth it" and said the company can "hold its own" against Amazon in a note on Friday. Over at Wolfe Research and Jefferies, analysts are betting against the performance of department stores, citing waning sales.
Department stores' attempts to steal market share have been "largely ineffective thus far," wrote Jefferies analyst Stephanie Wissink in an Aug. 22 note. In fact, the opposite might happen -- "We estimate that each percentage point of market share that shifts from department stores to specialty supports 3-5% of comp for Ulta."
So what exactly is driving fear among investors?
How Google's Deal With Walmart Coincides With a Special Gift to Amazon
"The beauty market at large is still growing," Wissink told TheStreet Friday, "but the drivers of that growth are evolving and changing."
For instance, interest is beginning to shift away from facial products to skincare, fragrance, and hair care, she added. The industry is also just beginning to adapt to the rise of indie brands, which gain prominence through native advertising channels like Instagram.
Another factor is Ulta's less-than-expected increase in same-store sales growth rate of 11.7%.
The expectation was slightly higher based on previous quarters, Wissink said, but "Ulta had an explanation for that, [which is that] they opted not to do a major clearance event at the end of July."
"Ulta made a strategic decision intra-quarter to operate like a mature retail company, and not play the game of buying comps and eroding your relationship with your brand."
More of What's Trending on TheStreet:
The 30 Nastiest Storms in Recent U.S. History Have Caused Mind-Blowing Damage