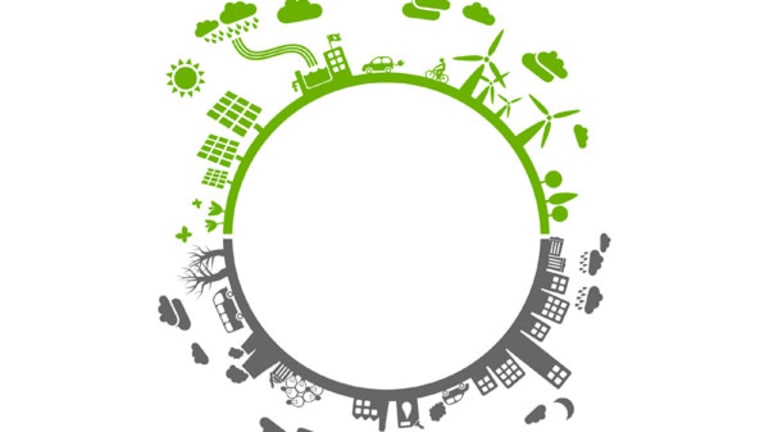 Is Italy's Last Solar Gold Rush Doomed?
Solar companies were hoping that the new Italian policy on solar would allow for one final gold rush in the explosive market, but details of the new policy suggest another bubble may not evolve.
NEW YORK (
) -- On Thursday,
Trina Solar
(TSL)
announced the opening of a sales office in Australia. It was a minor press release for the solar sector, yet on the day that Italy announced its solar incentive changes, a symbolic bit of news about the solar sector's future growth trajectory.
Several analysts were of the view that the final Italian policy changes were a disappointment when compared to leaks last week in the press suggesting greater concessions from the Italian government in the final days of debate. Yet there were incremental positives in Italy's new solar scheme. Solar stocks may have already priced in an Italian growth slowdown, too, or could simply be waiting on the upcoming earnings reports from many Chinese solar companies before pulling the trigger on the next solar trade.
Solar stocks held up well on the day that Italy made its solar policy changes public. There was no relief rally on the Italian market certainty on Thursday, as some had been predicting -- but, on the other hand, there was no big selloff on a day when equities were again trending down.
Notably, the Trina press release about Australia came just two days after industry bellwether
First Solar
(FSLR) - Get First Solar, Inc. Report
highlighted Australia as a key market for geographic diversification. The Trina news and First Solar commentary are two more signs that even if all roads don't lead to Australia for solar modules, they won't continue to lead to Italy either.
"Italy is no longer a big growth market," concluded Wells Fargo analyst Sam Dubinsky. "There have been so many subsidy proposals in recent weeks/months, it's tough to tell whether this one is any better or worse vs. prior expectations. In addition, with the market screeching to a halt due to subsidy uncertainty, any renewed growth is somewhat of an incremental positive. However, it is clear to us that Italy's growth prospects are dampened and the market can no longer carry the industry," the Wells Fargo analyst said. He added that solar stock prices still need to reset.
"The sector is in the mid-innings of an inventory correction and pricing resets will likely continue into 3Q. While valuations for the group are low at 5-8X 2012E EPS and recent M&A (Total/SunPower) gives us hope multiples can expand at some point, investors will likely wait for earnings resets prior to bottom fishing a depressed peer group," the analyst wrote on Thursday.
The Italian government still has an overall target of 23 gigawatts of cumulative installations by the end of 2016, with an annual cap of EU6 billion to EU7 billion in solar subsidies through 2016.
The total spending cap for June through Dec. 2011 was lowered to EU300 million from EU447 million and for 2012 to EU280 million from EU373 million.
There were two central issues that had raised hopes headed into the final Italian policy changes: would the Italian government offer a grace period for ground-mounded projects through August, allowing for a mini-gold rush before the new reality set in and for all projects to receive the existing feed-in tariff rates? Secondly, would the Italian government up the capacity limit on small-scale projects to receive preferential treatment from 200 kilowatts to 1 megawatt?
The grace period for large-scale projects did not come to pass, and even if solar has the ability to install projects in the gigawatts in a matter of months, it won't be happening at the level of ground-mount projects in Italy before the end of the year.
Aaron Chew, analyst at Hapoalim Securities, wrote on Thursday, "Contrary to some initial hopes that the implementation of the new program may have been extended from May 31 to Aug. 31, ONLY the requirement for 'large' plants to register with the GSE has been pushed back. As such, previously-permitted projects under construction not only face the new lower FiT rates but are subject to the cap. In turn, while this may help save some older projects it does not imply incremental new project demand."
The good news is that Italy did increase the capacity on projects to not be put under its new solar spending cap from 200kw to 1 megawatt.
Rooftop projects of up to 1 MW will be excluded from the new subsidy spending cap between and June 2011 and Dec. 2012, which does leave "a wider loophole for project developers to skirt around the spending cap," the Hapoalim Securities analyst said.
There was a bit of negative news related to 200KW projects, though. The new solar policy in Italy allows for ground-mounted projects of up to 200KW to be built outside of the new annual spending cap in 2011 and 2012, however, only in cases where the projects are self-consuming all of the electricity generated. Analysts described this as an "effective" cap, at least at present, since there is not much of a market for self-consumed solar projects of this size that exists today.
All in all, Wells Fargo's Dubinsky saw rooftop market opportunity, even as the ground mount market opportunity waned. "There is no cap on rooftop projects up to 1MW, which is a small market today but will likely develop over time. There is also no cap on small projects up to 200KW, but energy must be self consumed for these systems or projects must be built on government land, which relegates this to a niche market for now."
The question is just how big this rooftop market is in Italy, and can become over time. Estimates have varied widely from analysts as to the true size of the rooftop market in Italy relative to the size of the ground-mount market.
The Hapoalim analyst also offered some room for opportunity in the rooftop market, but cautioned that it was still hard to foresee a bubble in a short-period of time solving the problem of growing inventory. "While demand for sub-1 MW rooftop projects leaves room for more upside than we had previously assumed, we believe the relative scarcity of large industrial/warehouse/super-store-sized buildings in Italy suggests a low likelihood of an emerging bubble in small rooftop demand. In conjunction with ~2.5 GW of solar inventory, we see a vacuum in demand in 2H11 and further declines in 2012. Though the solar stocks may be pricing in some of this risk, we continue to see further downside through May earnings season," the analyst concluded.
The recent commentary from solar companies about the second quarter and the rest of 2011 has been as expected, weak in terms of second-quarter numbers and cautious in terms of the full-year outlook due to solar incentive changes in European markets, led by Germany and Italy.
First Solar's cautious outlook
on Tuesday, coupled with a weaker than expected second-quarter sales target, sent its shares down to their lowest level since last December. First Solar gained 1.5% on Thursday after its steep post-earnings decline.
Most of the major Chinese solar modules makers experienced muted trading. Trina Solar,
Yingli Green Energy
(YGE)
and
Suntech Power
(STP)
were close to flat in trading on Thursday.
Jinko Solar
(JKS) - Get JinkoSolar Holding Co. Ltd. Report
was up 1.3% on Thursday. Earlier this week, Jinko Solar reported solid first quarter earnings, though more importantly from the analyst perspective, Jinko Solar showed a movement away from Italy in its geographic diversification, from 50% to 30%. While Jinko pointed to a relatively small market like Slovakia as a new growth opportunity, analysts said that at Jinko's current level of production, it wasn't an unfair case for the company to make that Slovakia could, in fact, make a difference as Italy waned.
The biggest losses among Chinese solar stocks were in shares of
LDK Solar
(LDK)
and
Hanwha Solarone
(HSOL)
, both down more than 2% on elevated trading volumes.
LDK Solar kicked off the earnings issues
when it pre-reported that revenue could be down by as much as $100 million in the first quarter, though most of the bearish analysis has assumed companies meet first quarter numbers while missing in the second.
ReneSola's commentary on pricing
set off alarm bells specifically about the pressure on solar industry pricing in the second half of the year. ReneSola shares were down marginally on Thursday.
Europe's biggest solar wafer marker, REC Solar, reported its first-quarter results on Wednesday, and while REC also benefitted from strong wafer pricing in the first quarter, it's outlook was more of the same "cautiousness" about the solar sector. REC Solar warned on Wednesday that "margin pressure on modules and wafers will remain in the second quarter, and "weak market conditions may lead to inventory buildup and REC may need to reduce capacity utilization."
In the end, the Italian solar policy review played the role in 2011 played be German politicians in 2010, when the major review of Germany's feed-in tariff scheme kept solar stocks in limbo. Ironically, looking beyond the recent Italian solar headlines, Wedbush Securities analyst Christine Hersey is now looking back to Germany to provide at least part of the answer for where solar companies go from here.
"If the Italian market for larger projects slows dramatically as we expect in H2:11, we would expect installers and module manufacturers to focus more on the German solar market, given the market's stability and sensitivity to price," Hersey wrote on Thursday in reviewing the Italian policy.
After the close on Thursday, solar inverter company
Power-One
(PWER)
reported in line results for the first quarter and reaffirmed its full year view. Most solar companies have so far maintained full year 2011 guidance, even as the second quarter outlook remains weak, and pricing pressure in the second half of the year is cited. Power-One CEO Richard Thomson dealt directly with the issues in the European solar market in his earnings commentary, stating, "We anticipate the solar market will begin to gain momentum as Italy recently passed its legislation and the German market is showing signs of heightened activity."
Power-One shares rose in after-hours trading. Power-One is one of the most heavily short stocks in the solar space.
The fundamental question hasn't changed, though, even with the Italian market now seemingly back to business, in the Wedbush analyst's opinion. "Despite the sharp focus on the demand side of the equation, we remain concerned about the amount of module supply coming online in 2011 and the potential for downward pressure on module ASPs and margins."
-- Written by Eric Rosenbaum from New York.
RELATED STORIES:
>>First Solar Earnings: Bad Year for Back-End Loading
>>Solar Losers: ReneSola, Evergreen Solar
>>CNBC, Jim Chanos, Gang Up on First Solar
>To contact the writer of this article, click here:
Eric Rosenbaum
.
>To follow the writer on Twitter, go to
.
>To submit a news tip, send an email to:
.