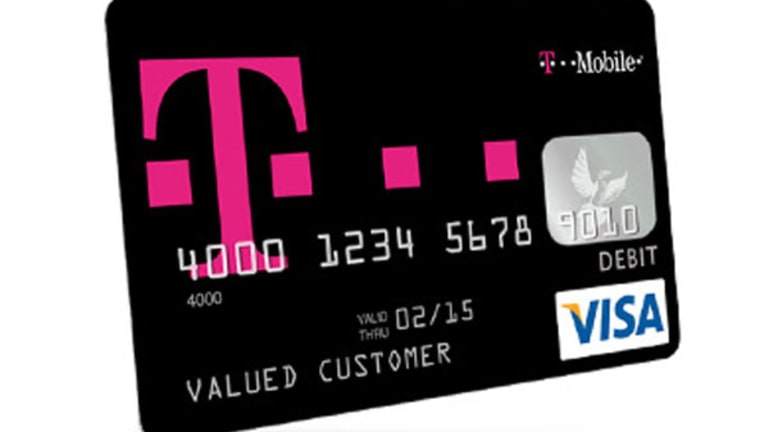 Publish date:
Is It Time to Hang Up on T-Mobile?
T-Mobile stock is up 26% in 2016. Investors are wondering if it's time to sell.
T-Mobile stock is up 26% in 2016. Investors are wondering if it's time to sell.
Since December 2014, shares of T-Mobile (TMUS) - Get Report have outperformed the S&P 500 Index. But is it time to give up on the stock?
On Monday, T-Mobile reported third-quarter fiscal 2016 earnings of 27 cents per share, excluding 15 cents in one-time spectrum gains. The results were 5 cents better than expected. Revenue rose 17.8% year over year to $9.25 billion. Adjusted earnings before interest, taxes, depreciation and amortization were $2.63 billion, up from $2.46 billion in the second quarter and up 37.9% from the $1.9 billion in the year-ago period.
The quarter was the 14th consecutive quarter of over 1 million total net subscriber additions. T-Mobile had 2 million total net adds; of those 851,000 were "branded" postpaid net adds. (A postpaid subscriber is a user that gets a bill in the mail instead of prepaying.)
Management predicts that branded postpaid net customer additions for the full year will be between 3.7 million and 3.9 million. That is up from previous guidance of 3.4 million to 3.8 million.
For the full year, management forecasts that adjusted EBITDA will be in the range of $10.2 billion to $10.4 billion. Capital expenditures are expected to be in the range of $4.5 billion to $4.7 billion.
Analysts are looking for revenue of $39.9 billion for the year, up 15%, and earnings per share of $1.51. Next year, revenue is expected to be $40.3 billion and earnings are expected to be up 9% to $1.93 per share.
While all this sounds great, and management has done a great job at propelling the stock higher, you have to wonder how they are doing some of this mobile magic.
For example, T-Mobile doesn't calculate free cash flow the same way as any other wireless provider. Merrill Lynch thinks that T-Mobile's capex is 33% higher than the company calculates, which means its free cash flow is overstated. The company calculates an adjusted free cash flow of $623 million, but done with the standard calculation, free cash flow is a negative $90 million.
Also, management seems to be offloading its riskiest customers to mobile virtual network operators. MVNOs -- like Boost Mobile and Cricket Wireless -- lease chunks of network time and resell it to mostly subprime, high-risk customers. By getting rid of the risky customers, T-Mobile seems to be lowering its churn numbers.
And valuation makes me cautious. At 31 to 32 times 2016 estimates of $1.51, it's hard to get excited about T-Mobile. Verizon (VZ) - Get Report , for example, trades at just 12 times estimates. Some investors may have bid up T-Mobile in anticipation of a buyout or a merger with Sprint (S) - Get Report , but that seems unlikely in this environment.
With the stock up 26% year to date already, I think the good news is baked in. I would stay on the sidelines and wait for a better opportunity.
This article is commentary by an independent contributor. At the time of publication, the author held no positions in the stocks mentioned.