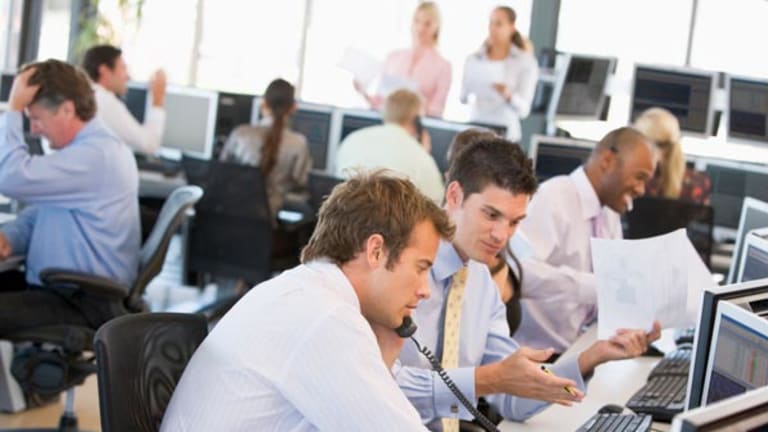 Is It Time to Dump Beaten-Down Energy Stocks? Cramer's 'Dirty Dozen'
Even though many are at rock-bottom prices, smaller energy companies aren't attractive enough yet for the bigger players to snap up. And some may disappear.
NEW YORK (TheStreet) -- Don't hold your breath for an acquisition boom to rescue all those beaten-down small-cap energy stocks. 
Even though many are at rock-bottom prices, these smaller energy companies aren't attractive enough yet for the bigger players to snap up. So some analysts are wondering if investors should give up hope and dump them once and for all.
Hammered by the steep drop in oil prices, smaller energy players like Energy XXI (EXXI) , Linn Energy (LINE) and Goodrich Petroleum (GDP) - Get Report are now worth a tenth of what they were a year ago. That free-fall had fueled speculation about an industry-wide consolidation that would rescue shareholders in these smaller firms. Now, that scenario seems more like wishful thinking.
"We haven't reached the point where acquisitions need to happen," said senior analyst Fadel Gheit of Oppenheimer in New York. "It could be two quarters, it could be two years, but the value just keeps going down."
"Some of these companies have gone up for sale now three, four times, so buyers are glad they didn't rush in to make a purchase at the first opportunity," he added.
Last week's bankruptcy announcement from Samson Resources, which was taken over by private-equity firm KKR (KKR) - Get Report in 2011, is just one of the clouds hanging over the space.
Lowered price outlooks for crude oil and natural gas, as well mounting debt pressures across the sector, are also keeping acquisitions on the back burner.
The Street's Jim Cramer has compiled a list of what he calls the "dirty dozen" small-cap energy companies, whose slashed valuations make them tantalizing prospects for acquisition, but also potential candidates for bankruptcy. Click here to read the story (paywall). The list includes Energy XXI, Goodrich Petroleum, Magnum Hunter (MHR) and Sandridge (SD) - Get Report , all of which are now trading at well under $2 a share.
"The last thing you want to do is go in now and start bidding for a company that, if you wait, might just disappear," said Cramer.
Some such obligatory sales may come in late October when industry credit facilities are reassessed and firms with debt-laden capital structures are denied new loans.
"If companies' reserves are depleted and they're relying on credit to keep the lights on, we might see some deals," said analyst David Meats of Morningstar, "but I can't see the impetus to buy at this point."
Analysts are also concerned that the crude oil price outlook for next year may be beneath the $60-range estimates put forward by industry majors like ExxonMobil (XOM) - Get Report and Chevron (CVX) - Get Report .
"I think the $60 and $65 estimates are high," said analyst Matt Marietta of Houston-based investment bank Stephens. "Nobody is considering $40 oil in the long-term, and they should be."
Even as valuations continue to drop and the pressure to sell mounts, companies may try to hold off as long as they can in the hopes of a spike in commodity prices.
"Carl Icahn, for example, has people on the board of Chesapeake (CHK) - Get Report , so he could liquidate the company if he wants to," Gheit said. "But it would make more sense for him to wait another two, three years to see if he can make his money back."
Until crude prices show signs of finding a floor, major acquisitions in the energy space are likely to remain hypothetical.
"Even though we're seeing penny stock prices now," said Michael Lynch, president of Strategic Energy and Economic Research, "it's seeming less and less likely that the price of oil is going up."